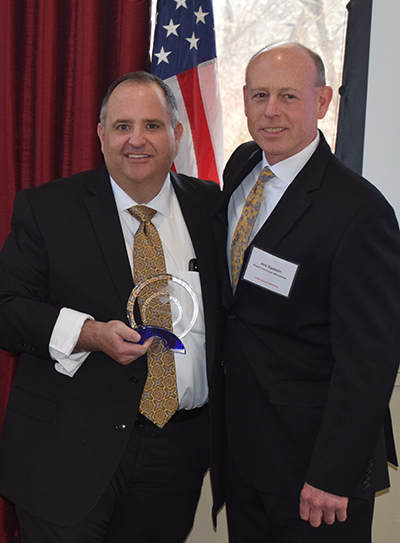 LANJ President Jason Sharenow of Broadway Elite Worldwide (left) with outgoing First Vice President Jon Epstein Princeton, N.J. — The Limousine Association of New Jersey (LANJ) kicked off 2019 with a new meeting format and by saying goodbye to three longtime officers and supporters at its January 30 meeting. CD Publisher Chris Weiss was among the attendees who came from all across the country for the afternoon meeting.

The association invited some of its most seasoned and successful members to lead roundtable conversations on core topics such as affiliate relations, customer service, dispatch practices, fleet and maintenance, human resource policies (especially hiring and retention), and marketing.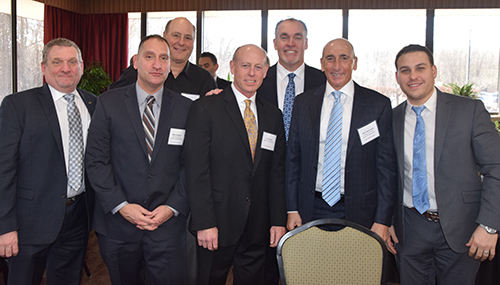 Back row: Bob Bellagamba of Concorde Worldwide(left) and LANJ First Vice President Tim Rose of Addison Lee. Front row (L to R): Bill Placier of Music Express Worldwide, Mile Pellettieri of Leros Point to Point, outgoing LANJ First Vice President Jon Epstein of Royal Coachman Worldwide, Brett Barenholtz of Boston Car Service/Above All Transportation, and Jay Erlich of Europe Limousine Service. Tailored to industry newcomers, experienced operators, and companies with fleets of all sizes, the business-building event encouraged attendees to participate in three of the focused sessions, each one drawing on the opportunity to get peers' advice through tried-and-true answers to common challenges while gaining some critical industry intelligence. As a bonus, the roundtable format facilitated comfortable introductions among participants.

As long-serving First Vice President Jon Epstein recently sold his two-generation company Royal Coachman Worldwide to New York's Leros Point to Point, his last official meeting honored him with a standing ovation. Michael Renehan of Concorde Worldwide, who devoted many years lobbying on behalf of the chauffeured transportation industry, and Bob Schiavo of Albert's Transportation, who took an active role on the LANJ Membership Committee, were similarly recognized and thanked for their dedicated contributions to the association.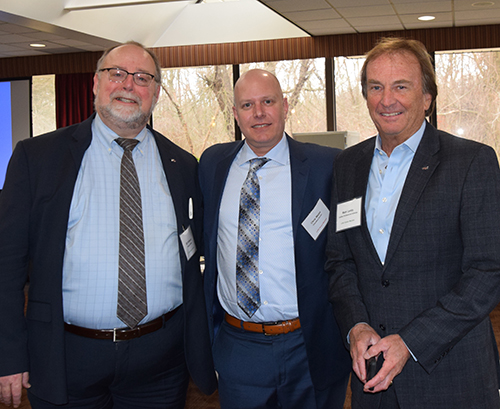 L to R: Bill Fellbaum of Englewood Cliffs Cadillac, CD Publisher Chris Weiss, and Mark Leddy of Cadillac Professional Vehicles The 2019 board of directors was ratified and presented during the meeting:

President: Jason Sharenow of Broadway Elite Worldwide
First Vice President: Tim Rose of Addison Lee
Second Vice President: Jeff Brodsly of Chosen Payments
Secretary: Karen Gajda of Country Club Transportation
Treasurer: Barry Trabb of Complete Fleet Livery Sales
Directors: Anthony Azara of Avalon Chauffeured Services, Shady Azer of Concorde Worldwide, Jeff Brodsly of Chosen Payments, Pete Corelli of Lakeview Custom Coach, Johnny Donohue of the Philadelphia Regional Limousine Association (honorary), Sam Emam of BBZ Limousine & Livery Service, Karen Gajda of Country Club Transportation, Howard Gogel of My Limousine Service, Scott Greenwald of AAA Worldwide Transportation, Joe Gulino of Gem Limousine Worldwide, John Maziarz of Arrive in Style Transportation, Brian O'Neill of Grech Motors, Tim Rose of Addison Lee, David Seelinger of Empire CLS, Jason Sharenow of Broadway Elite Worldwide, Christian Stochholm of New Jersey Limo Finder, Barry Trabb of Complete Fleet Livery Sales, Chris Weiss of Chauffeur Driven, and Jonathan Wilner of A. Harrington Limousine Service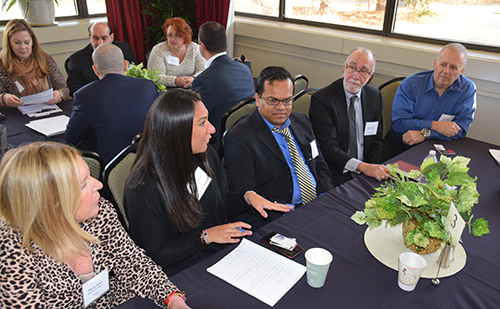 Attendees participated in roundtable conversations on core industry topics Azer and Wilner are new to the LANJ board. All others are incumbents.

Check out the March issue of Chauffeur Driven magazine for expanded coverage.

Visit lanj.org for more information.

[CD0219]