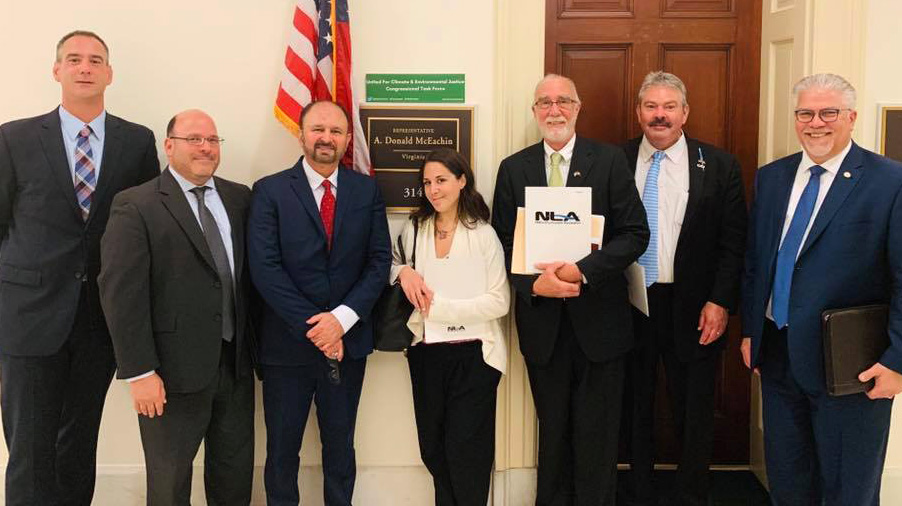 Washington, D.C. — The National Limousine Association (NLA) headed to Washington, D.C., June 5-6 for its annual lobbying event, Day on the Hill, with a strategically intimate group of operators and vendors in tow. CD's Publisher Chris Weiss and Editor Madeleine Maccar were among those who came from all across the country to meet with legislators and their staff to act as one voice speaking of the industry's concerns.
The two-day event kicked off with an afternoon of education before attendees took to the Capitol June 6. Louie Perry and Todd Webster from Cornerstone Government Affairs, NLA's longtime lobbying firm, provided government updates to contextualize the environment in which operators and vendors alike would be presenting their asks to legislators and their staff, especially in terms of how a deregulatory atmosphere has been punctuating the past year—as well as how Uber's disappointing public performance continues to work in our industry's favor, as it has highlighted the numerous shortcomings of the TNC business model and its complete lack of profitability.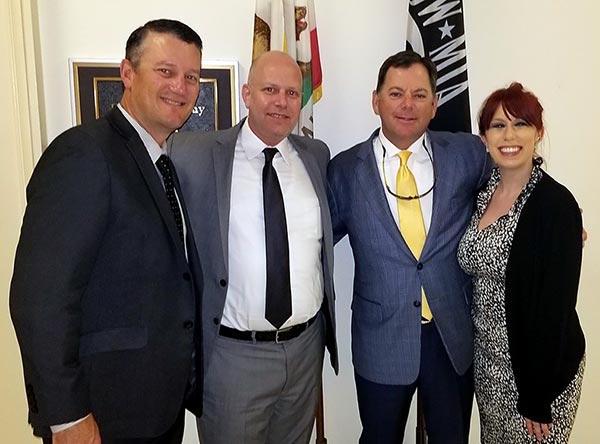 L to R: NLA President Gary Buffo of Pure Luxury Transportation, CD Publisher Chris Weiss, Louie Perry of Cornerstone Government Affairs, and CD Editor Madeleine Maccar
"Uber's low IPO has generated tons of negative press for them," Perry explained during his portion of the presentation. "Uber going public has highlighted a lot of the Uber and Lyft challenges we've been talking about for years: the fact that they are not profitable, they misclassify and underpay their workers, and the fact that there are real concerns for the safety of their riders. I haven't seen much positive press about them as a business since they went public, and that press helps reinforce the concerns NLA has been raising with legislators."
TNCs remained at the forefront of this year's top two issues as the NLA implored congressional representatives to both stand with the American worker and support transportation safety measures.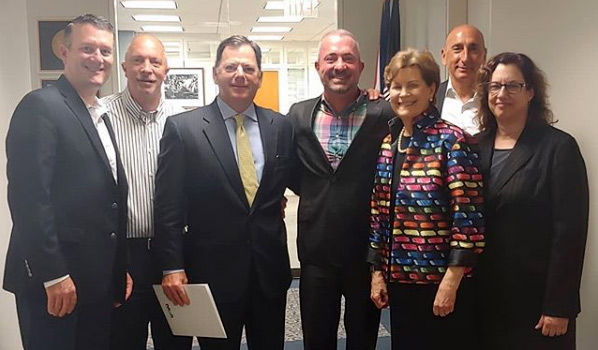 Operators met with Sen. Jeanne Shaheen (D-NH) on June 5
Both the Department of Labor and the National Labor Relations Board have made rulings that can be viewed to legitimize the arguments that TNC drivers are independent contractors (ICs) rather than employees. The NLA takes issue with these rulings, especially since TNCs classifying their drivers as ICs denies those workers the stability and protection granted to employees. The association took a page from the California Supreme Court's book to make its case, citing the state's three-part test it adopted in April 2018 to determine the proper classification of an IC. Specifically, the case created a three-part test that must be met to qualify as an IC: drivers are free from the control and direction of their hirer in regard to the work they perform, perform work outside the usual course of their hiring entity's business, and are customarily engaged in an independently established trade or business of the same nature as their hirer. None of those three criteria can be met, proving that TNC drivers are, indeed, employees. This reinforces the NLA's longtime request for policy that creates a level playing field: Continued misclassification of drivers as ICs continues to create a competitive advantage for the TNC companies, allowing them to sidestep the expenses that traditional transportation companies pay to ensure they remain in regulatory compliance on all fronts.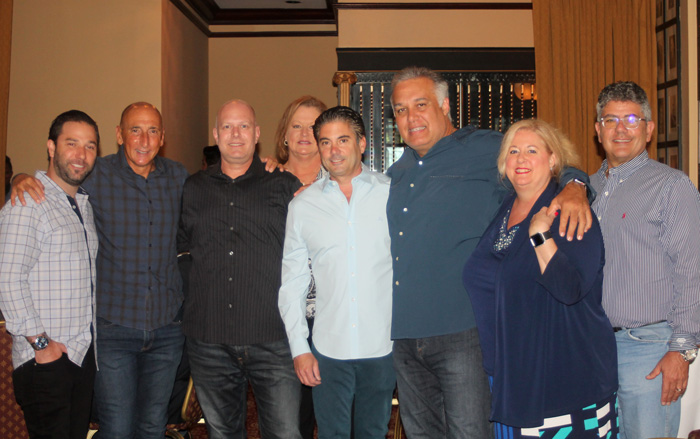 Of course, the riding public's safety is always the NLA's top concern, and industry advocates continued to pound the drum of how lax TNCs' background checks are, as illustrated by the horrifying number of unsafe drivers and criminal activity TNCs invite. They were armed with CNN-provided facts that ranged from how at least 103 Uber drivers have been accused of sexually assaulting passengers in just four years to how easily a former Somali military commander and alleged war criminal was able to get on the platform—and has been accepting passengers in the Northern Virginia market for the past year and a half.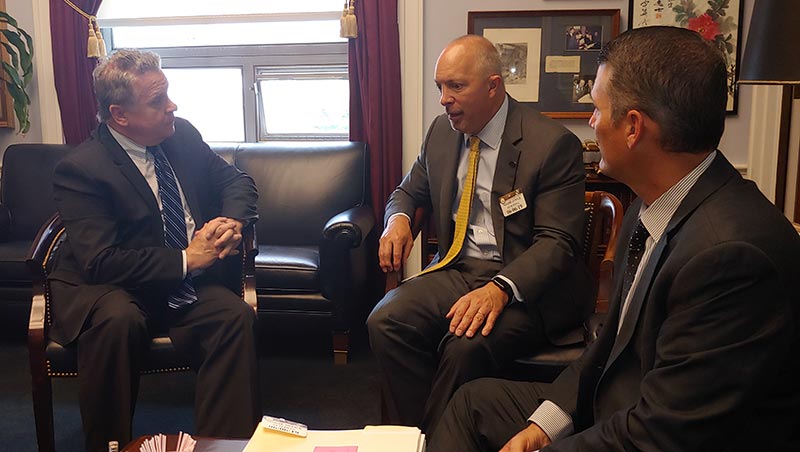 L to R: Congressman Chris Smith (R-NJ), NLA Treasurer Robert Alexander of RMA Worldwide, and NLA President Gary Buffo of Pure Luxury Transportation
Attendees took their messages, talking points, articles, and personal experiences to dozens of meetings with legislative representatives from both parties, including Congressman Chris Smith (R-NJ), who personally met with NLA President Gary Buffo of Pure Luxury Transportation and NLA Treasurer Robert Alexander of RMA Worldwide to discuss his role in crafting Sami's Law in honor of the University of South Carolina senior who was allegedly murdered by a man impersonating a TNC driver. The proposed legislation would require additional safety measures to improve TNC vehicle identification, including mandatory front and rear license plates, a QR code on passenger windows, and illuminated windshield signs visible in the day and at night from a distance of 50 feet.
We'll have in-depth and expanded coverage of this year's NLA Day on the Hill in the July issue of Chauffeur Driven.
Visit limo.org for more information.
[CD0619]