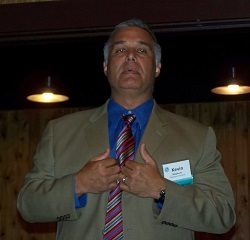 GCLA Vice President Kevin Illingworth San Diego, Calif.—The Greater California Livery Association (GCLA) held its most recent meeting at Phil's BBQ Restaurant in America's Finest City. The meeting was sponsored by Grech Motors, Mercedes-Benz of San Diego, Integrate IT Media Group, and Penske Professional Vehicles.
Kevin Illingworth of Classique Worldwide Transportation, and GCLA vice president, spoke at length about the upcoming "Day on the Hill" in Sacramento. Illingworth's main thrust was to rally the California operators around the GCLA when they go to Sacramento at the end of April in support of the chauffeured ground transportation industry as a whole. He also stressed the fact that it was imperative that livery operators need to get in front of the state lawmakers and politicians.
The topics that will be addressed while in Sacramento are: 1. The law stating that limousines should have fire extinguishers in the front of the vehicle only; not in the back due to the possibility of intoxicated passengers discharging the extinguisher and injuring others. 2. The requirement for all windows in livery vehicles to be removable so that they may be used as emergency exits. The main issue with this being that this requirement could/would allow additional oxygen into the vehicle if it is on fire, and fan the flames, as it were. 3. The possibility of doing away with the special "livery license plate" in the state of California.
The next issue on the agenda was the San Diego International Airport (SAN), and Adrian Kwiatkowski of the Strong Mayor-Council Institute, addressed the new, "green fees" for operators who don't have green vehicles in their fleet. The airport wants to raise this green fee on offending vehicles, and the GCLA wholly opposes this measure.
Marci Rosenblum, a GCLA vendor and founder of Integrate IT Media Group, then gave a short workshop to members on ways to enrich Facebook, and other social media outlets. The tips and tricks that Rosenblum suggested are things that members can immediately apply on their business social media pages.
As a cherry on top of a most productive and informative meeting, Chauffeur Driven's West Coast Editor David Hartson was on hand to give away upcoming show passes. A pass to the Toronto show was won by Heather Terlaak of Classique Worldwide Transportation, and a pass to the Atlantic City show went to Joe West of Torrey Pines Transportation. Congratulations to both of the winners…we look forward to seeing you at the shows!
Visit gcla.org for more information.