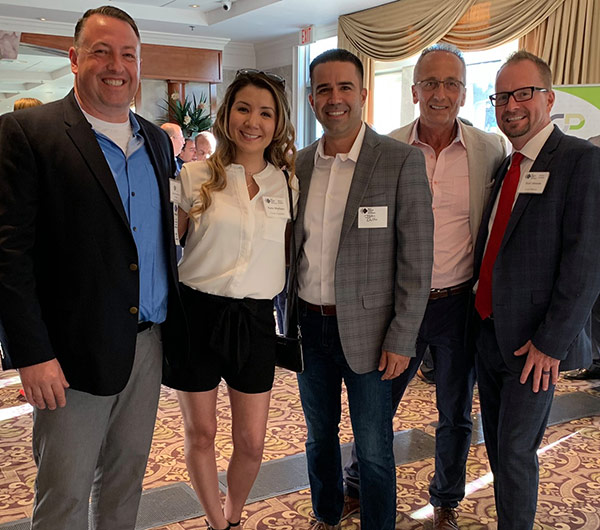 L to R: NELA President Jason Dornhoffer of United Private Car, Katie Martinez of Chosen Payments, John Oulton of Richmond Limousine, Carl Restivo of Access Commercial Capital, and Ned Johnson of Grech Motors Massachusetts — This month, the New England Livery Association (NELA) convened for not only its quarterly meeting on June 11 but also its annual Chauffeur Appreciation Day June 13.
Nearly 60 guests came out for the membership meeting at perennial favorite Spinelli's in Lynnfield, Mass., which featured an incredible view of Suntaug Lake, as well as a chance to get up close and personal with two Don Brown Bus Sales-supplied Starfleet coaches while enjoying a networking cocktail hour and sit-down dinner.
Then NELA Executive Director Rick Szilagyi kicked the meeting off by welcoming all in attendance, thanking the evening's many sponsors, and announcing the results of the board election:
President: Jason Dornhoffer of United Private Car
1st Vice President: Joe Cardillo of AOT Global
2nd Vice President: Tina Benson of L.A. Limousine Service
Treasurer: Teale Smith of Maine Limousine Service
Secretary: Joe Puleo of Dav El/BostonCoach
Directors: Brett Barenholtz of Boston Car Service/Above All Transportation, Mark Kini of Boston Chauffeur, Tami Saccoccio of Commonwealth Worldwide, Andrew Tighe of Addison Lee (Tristar Division), and Charles Wisniewski of Teddy's Transportation System
Vendor Directors: Stephen G. Crispo of Research Underwriters and Bob Moody of Acton/SoCal Penske Professional Vehicles
"We're very happy: NELA, like other membership boards across the country in lots of industries, has had open seats for years. But this time around, we filled five seats—and we're really excited that we're filling those seats," Szilagyi said.
Szilagyi also provided an update on the Transportation Infrastructure Enhancement Fund (TIEF) that NELA helped usher into Massachusetts legislature in August 2016, which "essentially creates a nickel from every TNC run in the state—and it amounts to a lot of nickels."
"Each of those nickels goes into a fund that is going to assist the taxi and livery industry," he explained. "It results in about $3M a year for five years: Assuming TNC activity doesn't decrease, we're talking at least $15M over those five years. Brett Barenholz and Mike Campbell, as representatives of the NLA board of directors, also spoke about it—Brett, of course, has been a big part of our Massachusetts legislative efforts over the past five years."
NELA currently has two bills pending this legislative session, one regarding fingerprinting and one on drug testing for TNC drivers. Szilagyi reported that he is "told positive things from insiders."
Guest speakers included John Boit of The Transportation Alliance (formerly the Taxicab, Limousine & Paratransit Association), who discussed what the association is doing for luxury ground transportation operators, and featured speaker Ken Cheo of Our Sales Coach, who provided the evening's education by talking about sales and lead generation in a workshop that encouraged attendees to rely more on existing relationships than cold-calling strangers for truly effective sales.
The meeting ended with a variety of raffles, which included Charles Boute of Elite Livery Services winning a pass to the Chauffeur Driven Show in Boston this October 13-16.
Just two days later, the rainy, chilly conditions was no match for NELA volunteers and the 19th annual Chauffeur Appreciation Day at Logan International Airport. Association members and board officers alike transformed the Boston airport's Limo Pool into a backyard cookout where chefs and servers prepared hundreds of free burgers, hot dogs, sausages, and veggie burgers for hungry chauffeurs.
The day also includes raffles, entertainment, and plenty of good company.
"People always have a great time," Szilagyi said. "This year, it was in the upper 50s with so much wind that the rain going sideways. We were wringing wet and cold—but still laughing and having a good time."
Szilagyi added that the event is absolutely a group effort, but that NELA 2nd Vice President Tina Benson always goes above and beyond to make the day memorable.
"People don't realize all Tina does for this event with her brother Karl, who isn't even a part of the industry," he explained. "A few years ago, they built "a storefront" to use at this event. She hauls that down, fills up a van of sausage, peppers, onions, hot dogs, and hamburgers, and brings a trailer behind it with a grill. And then they cook all day long. They never stop. She deserves tons of credit."
Next up for NELA is its annual George Colarullo Memorial Golf Tournament Date, which will be held August 6 at Massachusetts' Marlborough Country Club. The association's next meeting will be September 10.
Visit nelivery.org for more information.
[CD0719]