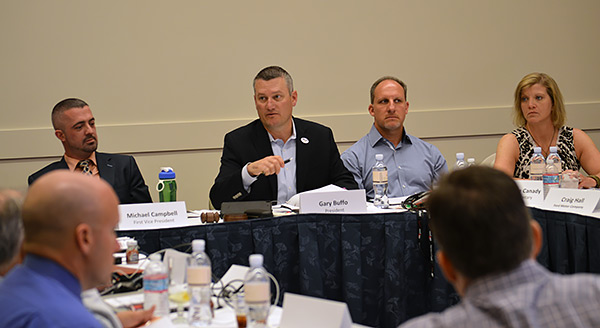 The NLA Board of Directors meets face to face four times a year Marlton, N.J. — The National Limousine Association (NLA) has begun accepting nominations for the 2020 NLA Board of Directors election. Serving on the NLA Board is an opportunity for NLA members to help shape the future of the association and the industry.
Anyone who is interested is encouraged to submit an application as soon as possible. The deadline is October 9, 2019, at 11:59 PDT.
The NLA will again use a secure online platform for the Board election, and more information about this process will be distributed prior to the election.
The following seats are open for the upcoming Board election for the 2020-2023 term:
• At Large: 1 seat (any state in U.S.)
• U.S. Central Region: 1 seat (AR, IA, IL, IN, KS, LA, MI, MN, MO, ND, NE, OH, OK, SD, TX, WI)
• U.S. Northeast Region: 2 seats (CT, MA, ME, NH, NJ, NY, PA, RI, VT) [For the Northeast Region, the candidate with the highest number of votes is elected to a 3-year term; the candidate with the next highest number of votes will be elected to a 1-year term]
• U.S. Southeast Region: 1 seat (AL, DE,D.C., FL, GA, KY, MD, MS, NC, SC, TN, VA, WV)
• U.S. West Region: 1 seat (AK, AZ, CA, CO, HI, ID, MT, NV, NM, OR, UT, WA, WY)
According to NLA Bylaws (Article 6, Sections B and C), all prospective directors must meet the following criteria:
— The individual must be a corporate officer or principal of a Regular Active Member company that has been a Regular Active Member for at least two consecutive years;
— Any Regular Active Member sharing common ownership with another Regular Active Member can only have one representative on the NLA Board of Directors at one time;
— A member of the NLA Board shall not be a member of another board of directors that is competitive to the NLA or the limousine industry; and
— Membership dues must be current for the Regular Active Member.
In addition to NLA Bylaw qualifications, the individual must be able to devote the required time and be able to pay the travel/related expenses (that are not reimbursed by the NLA) to attend board meetings. NLA Board members receive a per diem reimbursement for travel expenses.
The board meets on a monthly basis, either via conference calls (8) or face-to-face meetings (4). Per the bylaws, any director who fails to attend two (2) regular meetings due to an unexcused absence may be removed from office by a majority vote of the directors. Additionally, board members are requested to support fundraising efforts for the NLA PAC and the Harold Berkman Memorial Fund.
The following documents MUST be submitted by ALL applicants:
• A brief biography that describes your background in the limousine industry.
• A paragraph that explains why you want to serve on the NLA Board of Directors and what your goals for the NLA will be if you are elected.
• A high-resolution headshot of yourself (in electronic format).
• Proof of legality in the cities/states/airports in which Regular Active Member operates. (Example: state, city, or airport permit or license)
• Certificate of insurance verifying Regular Active Member compliance with the state/federal requirements.
• Proof of your corporate officer position. (Example: Corporate resolution or articles of incorporation listing officers/shareholders)
• An explanation of anything the nominating committee should know about you that might reflect adversely on the NLA.
Applications can be submitted at limo.org/page/NLABODApplication. Applications submitted without all of the above documents will not be valid.
Visit limo.org for more information.
[CD0919]