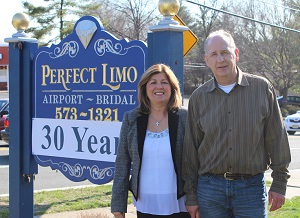 Doris and John Sutich Montvale, N.J. — This past April,  Perfect Limo Service celebrated their 30 year anniversary. Starting in the basement of their home in 1984 with one town car, John and Doris Sutich envisioned better things to come and, with hard work and perseverance, those "better things" eventually did come. 
Now with a fleet of over 30 luxury vehicles, Perfect Limo has thrived throughout the years, becoming an industry leader in corporate work, weddings, and other social engagements. Perfect Limo also continues to be a huge part of the business community in the Northern N.J. and greater New York City areas.
Visit perfectlimo.comfor more information.
5/14