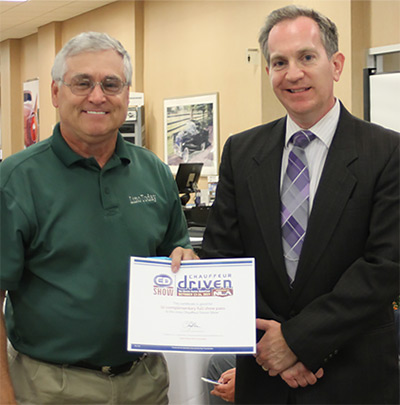 Glenn Centolanza of Limo Today (left) with CD Business Development Manager Jeff Rafkin Doylestown, Pa. —The Philadelphia Regional Limousine Association (PRLA) welcomed nearly 30 attendees to its September 25 meeting at Fred Beans of Doylestown. CD Business Development Manager Jeff Rafkin and Editor Madeleine Maccar were among those at the evening event, which was sponsored by Lancer Insurance and Prevost/Volvo Motorcoaches.
PRLA President Johnny Donohoe of Sterling Limousine welcomed everyone, paying particular mind to introducing the association's newest member, Darla Malik of Advantage Chauffeur Services, as well as the evening's sponsors (Lancer Insurance and Prevost/Volvo Motorcoaches) and Chris Burns, Fred Beans' Leasing and Sales Consultant.
With a broad range of items on the agenda, the evening's educational component ranged from discussing the association itself to nurturing industry relationships to the risks inherent in putting vehicles and people on the road every day.
Donohoe talked about what the association itself does for members, as the PRLA is currently accepting nominations for its Board of Directors. He encouraged interested parties to nominate themselves or a peer, explaining how the association relies on active participation to keep offering its members a unified voice, cohesive network, and ongoing education. The new board will be implemented January 1.
Both Burns and Prevost representative Jay Snead discussed their respective companies' relationships with the luxury ground transportation providers they serve. Burns explained how Fred Beans has been keeping an eye on its inventory of the discontinued Lincoln MKTs that the industry relies on so that there won't be an immediate hole to fill while members vouched for the dealership's dedication to operators; Snead talked about how "you want Prevost for when it's broken," particularly since the company advocates for proactive maintenance rather than reactive repairs.
Bob Crescenzo of Lancer Insurance then gave a presentation on risk management that illustrated how "the risks you take every day by driving people around is the nature of your business" and the importance of minimizing those inherent hazards.
After asking a few questions that confirmed how easily it is to lose focus while driving, Crescenzo clarified and explained the three types of driving distractions—visual, manual, and cognitive—and why any successful chauffeur training program should address how to handle them. He also explained how important it is to remain diligent in maintaining strict guidelines for a driving team, especially as a safeguard in the event of an accident.
"What matters is that someone's attorney wants to make you look like a bad company if one of your chauffeurs is involved in an accident," Crescenzo explained. "If you're letting your drivers get away with going even five to eight miles over the speed limit or if you're not firing them over serious customer complaints, it will reflect badly on you and your company."
Crescenzo also outlined common distractions like fatigue and technology, discussed the most common accidents and how to avoid them, and went into detail about "change blindness," or "missing something right in front of your eyes because your brain anticipates a familiar route being one way and then something else happens that you don't expect."
At the end of the meeting, Maccar talked about what operators can expect at the upcoming Chauffeur Driven Show in Boston and, since it was Rafkin's first meeting since joining the CD team, he introduced himself to attendees. They raffled off a pass to the show, which was won by Glenn Centolanza of Limo Today.
The next PRLA meeting will be November 13.
Visit prlainc.com for more information.
[CD1019]