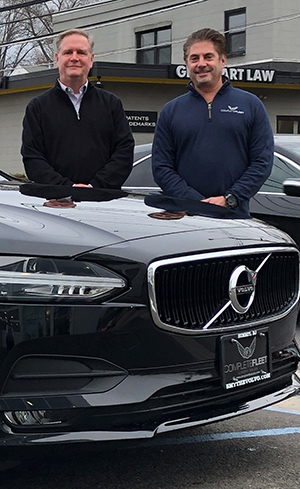 Complete Fleet President Barry Trabb (right) with Kevin Flanagan of Smythe Volvo Summit, N.J. — Complete Fleet Livery Sales has announced that they have entered into an agreement with Smythe Volvo to distribute the Volvo S90 sedan to chauffeur ground transportation operators.
Complete Fleet President Barry Trabb says the company has partnered with nearby Smythe Volvo in Summit, N.J. They are a well-established family-owned and -run retailer for over 55 years and a seven-time winner of the National Dealer Rater Dealer of the Year award. In addition, Smythe has an award winning service department that is ready to service our livery customers with immediate appointments and fast turn arounds.
"Sedan choices are getting limited for our industry. Not everyone in the industry is going to want to shift to an SUV, so it's important that we're able to continue to provide cars to our clients." says Trabb. "Volvo's S90 is a natural choice when you look at all it has to offer. So I was looking to connect with a partner who could support the livery community and Volvo Fleet needs for some time. When I met Kevin Flanagan, Smythe Volvo's dealer principle, I knew I had found a great business and business owner to work with. It was refreshing to know we have the same business philosophy and an understanding that it's all about relationships and putting the client's needs first."
Trabb says that the S90 has been getting a lot of traction with both his customers and the industry at large. The European fit and finish have appealed to many operators, who are often unaware of the tremendous luxury that the Volvo S90 offers. It is also competitively priced making it a smart decision for any operator.
"I'm very confident in our new relationship, says Trabb. "Smythe Volvo has an unprecedented reputation, and the S90 is a great new product that Complete Fleet is excited to represent. It makes us more diverse and lets us help our clients with their fleet needs. Plus, Smythe is just 5 minutes away from our current location, which makes it easy to operate out of Union NJ location as well
Complete Fleet will continue to carry a full stock of Lincoln and Ford fleet vehicles, including sedans, SUVs, and Transit vans.
Visit completefleetsales.com for more information.
[CD1219]