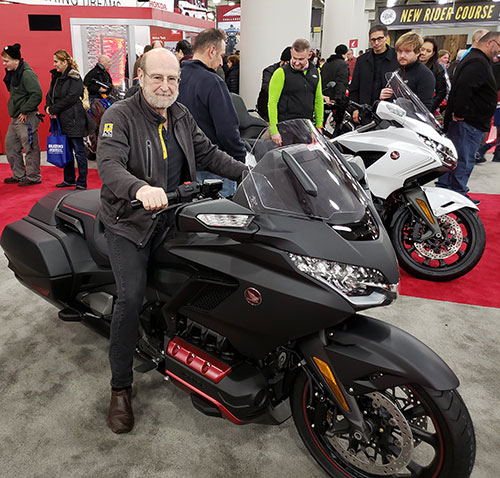 Valera Global President David Eckstein Long Island City, N.Y. — Using his passion as a motorcycle enthusiast for decades Valera Global President David Eckstein has found a way to combine his passion for adventure, family, friends, business along with philanthropy. Eckstein returns to the road on Sunday, February 16, for his annual cross-country motorcycle trip on the way out to the Chauffeur Driven/NLA Convention In Las Vegas. Once again, this ride is to benefit the Semper Fi Fund.
The Semper Fi Fund provides support to post-9/11 combat wounded, critically ill and catastrophically injured members of all branches of the U.S. Armed Forces, and their families, ensuring that they have the resources they need during their recovery and transition back to their communities.
Each year, Eckstein clocks more than 20,000 miles riding throughout the United States, Canada, and Eastern and Western Europe, raising money for the Fund while visiting Valera Global's current and prospective affiliates. He can oftend be found observing airports and major luxury hotels, discretely observing the performances of various companies and chauffeurs. He's also been know to arrive unannounced at an affiliate company in order to better understand their real corporate culture. All told, Eckstein has vistited more than 3,000 luxury transportation operations throughout the world over the last 35+ years.
Once again, Eckstein is reaching out to the industry to support the Semper Fi Fund on this year's Coast-to-Coast-to-Coast Benefit Ride. To make a donation toward Eckstein's ride, click here.
This year, Eckstein will be live Moto vlogging his entire way across country, providing insight into his family's history with the Holocaust, Stalin's Siberian Gulag, and some of the unbelievable experiences he's had on the road while living and loving life to the fullest.
Eckstein was has been recognized for his efforts in helping the Limo Patriot Ride raise over $100,000 during the 5 years it was held. In 2013, he rode over 10,000 miles, raising over $12,000 for Wounded Warriors while traveling through 48 states and three Canadian provinces during a three-week period dedicated for the Wounded Warriors Project Charity. Eckstein is also a certified member of the Iron Butt Association for riding over 1,000 miles in a 24-hour period.
If you have any questions or recommendations, contact Eckstein directly at David.Eckstein@ValeraGlobal.com or (718) 753-2121.
Visit valeraglobal.com for more information.
[CD0220]