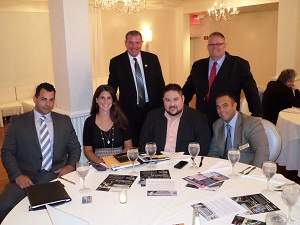 (L to R) Chris Carson and Diane LaChapelle of the Suffolk County Department of Labor, Robert Cunningham of Platinum Limousine and LILA president, Sammy Chu of the Suffolk County Department of Labor, Doug Schwartz of Executive Limousine, and Robert Xavier of Legend LimousinesPlainview, N.Y.—The annual meeting of the Long Island Limousine Association (LILA) was held at Carlyle at the Race Palace at the end of May.
Samuel Chu, the newly appointed Suffolk Commissioner of Labor, Licensing & Consumer Affairs, who will oversee the Suffolk Taxi & Limousine Commission (SCTLC), informed LILA members on the Long Island TLC that is slated to be fully operational by the end of this July. Chu stated the TLC will have the ability to license limousine companies operating in the county, and because of regional reciprocity agreements, will allow operators to do business throughout the tri-state region without concerns of legality.
"Guaranteeing reciprocity for our drivers is one of the main reasons for this legislation," says Chu. "Being landlocked means Suffolk County residents have to be very thoughtful about transportation issues. The business of transporting our citizens in for-hire vehicles is not only important to the county's economy, but also to the transportation system as well. Protecting that link … and those operators is crucial."
New York Code 498 regulates inter-jurisdictional pre-arranged for-hire vehicles, and this new branch of the TLC will operate under that code. This will give Suffolk County chauffeured ground transportation companies the ability to do business by having just one license, rather than the current situation where a company needs multiple licenses to operate statewide.
LILA membership fully supported establishing the TLC; they celebrated this initiative that will soon become a fact rather than a fiction.
Elections were also held at this meeting. While most of the current officers ran unopposed and will remain in their positions, the position of 2nd Year Director was up for grabs. This office was ultimately won by Bill Goerl of Clique Limousine.
CD Editor Jerry Bonner attended the meeting and raffled off an Atlantic City show pass. The pass was won by Penny Casey of T&J Limousine & Car Service.
Visit nslali.com for more information.
6/14