In a video posted on Facebook in early June, Scott Woodruff and Tim Pettit—owners of Majestic Limo & Coach and Chauffeurs of Distinction, respectively—shared the good news with their clients and industry peers that Majestic will proudly serve Chauffeurs of Distinction's customers moving forward. In this move, Majestic also acquired the company's phone number and website.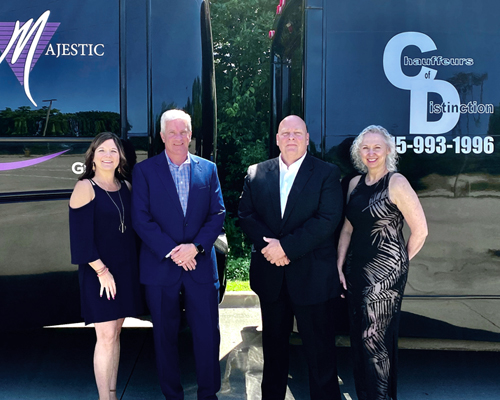 L to R: Melissa and Scott Woodruff of Majestic Limo & Coach with Tim and Grace Pettit of Chauffeurs of Distinction
Pettit and his wife Grace founded their largely corporate-focused company more than five years ago that, at its peak, operated seven vehicles in the Des Moines area. Woodruff founded Majestic in 1996, which he runs with his wife Melissa. Majestic's fleet consists of vehicles ranging from sedans to motorcoaches and is the largest operation in the area.
A serendipitous conversation between the two Iowa company leaders—who often fed each other work and frequently collaborated over the years—led to a deeper discussion about the impact that the pandemic had on their respective businesses and what they hoped for the future.
"Last year, the pie was large enough that everyone had their piece—some bigger, some smaller, but we all worked well together. That's unfortunately changed now," says Woodruff.
"Being a smaller company, it made sense for my wife and me to come up with an exit plan not knowing the certainty of the recovery time," says Pettit. "We realized that working 16-hour days just wasn't worth it to rebuild what we had already built. We're so proud of what we've accomplished."
As it turns out, Woodruff and Pettit also have more in common than just the transportation industry: They also have backgrounds in law enforcement. Pettit retired after 22 years on the force before opening Chauffeurs of Distinction, while Woodruff still works part time for the Altoona Police Department.
Both companies have also been named by CITYVIEW's Best of Des Moines as "Best Party/Event Transportation."
"Scott is one of the sharpest business minds, especially in this industry," says Pettit. "I thought of him as more of a mentor than a competitor. It was a great decision for both of us."
Although there is the possibility of Pettit working with Woodruff at Majestic in the future, the husband-and-wife team are enjoying some much-needed downtime and taking care of family.
As for Majestic, Woodruff reports that he's seeing an uptick in reservations. While primarily a corporate provider, he says they are excited to see an increase in retail reservations for larger vehicles and remain optimistic for the future.
Visit majesticlimo.com or chauffeursofdistinction.com for more information.
[06.23.20]