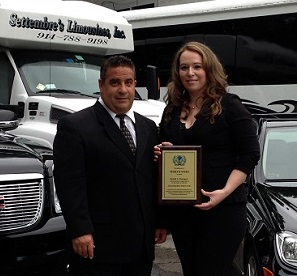 Tony Settembre and Kristi Fornges of Settembre LimousinePeekskill, N.Y. — Settembre Luxury Limousines, a mainstay in the chauffeured ground transportation industry in upstate New York for over 20 years, is honored to recognize its General Manager, Kristi Fornges, for winning the 2014 Strathmore Who's Who in Business Award.
Fornges has been working in the transportation industry since 2008. She started off as an Affiliate Coordinator and Event Planner with LEROS Point to Point in Hawthorne, N.Y. but in 2010, she moved into her current role with Settembre.
"It's certainly a privilege to be recognized for this award," says Fornges. "As a service industry, customer service is the number one priority. I strive to establish close relationships and follow-up with clients and affiliates.  Problems do arise at times, but excellent interpersonal skills and an ability to think and act quickly when faced with a problem are necessary qualities to possess.  As always, a sense of humor can go a long way too."
"Kristi is a go-getter...a real winner for sure," says Tony Settembre, owner of Settembre Luxury Limousines. "Her outstanding achievements and overall leadership abilities are worthy of this great recognition. We're very lucky to have her on our team!"
Visit settembrelimo.com for more information.
6/14