EmpireCLS announced that they are the first luxury ground transportation provider to provide rapid COVID testing for their chauffeurs. The CareStart COVID-19 Antigen test is FDA approved, and described as a lateral flow immunochromatographic assay intended for the qualitative detection of the nucleocapsid protein antigen from SARS-CoV-2.
In a statement, the company calls the tests—which offers results in 10 minutes—"another step and breakthrough in mitigating risk, as we continue to protect the health and safety of all those riding with us."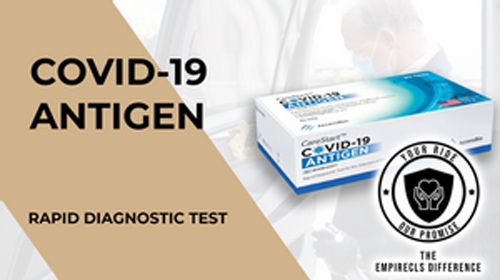 EmpireCLS COVID-19 Antigen test kit
Testing is currently available for the industry upon request for $50 in the following cities:
Los Angeles
New York City
Boston
Washington D.C
Miami
Atlanta
San Francisco
Dallas
Houston
Chicago
Tampa
Orlando
Philadelphia
More key cities being added weekly
This rapid testing continues EmpireCLS's efforts to offer the "safest ride on the road." Since the pandemic, the company's chauffeurs have been supplied with thermometers to monitor their temperature throughout the day. While this will not detect asymptomatic infections, it has created awareness when a chauffeur has a fever and may not know.
To learn more about chauffeur testing and all of our Health & Safety guidelines click HERE.
Visit empireCLS.com for more information.
[12.28.20]