Life is better at the beach, as Californians say, and those words rang true for more than 200 transportation professionals who attended the Greater California Livery Association's (GCLA's) two-day Expo in Redondo Beach August 30-31.

The Expo was designed to be an association fundraiser and an outreach program for members and non-members, and included networking events, educational sessions, and exhibits.
The event featured an all-star lineup of industry luminaries and was supported by 30 event sponsors and exhibitors (see the full list here). Educational sessions included digital sales training, pricing strategies, sustainability learning, motorcoach recovery strategies, a motivational keynote, and a 2022 Super Bowl Planning Session (Los Angeles).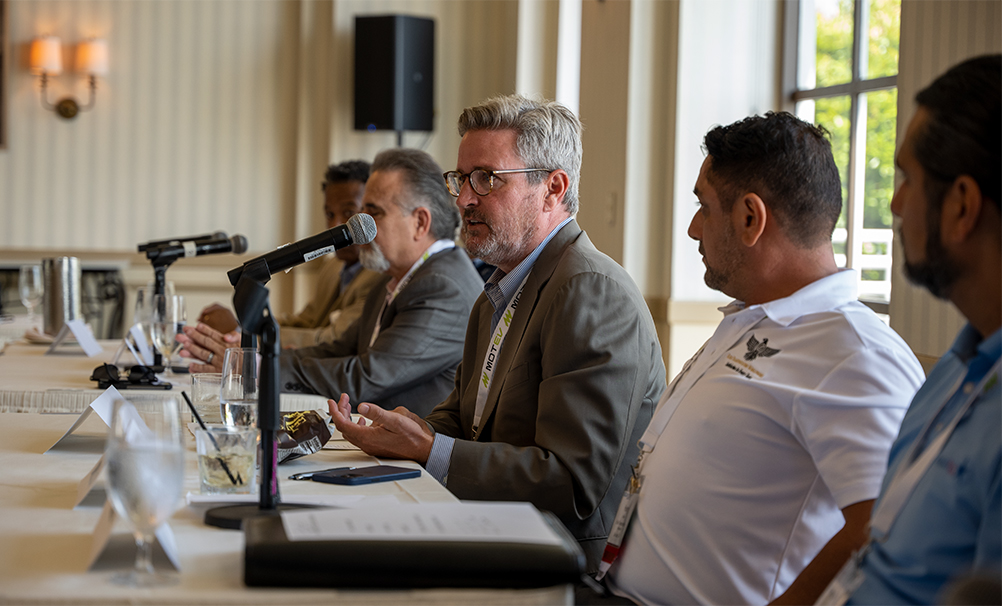 Patrick O'Brien of O'Brien Law and GCLA Member at Counsel (at mic) speaking at the event
NLA President Robert Alexander of RMA Worldwide also attended the event, where he shared updates about the NLA and the upcoming CD/NLA Show in October in Dallas. He also hosted a presentation called Pricing Strategies You Need to Implement Today.
"The GCLA Expo was a first-class event in every way," said Derrick Stafford of Elegant Image Limousine.
Platinum Sponsorship Ford/Lincoln partnered with South Bay Ford to debut the new 2022 Aviator. BMW also showcased its 2022 new fleet vehicles, while GMC/Motor City brought a 2022 Yukon Denali and Cadillac, working with Acton/SoCal Penske, displayed its Escalade ESV.
GCLA Fundraising Team hosted a Sports Trivia Night, which attracted more than 70 people and raised an extra $2,000 for the GCLA Advocacy Fund. The association gave special thanks to Tammy Carlyle of Action Worldwide, Sarah McKee of Chosen Payments, and Jim Luff of Chosen Payments for their hard work.
"This event was a much-needed shot in the arm for California operators. It was exceptional and I was thrilled to be a part of it!" said Maurice Brewster of Mosaic Global Transportation.
Visit gcla.org for more information.
[09.08.21]