SC Coach of Aiken, S.C., announced that it has added a new MCI J4500 motorcoach to its fleet. The company received the motorcoach as a demo unit in late 2020, which then turned into a 6-month lease, and ultimately they purchased the coach in October. This makes the ninth (soon to be tenth) J4500 in their fleet.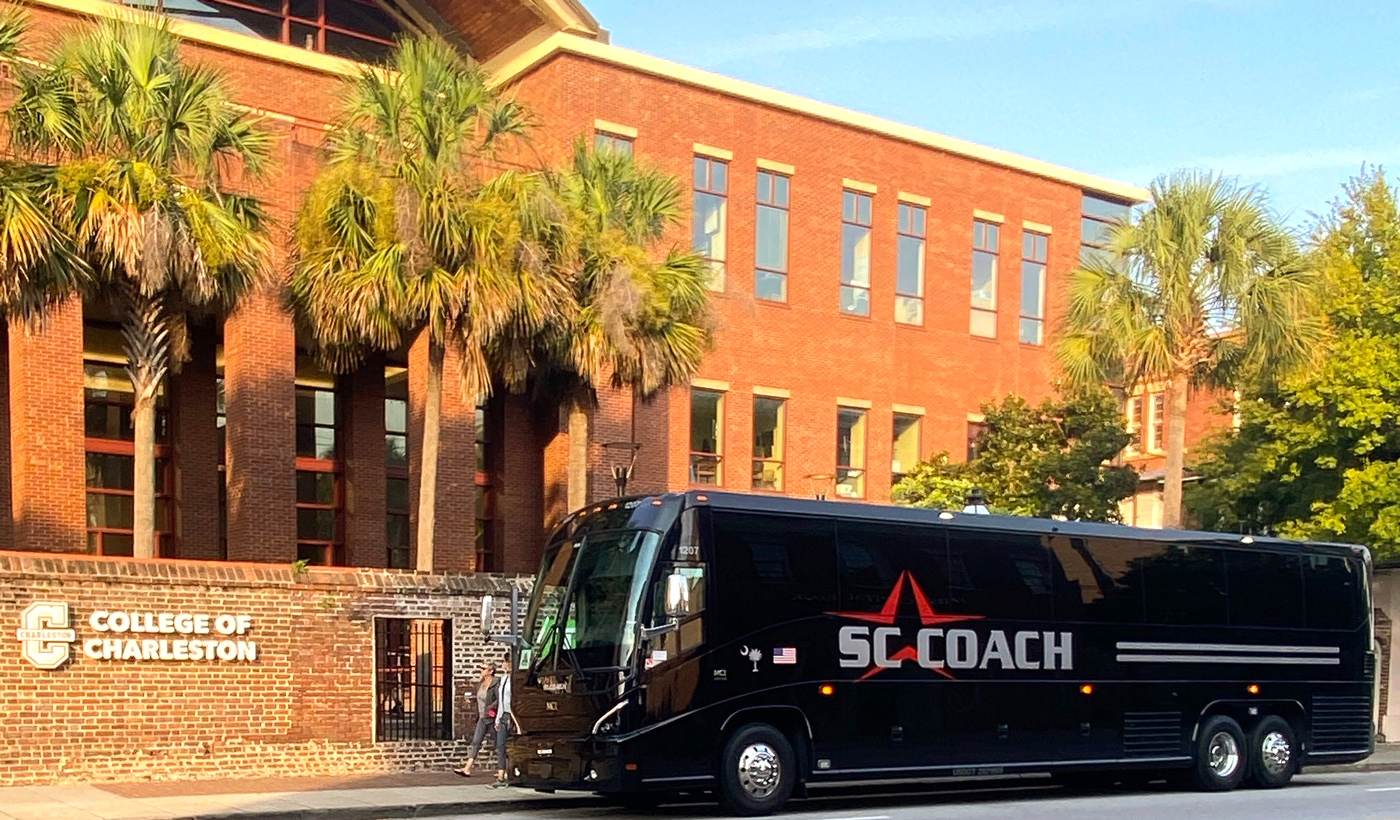 MCI J4500 at the College of Charleston
"MCI turned around a less-than-ideal situation on a previously purchased coach and was able to find a remedy with this coach. The customer service we received through the process was exceptional and made the sale simple and easy during a rocky time in the industry. This J4500 truly sets the bar for ground transportation in our area, and I could not be prouder to brand it with our logo," says SC Coach Founder Jeff Canady.
Founded in 2000 as CLT Express Livery with just one sedan, they acquired their first coach company, Busy Bee Coach, in 2015. Busy Bee was rebranded into SC Coach, and the company soon traded in their existing fleet of coaches for their first J4500s. SC Coach has grown into 16 coach (and growing) fleet in just 6 short years. They are currently the largest chauffeured transportation provider in the Carolinas with over 85 vehicles.
SC Coach-branded MCI J4500
"This new J4500 ties SC Coach back into our roots, truly bringing the limousine feel into the coach industry. From the leather seating, to the mood lighting, to the exceptional ride quality, the company feels that the luxurious feeling of an MCI is incomparable," added Canady.
"When they say Reliability Driven, they mean it," says Dustin Robinson, a driver with SC Coach assigned to the vehicle. "Almost every day I'm behind the wheel of this coach and I've yet to find a feature or, in better words, a lack of feature that I dislike. To pick a favorite, I'd have to say the mood lighting. When a team or group boards the coach and they see their colors, it takes it from another bus ride to a feeling of its their own team coach. From the ride quality to the comfort aspect, I love being behind the wheel of an MCI."
SC Coach Maintenance Manager Jon Furtado is also impressed with the new coach.
"Running the most monthly miles in our fleet and only seeing it in the shop for routine services, inspections, and tires says a lot compared to our other new coaches with various other issues after delivery. From reliability to parts availability, to some of the best tech support in the industry, MCI makes a great product and stands behind it every step of the way," says Furtado.
Visit scmotorcoach.com for more information.
[11.01.21]