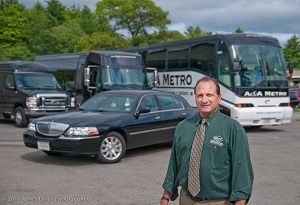 Tom Arrighi, president A&A Metro TransportationBridgewater, Mass. — The month of February marks A&A Metro Transportation's 62nd year in business. To commemorate this prestigious anniversary, A&A have recently established three new locations throughout the state of Massachusetts: Randolph, Wareham and Mansfield. 
A&A Metro prides itself on being a full service transportation company with a diverse fleet of over 120 vehicles, featuring executive sedans, vans, mini buses, motor coaches, and wheelchair accessible vehicles.
Due to the incredibly high demand, A&A Metro's growth has caused, the company purchased six new 2014 ElDorado Aerotech Buses, one 2014 Turtle Top Van Terra, and a 2014 Ford E250 wheelchair accessible van in just the last month alone. Such a large purchase of vehicles with wide ranging functionality will be a major asset in addressing the needs of A&A's growing consumer base.
Visit aametro.com for more information.
2/14