Nearly two dozen operators, industry vendors, and board members attended the recent Limousine, Bus, Taxi Operators of Upstate New York (LBTOUNY) Zoom meeting on March 3. It was the first meeting of the year and was led by LBTOUNY President Kevin Barwell of Giorgio's Limousine Service.
Several other state association representatives also joined the call, including Limousine Association of New York President Jeff Rose of Attitude New York, Long Island Limousine Association President Tom Gouldsbury of Azure Limousines, NLA First Vice President Doug Schwartz of Executive Ground Transportation, and Bill Yuhnke of Liberty Cabs on behalf of The Transportation Alliance. Each were offered time to discuss the issues impacting their area of the Empire State.
LBTOUNY President Kevin Barwell
After brief introductions from attendees, Barwell turned the mic over to the guest speakers from the insurance world: Stephanie Ruggles and Alex Gesicki of National Interstate Insurance and Mark Crisafulli of Haylor, Freyer & Coon. As N.Y. operators continue to struggle with insurance rates and new burdens of coverage limits, including the mandatory $1.5M SUM insurance that covers under- and uninsured motorists in an accident, the trio offered their assessment of the market and tips for a favorable renewal. Communication with your broker, detailed hiring practices and training, and use of in-vehicle cameras all topped the list. And because the market is so tight from primary and excess carriers leaving the state and the industry, they warned that a canceled policy may result in difficulty in securing coverage and may be limited to risk pools with rates many times higher.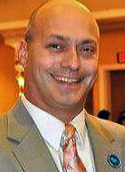 LBTOUNY Legislative Chairman David Bastian
Next, Legislative Chairman David Bastian of Towne Livery shared the goings-on in the state capital. They have seen an increase in TNC and livery drivers without the proper plates and thus, the required insurance, picking up passengers, which Bastian said was ultimately a safety issue should an accident occur. Thanks to a great working relationship with the state, both Bastian and Barwell encouraged operators to take and send pictures of these vehicles—including buses—so that they can help with enforcement. Barwell also shared that he's been made aware of the DMV issuing the incorrect plates to TNCs without the required insurance, which is an issue they are following closely. They are also working to get a sales tax exemption for the industry through the Assembly and to the governor after already passing the Senate.
The effects of the Schoharie crash in 2018 continue to linger, but the association and industry will officially have representation on the newly created Limousine Passenger Safety Task Force. David Brown of Premiere Transportation was appointed, although he is only one of two livery companies on the committee that mainly comprises families of the crash victims and other agencies that are pushing for additional regulation. Brown says he hopes to be able to provide a balance between a public that wants stricter regulations and the industry's ability to operate safely but also profitably.
Barwell noted that the association is the preliminary stages of organizing a Day on the Hill for Albany and hopes to resume in-person meetings this summer, including their late-season baseball outing. The next meeting is scheduled for April 28 via Zoom.
Visit lbtony.com for more information.
[03.15.22]