Could this be an industry first? When Ohio-based TL Worldwide Transportation took delivery of its newest vehicle, a 2022 Ford Mustang Mach-E Premium Package, it became one of the earliest operators in the US to test the waters with the OEM's all-electric version of its classic pony car.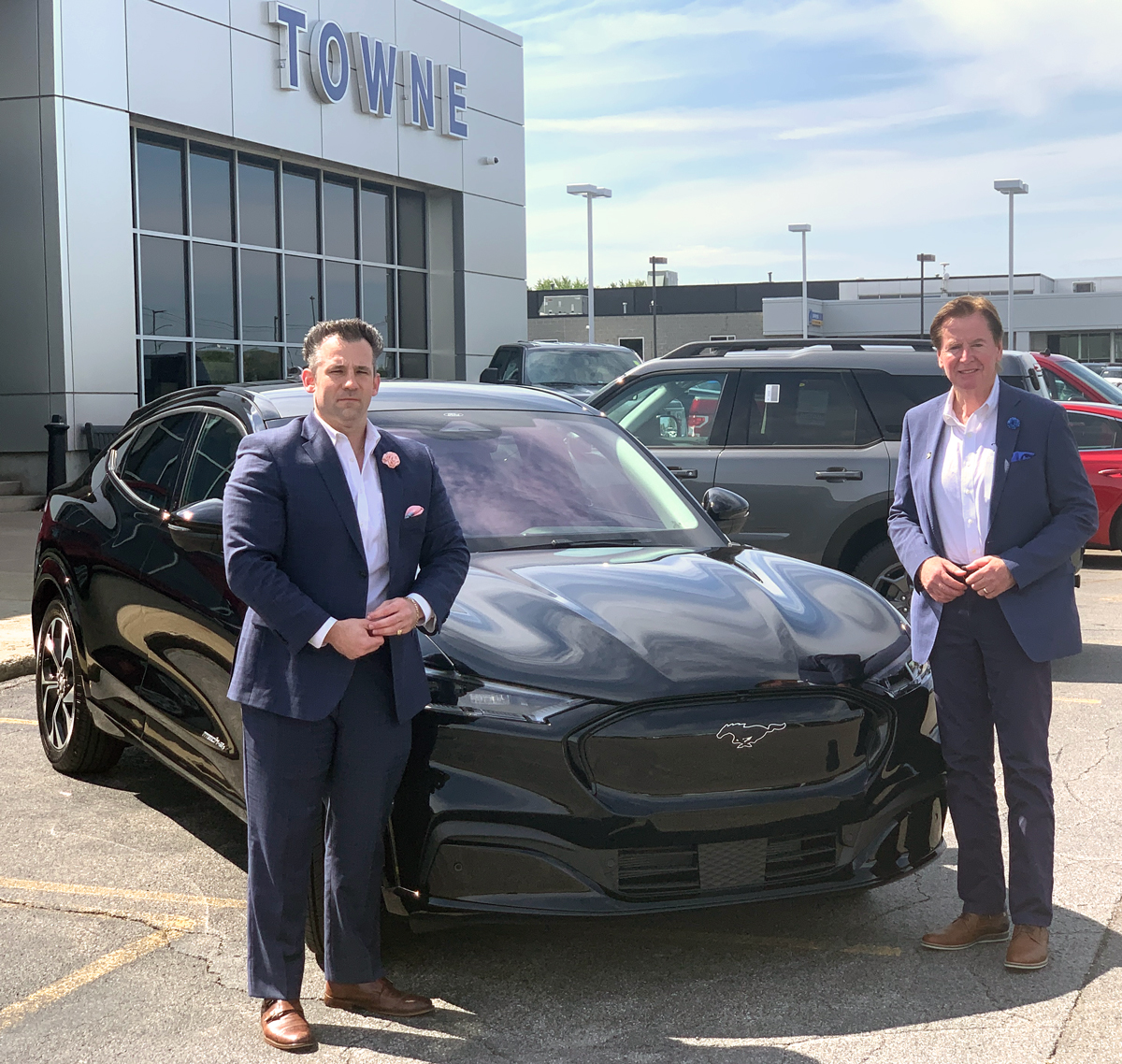 DJ Luciano (left) and Garry Moneypenny of TL Worldwide picked up the car from Towne Livery in Buffalo, N.Y.
Yes, you read that correctly. While the Mach-E shares the nameplate, this model is 100 percent electric with a range of about 300 miles and is classified as an SUV rather than the traditional coupe. Electric makes it whisper quiet, although there are three drive modes that introduce a bit of sound into the cabin for a more conventional experience.
"I initially said 'that can't be a Mustang' when I first saw it on the floor at the CD/NLA Show in Vegas in March," says President and Owner Nancy Brodie. "It was just so sleek and I thought it was something we really needed in our fleet. I worked with Dave Bastian of Towne Livery and asked what we had to do to make it happen. I believe we might be the first operator in the industry to receive one."
Earlier this summer, TL's Manager of Government Affairs and Marketing DJ Luciano made the trek to Towne Livery's headquarters in Buffalo, N.Y., to take delivery—and had the pleasure of being the first in the company to see how it performs on the open road.
"I drove it from Buffalo to Akron—about 200 miles—and had about 100 miles left in drive time," Luciano says about battery range.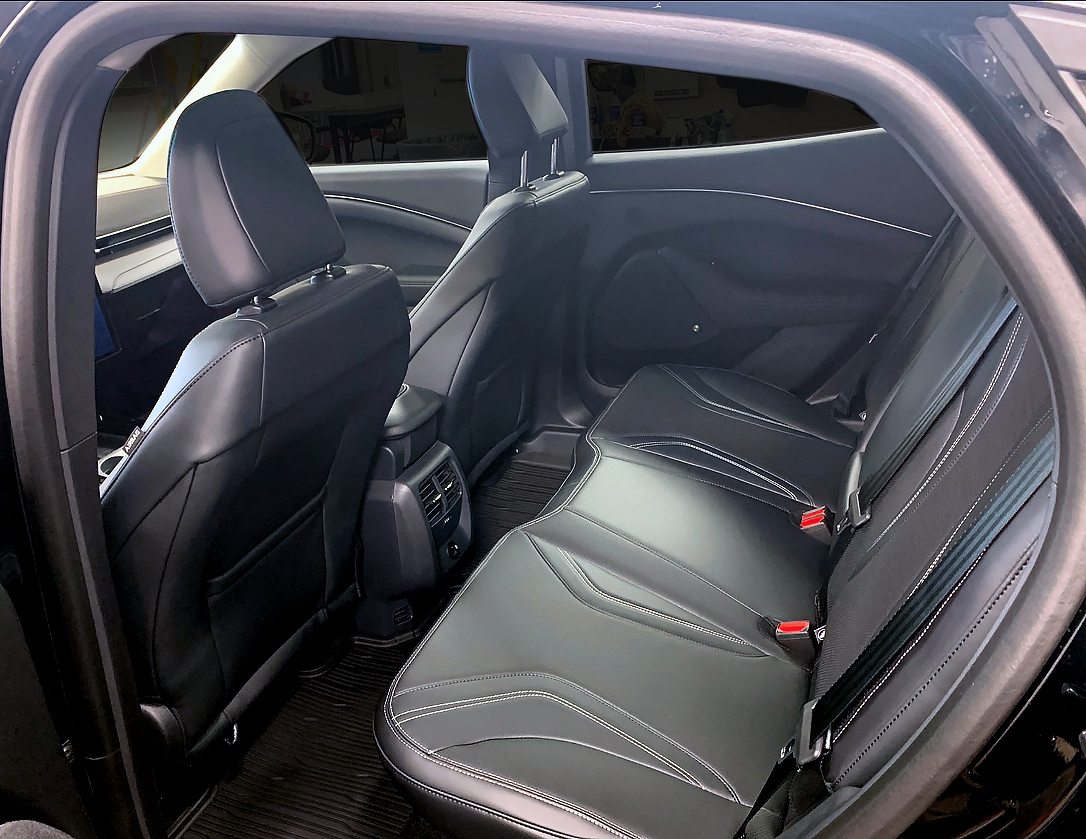 The backseat of the Mach-E
Rather than a gas gauge, the vehicle's remaining range is displayed on the 15.5-inch console screen, which includes a breakdown of the impact that climate control and other accessories have on the battery. By entering the destination, Ford's interface can also help plot the charging requirements for the drive and find a charging station along the route. Publicly available charging stations continue to pop up across the country, which includes Ford's BlueOval Charge Network with more than 75,000 plugs available nationwide.
While the TL team anxiously awaited the summer delivery, the time was well spent getting their facility up to spec to be able to charge the Mach-E onsite. Meanwhile, Ford Pro Charging provided an extensive education for the team.
"It's more than just purchasing the car and driving it off the lot like you would with any other car. It's not just the financial investment, but the educational investment," says Sales & Marketing Manager Samantha Brodie.
"Ford Pro Charging has been very good with training our team—anyone who is going to be servicing or touching or interacting with the vehicle. They do a phenomenal job with their education. It's been incredibly helpful—they definitely lessened the stress," says Luciano.
The garage upgrade took several weeks of planning and about three days to install the Level 2 charging stations, which provide a stronger and faster charge. Luciano estimates that a full charge may take up to four or five hours in house, although he's experienced a solid charge from approximately 45 percent to around 80 percent in as little as 15 minutes at public chargers.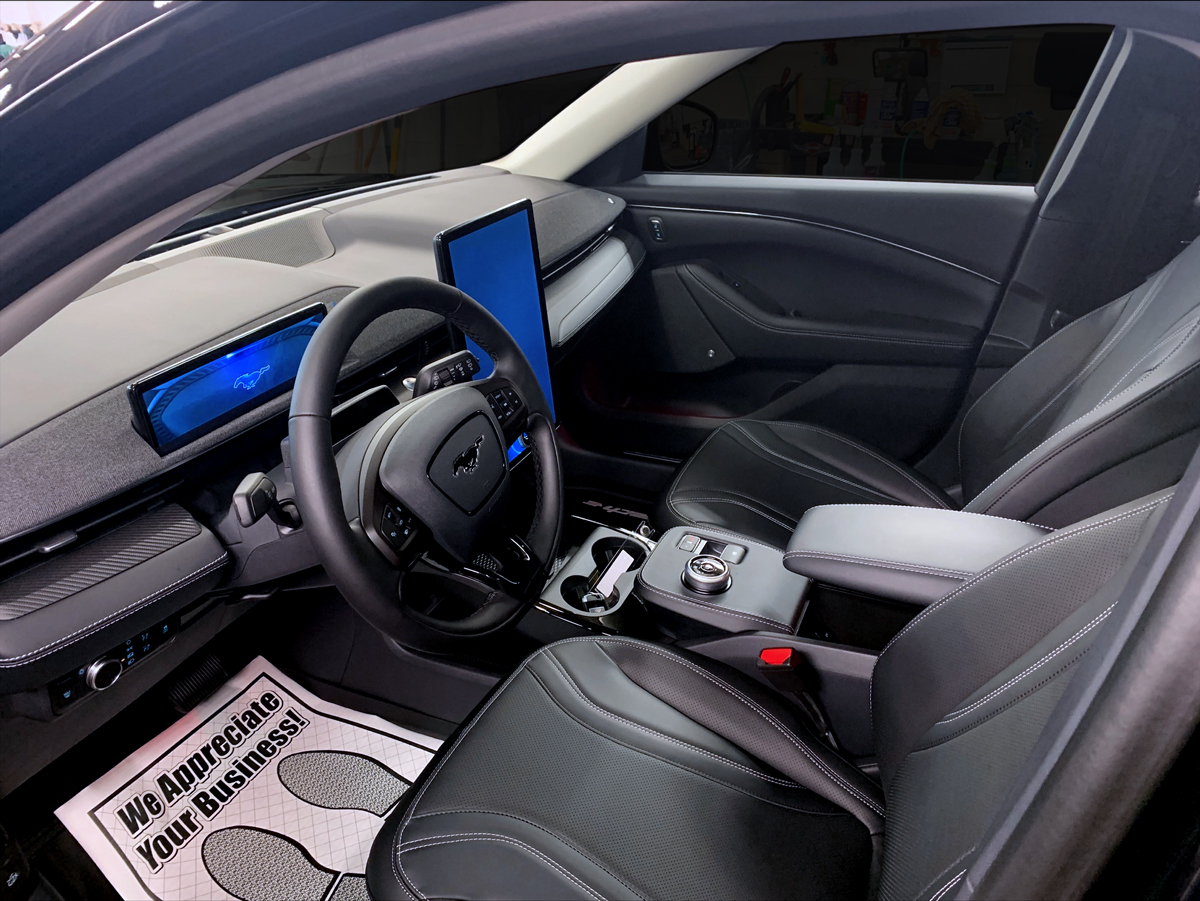 The dash of the Mach-E
"I think the cost savings will be pretty dramatic the further we go and the more vehicles we implement," says Luciano. Plus, the vehicle requires less maintenance, adding to the savings, and tax credits may be available.
"Ford Pro Charging has been amazing with the process of getting our garage ready," says Nancy. "They walked us through step by step. We decided to go with more than one charging station because I think we're going to explore adding more electric vehicles to our fleet down the road. It was a bit costly, but it was better to do more than one station rather than having to go back and do more later."
Because the Mach-E has a completely different powertrain than their traditional ICE-powered vehicles, Brodie has been giving her chauffeurs about 20 hours of drive time (recommended by Ford Pro Charging) to get familiar with the vehicle's performance and technology before transporting customers. She's also drilled it into their heads to keep an eye on the remaining range, so far without incident. When the winter months come, the team will be able to precondition the batteries—thanks to Ford's software--so that range isn't sacrificed due to the colder weather.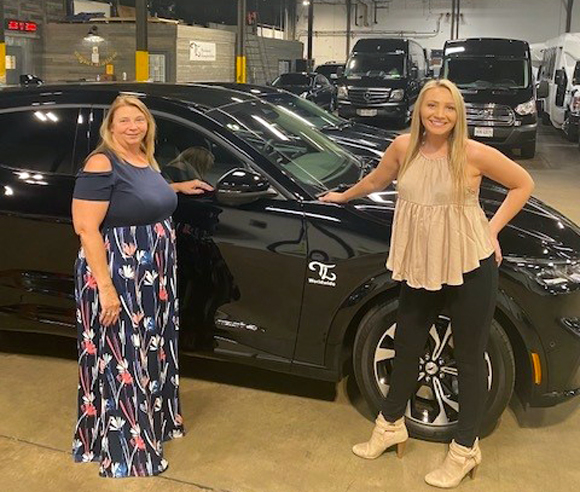 TL Owner Nancy Brodie (left) and Sales & Marketing Manager Samantha Brodie with their new vehicle
Samantha says that they have also been slowly introducing the Mach-E to select customers—especially those who are frequent travelers and are exposed to what vehicles other countries are offering—while actively soliciting feedback before marketing it broadly to the rest of their clients.
"On a recent airport run, the couple was so excited about riding in it that they were discussing the possibility of getting their own electric vehicle. Riding in it and seeing the view through the panoramic roof and feeling the incredible horsepower that it has while still having a luxury feel were big selling points for them. It was neat to see them really enjoying the Mustang as much as we have," says Luciano.
Luciano says that storage space is comparable to other TL fleet sedans, but with a twist—there's extra room under the hood where the engine would be referred to as the "frunk."
"Ford did a really good job with utilizing that space because it's insulated to near-perfect water seal, so you can fill it up with ice and use for tailgating or an event like a wedding. It's a unique opportunity to be able to bring that into the luxury transportation space. I think people will start to see the versality this vehicle offers," he says.
"It's so comfortable and what a smooth ride. It's very roomy; it's an amazing vehicle. Everyone here is just in love with it," adds Nancy. "I think the industry is absolutely going to love it too, and I look forward to getting more. We're excited to be the first. It's changed our lives in just the past few months that we've had it."
Visit tlworldwidetrans.com for more information.
Photos courtesy of TL Worldwide and David Bastian of Towne Livery. 
[09.13.22]