Technology provider AddOns.LA (AddOns) will be acquired by Fullsteam and join its portfolio of Software as a Service companies. This is the second strategic acquisition in the travel and transportation sector for Fullsteam, which purchased Limo Anywhere, a software solution in ground transportation and a close partner with AddOns, earlier this year.
"With both companies now part of Fullsteam, AddOns and Limo Anywhere brought forward the opportunity to unlock new value as a single business. Fullsteam agreed," said Fullsteam CEO Michael Lawler. "Merging these companies sets the stage for an unparalleled offering in the ground sector of travel, and I'm excited for the tremendous opportunities it presents us where travel, technology and payments intersect to benefit our customers and shareholders."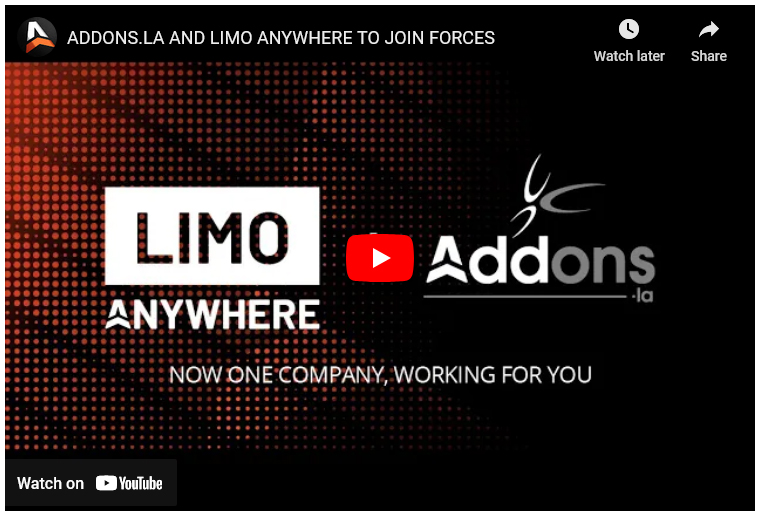 AddOns and LimoAnywhere join Fullsteam's portfolio of Software Service Companies
Limo Anywhere and AddOns have worked together since AddOns' founding in 2014, collaborating to provide operators with the best functionality and features that work across their platforms. As a single company, AddOns and Limo Anywhere will create the industry's most comprehensive and leading-edge platform. Additionally, with financial backing and operational support from Fullsteam, the combined companies will have expanded capabilities to focus on technology innovation and strategic development that not only will make a difference for operators' daily business, but also transform the industry.
The combined companies will operate as Limo Anywhere going forward, leveraging Limo Anywhere's nearly two decades of history and name recognition, as well as its market-leading position in the ground transportation industry.
"We have always viewed AddOns as a key differentiator," said Limo Anywhere President Sean Arena. "They have an extraordinary team, innovative solutions, and forward-thinking technology. AddOns has been an incredible partner for many years, and joining forces to become a single end-to-end solution just makes sense. As a unified business backed by Fullsteam, we are pushing the envelope to deliver unprecedented solutions."
AddOns Founder and CEO Andrew Norman echoed Arena's enthusiasm for the merger and the opportunities it presents.
"Bringing together the talent and capabilities of AddOns and Limo Anywhere, along with the support of Fullsteam, enables us to even better serve our operators and the industry. Limo Anywhere is the largest player in the market, and combining their leading status with our team's leading-edge solutions, positions us to move the industry forward in new and meaningful ways," said Norman.
Visit fullsteam.com for more information.
[11.22.22]