Operators attend one of the breakout sessions at the UMA Safety Seminar Ashburn, Va. — The United Motorcoach Association (UMA) held its 11th annual Safety Management Seminar December 3-4 at the National Transportation Safety Board's training center. UMA has held the seminar on a yearly basis since first identifying a need for it within the ground transportation industry; its specific topics vary based on current demands but always aim "to assist motorcoach operators on safety and compliance," according to Michele Nosko, UMA's marketing & membership director.

In addition to agency updates from the National Transportation Safety Board (NTSB), Federal Motor Carrier Safety Administration (FMCSA), and Transportation Security Administration, the day-and-a-half seminar also featured a number of educational sessions.

"We kicked off by discussing the topic of employee hiring and discipline, and had a session on accident investigations to provide an overview of what operators should do if there's an accident with their motorcoach," Nosko said. "We also had a session on OSHA (Occupational Safety and Health Administration). One of the other sessions, "What I Learned from My Recent Investigation," was a moderated panel with operators who have gone through the FMCSA's compliance reviews and shared their experiences and tips."

The seminar is capped at 130 attendees, which allows for a small, person gathering where individual questions and concerns can be presented so operators can walk away with solutions to real-life problems. Nosko said that there's a fairly even split between those who frequently attend the seminar to stay on top of changes in the industry and its regulations, and those who may not necessarily be new operators but are participating in the event for the first time.

"It was definitely a success this year," she said. "We had a full house, and a lot of the attendees gave us really great feedback and said that it was a good program.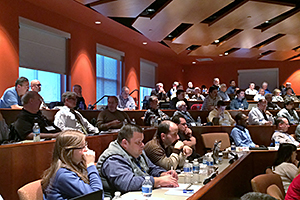 The UMA Safety Seminar offered attendees numerous educational opportunities The UMA's next big event will be Motorcoach Expo, now in its 31st year, in New Orleans, La., from January 18 through 22.

"Registration numbers are up and we're really expecting a great meeting this year," Nosko said. "We have a lot of new networking programs that we're doing and we've got a lot more educational opportunities this year."

One of the biggest changes in the show is that "the key manufacturers of the industry," like Prevost, ABC Companies, MCI, Alliance, and Temsa, will all be showing more vehicles than they have in years past.

"Operators tell us that the education is stellar at Expo but they're also there to buy equipment," Nosko said. "So it really is a buying show, and being able to put more equipment on the show floor is really exciting and beneficial for our attendees."

Nosko believes that the show can benefit not only those in the motorcoach industry but also livery operators who are interested in expanding their fleets to include buses.

"For [chauffeured transportation] operators, it's a great venue if they're thinking of getting into bigger equipment," she said. "They can see the vehicles on the show floor, and they can attend our sessions to learn about them. The motorcoach industry does transport passengers but it really is a different world with all the regulations they need to think about, so this show is a great learning resource for anyone starting out in the industry."

Visit uma.org for more information.


[CD1214]