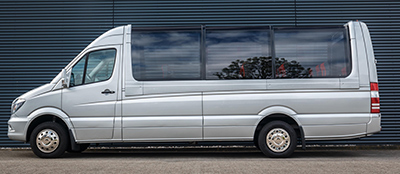 Las Vegas, Nev. — Meridian Specialty Vehicles, a Mercedes-Benz® Preferred bus manufacturer, recently announced the availability of its long-awaited SkyVue glass-top convertible Mercedes-Benz Sprinter bus designed specifically for the sightseeing and tour industries.

The patented and proprietary SkyVue glass top convertible bus will be available in the United States, Canada, Mexico, and the Caribbean on the 170"-extended wheelbase 3500 model Sprinter in several 16 to 20 passenger configurations. The roof system replaces the factory structure, opens and retracts with the touch of a button, and incorporates several safety features to prevent injury or damage to the system. The roof can be fully opened or closed in about 30 seconds and is completely water and air tight when closed so sudden weather or temperature changes are never an issue.

"Since announcing the product in March, we have been inundated by inquiries from operators throughout North America with an incredibly diverse range of applications," says David Ronsen, president and CEO of Meridian, "The experience of riding in a Sprinter fitted with the SkyVue glass top—open or closed—is truly exhilarating. The SkyVue bus literally creates new markets in the tour and other transportation industries that simply were not in reach before now. From New York City to the Grand Canyon and Wine Country to New England 'leaf peepers' applications, tour companies will now have a platform from which they can distinguish themselves from their competition and provide a one-of-a-kind touring experience for the masses or for their most exclusive VIP clientele and in any climate, season, or weather condition."

Included in the 100+ available options are several oversized air conditioner and heater options to ensure passenger comfort in virtually any climate. The system has been tested extensively throughout Europe and the Middle East and is now being made available in North America.
SkyVue buses will be available through select Meridian dealers. MSRP for the M716, 16-passenger model is $145,550.

Visit meridiansv.com for more information.

[CD0615]