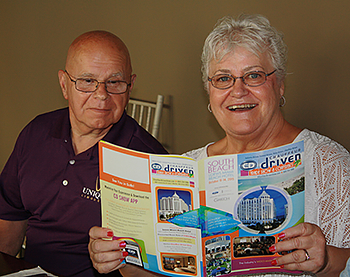 PRLA Immediate Past President Jim Salinger and his wife Josie peruse the brochure for Chauffeur Driven's upcoming Miami Show Essington, Pa. —Nearly 25 members and supporters of the Philadelphia Regional Limousine Association (PRLA) attended the organization's meeting at The Deck on July 8, which was sponsored by Wolfington Body Company. CD's Industry & Brand Ambassador Philip Jagiela attended the summertime meeting in Essington, which has been affectionately dubbed the "luau event" for its relaxed atmosphere and change of scenery.

Despite its casual nature, there was still much business to discuss at the meeting. PRLA President Steve Rhoads of Rhoads Limousine spoke about how the association is trying to arrange a review of TNC regulations with the Pennsylvania Public Utility Commission's legal staff, with hopes of orchestrating the review by the end of the month.

Rhoads is also working with Mike Marroccoli of The Capacity Group to bring the STOP Program to PRLA members and their chauffeurs. The program is an online defensive driving course that caters to operators who have no such program in place, and issues a certificate upon successful completion—and can provide savings in insurance premiums, too.

Brian O'Neill spoke on behalf of Wolfington, discussing its products and services, as well as introducing the company's newest member, Megan Bratton, who will be a part of the Commercial Bus Sales staff. As the meeting sponsor, Wolfington also had four vehicles on display for all attendees to tour.

As TNCs continue to call for changes in commercial transportation insurance, Richard Ackerman of P.A. Post Agency shed some light on the evolving insurance industry and how it's attempting to provide coverage for TNC operations. Ackerman then provided some insights into keeping an effective safety program in place to maintain annual premiums.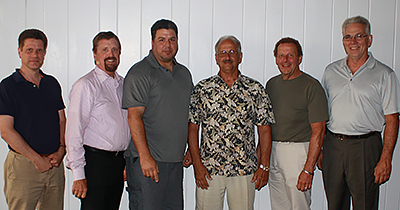 L to R: PRLA Treasurer Chris Haines of Michael's Classic Limousine, PRLA Vice President Bob Euler of King Limousine, PRLA Director Perry Carmerlengo of Luxury Limousine, PRLA Vendor Member Peter Corelli of Lakeview Custom Coach, CD Industry & Brand Ambassador Philip Jagiela, and PRLA President Steve Rhoads of Rhoads Limousine Jagiela, who attends regional industry meetings across the country and is also the executive director for livery associations in Colorado, Long Island, and Florida, gave an update on the ground transportation industry from a national perspective. He also spoke about the recently finalized schedule for this October's Chauffeur Driven Show in Miami and other new event details.

PRLA Vendor Member Peter Corelli of Lakeview Custom Coach, who also serves as the PAC Chair for Limousine Association of New Jersey (LANJ), ended the meeting by highlighting LANJ's efforts to introduce legislation that would mandate TNCs face the same insurance requirements and driver background checks that traditional transportation companies must abide by. Corelli asked for additional support between the two neighboring associations, as the Senate vote could come within the next few months.

As there is no August meeting for the PRLA, the association will reconvene September 9 in King of Prussia, Pa.

Visit prlainc.com for more information.

[CD0715]