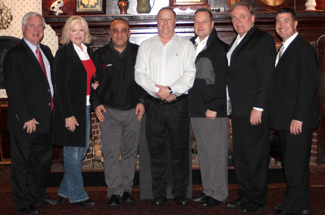 Members of the GALA board include (L to R): Treasurer Fred Rich of Olympus Worldwide, Directors Deidre Sublet of Classic Bus Sales and Hoss Oskouie of Atlantic Limousine, President Jeff Greene of Greene Worldwide Transportation, Directors Dennis DeLoatch of Carey Executive Limousine and William Devine of Blue Bird Global Chauffeured Transportation, and Vice President Chad Casey of Casey Corporate TransportationAtlanta — Nearly 30 members of the Greater Atlanta Limousine Association (GALA) gathered at Pittypat's Porch on February 23. CD Editor Madeleine Maccar was in attendance for the packed-agenda meeting.

After President Jeff Greene of Greene Worldwide Transportation kicked off the meeting by welcoming and thanking all in attendance, Treasurer Fred Rich of Olympus Worldwide delivered the treasurer's report. Included in his financial statement was an update about the bid to legalize gambling in Georgia, as a referendum allowing residents to vote on the proposal had recently passed. If successful, five jurisdictions within the state, including Atlanta, would be allowed to gamble—with the addition of a casino to the city's landscape "greatly affecting the limo business" and bringing an uptick in job creation.

Further association business included the introduction of new members, and Greene acknowledged the contributions to GALA that Immediate Past President and current Director Dennis DeLoatch of made to the association during his two years as president. Director Hoss Oskouie of Atlantic Limousine and Greene also spoke about the GALA website and their plans for it to become an indispensable resource for members by the end of June; as email updates can get lost in high-volume inboxes, the site will become an networking-friendly repository for meeting minutes, airport updates, and general association news.

A handful of new members were also introduced at the meeting, including Maria Priestly of Empress Elite Limousine, Jacob Shivers of J & J Limo Service, and Joe Wilson of J&A Transportation and Limousine Service.

The meeting's guest speaker was Les Schneider, an attorney and GALA lobbyist who also works with Georgia Committee for Transportation Compliance (GCTC), a council organized by local taxi and chauffeured ground transportation leaders—including Greene and DeLoatch—and assisted in the crafting of two house bills last year. Schneider gave a thorough overview of the local industry's pursuit of a level playing field, as well as updates about HB-805, a bill introduced in late January that aims to clarify limousine inspections and "revise provisions relating to the regulation of transportation for hire."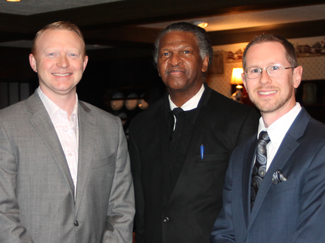 L to R: Ryan Floyd of American Employer Group, Jacob Shivers of J & J Limo Service, and Eric Alimena of Alimena Limousine Schneider noted that one of the bill's six primary sponsors, representative Alan Powell, "is fighting hard for the industry and grabbed onto this issue as Chairman of Public Safety and Homeland Security in the House." He implored members to continue fighting for their industry rather than "waiting for people to do the right thing."

"You must appeal to legislators constantly, not just once or twice," he advised. "The people supporting the casinos are out there every day because it is the most important issue to them. Bills have the potential to improve things: How often you're lobbying for your cause can be the difference between thwarting an unwanted bill or getting the right one to pass."

Maccar also spoke to the group, discussing how Chauffeur Driven relies on industry input to its magazine and shows can continue giving operators the tools they need to succeed, as well as offering an overview of the upcoming May 1-3 Executive Retreat in New Orleans. She also raffled off a pass to the Retreat, which was won by Hashim Abdi of Mint Life Limousine.

Rich, who is also a co-chair for GALA's annual golf tournament, then spoke about the fundraising event, which will return to the Country Club of Roswell September 13 and is currently seeking sponsors.

Greene—who, along with DeLoatch, is a stakeholder representative at Hartsfield-Jackson Atlanta International Airport (ATL)—reported on TNC operations on the airport property, as well as getting the airport's new Ground Transportation Director up to speed in regard to their concerns. How airport construction will affect chauffeured transportation vehicles, clearance-height adjustments for high-occupancy vehicles, and operational and decal details surrounding the legal usage of rented or borrowed vehicles were all among additional topics of conversation, as was the writing of new ordinances for TNC operations at the airport.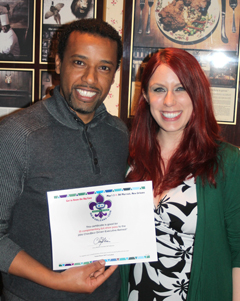 Hashim Abdi of Mint Life Limousine, who won a pass to the 2016 Chauffeur Driven Show in Washington, D.C., with CD Editor Madeleine MaccarWhile TNCs are not allowed to perform pickups at ATL, they are permitted to drop of passengers. GALA members have appealed to airport officials on their industry's behalf, and a geofencing pilot program will be enacted to observe TNC vehicles on ATL property; if they rack up a certain number of violations, their permits can be revoked. Greene advised members to keep an eye out for TNC activity at the airport, as it would be beneficial to have a collection of photographs and reports detailing their infractions. 

"We're being as proactive as we can be," Greene said of GALA's efforts to work with ATL. "The key to our survival will be communication and involvement. It takes a lot of time to send these emails and to go to these meetings: We need everyone's help, we want everyone—not just the board—to be involved with our committees."

Greene closed out the meeting by reminding those in attendance that the association will continue to fight for its members and their industry.

"We will fight for you until there's nothing left to fight for," he promised.

The next GALA meeting will be March 10. Mentorship meetings will be held regularly at past board member Eric Alimena's facility, Alimena Limousine & Worldwide Transportation, and the association will host two DOT seminars in May.

Visit galalimo.org for more information.

[0316]