HALCA President Wes Hart of American Corporate TransportationHouston — When members of the Houston Area Livery and Charter Association (HALCA) met up at the Crowne Plaza on March 22, CD's Director of Events Jess Pavlow was among those present for an evening of discussing industry, local, and association topics.

The meeting kicked off with previews of upcoming events, like the city's basketball-centric trifecta of the March Madness Music Festival, NCAA Final Four, and Fan Fest. Operators were told to prepare themselves for extended hours of operation to accommodate the surge of 70,000 out-of-towners as well as locals all looking for transportation to and from the high-attendance events—though there won't be staging areas for parking, so all vehicles will have to leave upon completing their drop-offs.

HALCA President Wes Hart of American Corporate Transportation then introduced the association's board members: Matt Assolin of Nikko's Worldwide Chauffeured Services, David Dillon of Carey Houston, Ismael Abed of La Bresse Limousine, John Ferrari of AFC Transportation, Kevin Claypool of Atlas Corporate Transportation, Younis Ouazdi, and Moe Boughaba of Houston Corporate Transportation.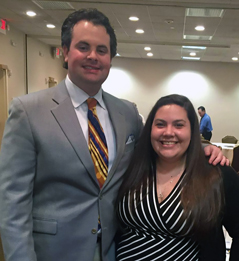 Matt Assolin of Nikko's Worldwide Chauffeured Transportation and CD Director of Events Jess Pavlow Assolin then reported on HALCA's December holiday party, which saw an attendance of more than 150 members and supporters while raising more than $2,500 for the association, which will be reinvested right back into HALCA and its operating fees.

Representing HALCA's Website Committee, Ouazdi provided updates about her goals for the association's website, which include SEO, payment systems for members, a blog, newsletters, recaps of meetings, a Q&A section, and a member database. She is also looking for input and opinions about any other features or options that would best serve HALCA's membership.

NLA's upcoming Day on the Hill, scheduled for April 25-27 in Washington, D.C., was also discussed, as were the benefits of the event's opportunities for face-to-face conversations with legislators. With TNCs' worker categorization and the industry's vehicle depreciation concerns still hot-button issues, members are hoping that the legislative days will help make some headway toward resolutions.

The meeting closed with conversations concerning Houston's TNC operations, especially in regard to ground transportation companies losing business because of them. Members are looking to soften their unified efforts of speaking about TNCs, as negativity casts an unflattering light on the industry, as well as seeking the assistance of the local bus industry to strengthen their numbers.

The next HALCA meeting will be June 21.

Visit houstonlimos.info for more information.

[CD0416]