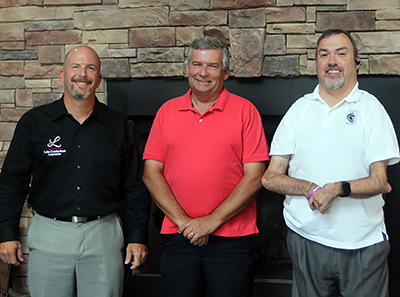 L to R: Members of the KLA board of directors include President Kent Sparks of Lake Cumberland Limousine, Second Vice President NeVelle Skaggs of Skaggs Limousine, and First Vice President BJ Burton of Your Chariots for Hire Elizabethtown, Ky. — Ten members of the close-knit Kentucky Limousine Association (KLA) met up at Second Vice President NeVelle Skaggs' Skaggs Limousine facility for the association's most recent meeting. CD Editor Madeleine Maccar was also present for a meeting that laid out the KLA's upcoming plans for both regional and national goings-on.

With the Kentucky State Fair scheduled for August 18-28, plans for the 10-day Louisville event dominated the conversation, as the KLA is once again hosting a booth there—complete with a Mercedes-Benz Sprinter limobus and Lincoln sedan on loan from member R & R Limousine's fleet to display for the fair's duration, exemplifying both their retail and corporate sides.

Careful consideration was made regarding who can take metal off the road for two weeks and what vehicles are historically the biggest draws, with members noting that the fair is often an invaluable chance to let the riding public know that luxury ground transportation offers much more than just stretch limousines. And, as members shared grievances about their services constantly being confused with TNCs, those in attendance agreed that it's also an important opportunity to discuss how their industry and its standards differ from the likes of so-called technology companies.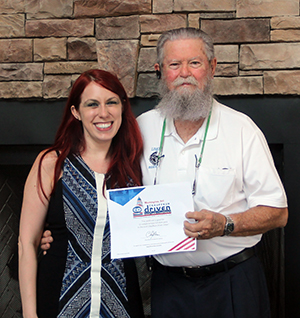 CD Editor Madeleine Maccar with Tom Burton of Your Chariots for Hire, who won a pass to the 2016 CD Show in Washington, D.C. The association's online presence was also discussed, as President Kent Sparks of Lake Cumberland Limousine both updated members and asked for their input about KLA's under-construction website, and First Vice President BJ Burton put out the call for photos to add to its Facebook page.

Sparks updated those in attendance about the NLA Association Presidents' call he had recently participated in, giving rise to conversations about the national association's mandatory assessment fee, membership benefits, and how NLA members in good standing are invited to also become members of the U.S. Chamber of Commerce, reap the benefits of discounts from affiliated chamber resources, and participate in small-business programs.

The ongoing TNC issue was, of course, also addressed, though it largely focused on their operations at both the Louisville and Lexington airports, as well as members' firsthand accounts of Uber and Lyft driver experiences—especially those who know former TNC drivers who used to undercut the services by building up a passenger base so they could eventually fly solo and under the regulatory radar. Sparks also shared some silver-linings insight he'd gleaned from Scott Solombrino of Dav El/BostonCoach about TNC drivers, saying that their on-the-road training with ridesharing companies has been inadvertently providing the livery industry with better-trained chauffeurs.

Maccar then spoke to the group about the industry's national goings-on and elaborated on a few discussions from earlier in the meeting. She also shared with members how Chauffeur Driven's magazine, enews, and events aim to bring valuable information to the industry while also depending on it for guidance in the coverage it offers, issues it covers, and events it hosts. At the end of the meeting, Tom Burton of Your Chariots for Hire won the raffle that earned him a pass to the 2016 CD Show in Washington, D.C., this October 9-12.

The next KLA meeting will be October 11.

Visit kylimo.org for more information.

[CD0816]