Small But Mighty: Centennial Worldwide Flourishes in Denver
Details
BY SUSAN ROSE
Youssef Marrakchi likes to stay busy, and as the managing partner/CEO/working owner/chauffeur of Centennial Worldwide Chauffeured Transportation in Denver, he certainly has plenty to do. With his cellphone and laptop in tow, he can work from anywhere—even while waiting for a client in one of the company's vehicles.

"I like the rush of being busy and having things move at 100 miles an hour," Marrakchi admits. "Yeah, that's kind of like an addiction in a way."

He knows that it's rarer and rarer for an owner to also drive for their company, but it's a role he thoroughly enjoys because it gives him the opportunity to interact directly with his clients and allows him time to multitask when he's waiting for a pickup. He uses that downtime deliberately to make phone calls and catch up on his emails as he prides himself on being quickly responsive to clients and affiliates. To him, communication is the key to any business relationship.

In fact, the layers of management and bureaucracy were among the many reasons Marrakchi eschewed working in corporate America. Used to making his own decisions and acting decisively while working at his family's smaller company before and after college, the hurry-up-and-wait culture common in bigger firms just didn't make sense to him. Besides, he's not really a fan of titles and the limitations they put on someone's role, so he rarely uses them for himself or his staff. After completing a degree in marketing and working a handful of unfulfilling jobs, he returned to the transportation business his father Jamal had founded in 1997.

"I can call myself the CEO or managing member but it's just as great to me as anything else. We're here to serve our clients and empower people to make the right decisions," Marrakchi says.

When shaping and refining his own level of customer service, Marrakchi has been inspired by the best practices established by the most-respected hospitality companies and hoteliers around the world such as The Four Seasons. The hotel's Golden Rule—live each day with empathy, and always treat others how you wish to be treated—is one of the most important aspects of Marrakchi's company culture. This type of honesty and commitment to his clients and affiliates has earned him a reputation for reliability and trustworthiness.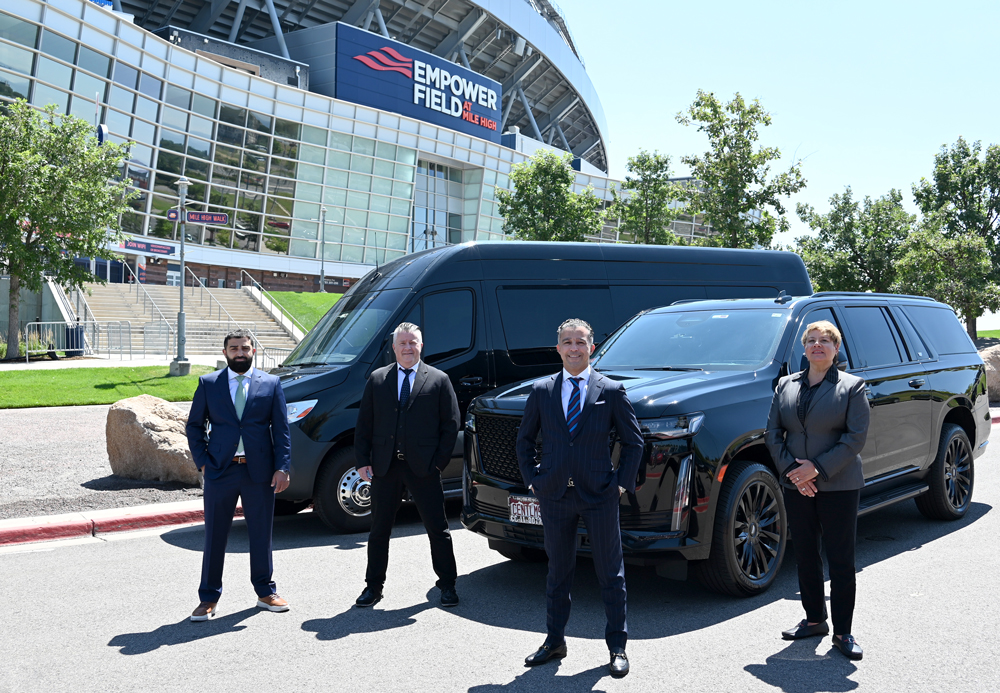 Centennial Worldwide Chauffeured Transportation CEO Youssef Marrakchi (center) with chauffeurs (L to R) Hicham Marrakchi, David Stephen, and Alexi DiPietro at Empower Field at Mile High, home of the Denver Broncos The family, originally from Morocco, fell in love with the natural beauty of Colorado and ended up building their new lives surrounded by the Rocky Mountains, a veritable year-round playground for nature enthusiasts. Denver's young, urban population blended with big-city amenities and abundant sunshine most days of the year has made it one of the fastest growing areas in the country. From hiking in the unspoiled wilderness to the who's who enjoying time on the slopes to the world-renowned Red Rocks outdoor amphitheater (a favorite destination for musicians), Colorado's capital city really is the state's gateway to the mountains. And Coloradans love their sports, collegiate and professional, as much as they love beer and eateries, which they have in spades. From the Broncos to the Rockies to the Nuggets, there's always some sport in season.

With such a number of available young workers attracted to the area (sadly, however, not many of them want to be chauffeurs), the Mile High City has also enticed quite a few corporations to its locale, everything from technology to health care to specialty goods and apparel. Between the influx of tourists that visit the state annually and the regular corporate events and meetings that fill the Colorado Convention Center each week, Centennial caters to a wide diversity of clients every day of the year, although corporate is their largest percentage of revenue.

Marrakchi isn't a one-man show, but he is a jack-of-all-trades for his growing service. Centennial has five vehicles: a Mercedes-Benz S580, Cadillac Escalade, Chevy Suburban, executive Sprinter, and a limobus. He currently has a team of five, which includes his right-hand man, Tori Hunter. Chances are, you'll speak to either one of them if you call Centennial's office.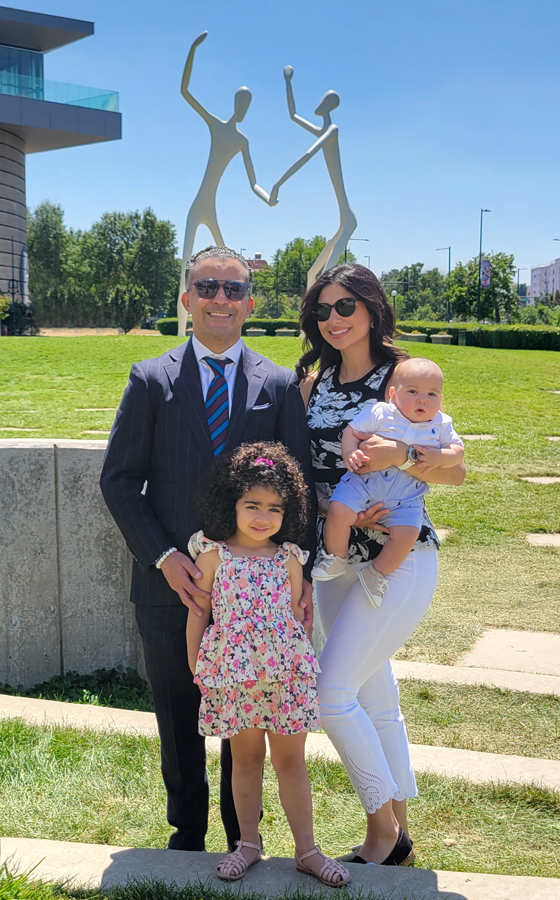 The Marrakchis: Youssef, Sofia, 4-year-old Heba, and 6-month-old Zayn "He's the one who answers the phones for me Monday through Friday," Marrakchi says of Hunter, who joined the company about a year ago after the chauffeured transportation company where he previously worked as a dispatcher was sold. "He's always looking out for the for the best interests of our clients, and he communicates the way I do with quick, precise, to-the-point answers in a professional manner. He treats the company like it's his own."

And, of course, Hunter's title is as ambiguous as Marrakchi's.

To supplement his office staff, Marrakchi has concentrated on making the best use of technology to streamline reservations and operations. He stays industry current by using GPS and in-vehicle cameras as well as automated texts and messaging for reservations and on-site pickup information, but he's always looking to make things more convenient for his customers. He's a fan of Limo Anywhere, which he says makes it easier to stay in touch with clients as well as affiliates. It's also helping him increase his inbound and outbound work.

Even before his father's recent retirement, Marrakchi was focused on growth and expanding Centennial's footprint both in the Denver metro area and nationally. He and his wife, Sofia, enjoy traveling—they try to get to Morocco at least once a year—and another of their favorite spots is South Florida. They spent a lot of time there during COVID as well as during Sofia's last pregnancy when traveling internationally became increasingly difficult (baby Zayn is six months old and joins four-year-old Heba). Marrakchi had plans to purchase a company in the area, but the timing wasn't right and he shelved the idea ... at least for now. Luckily, business in Denver saw an incredible rebound around the same time, so his priorities were Centennial's robust list of clients as well as his rising number of affiliates.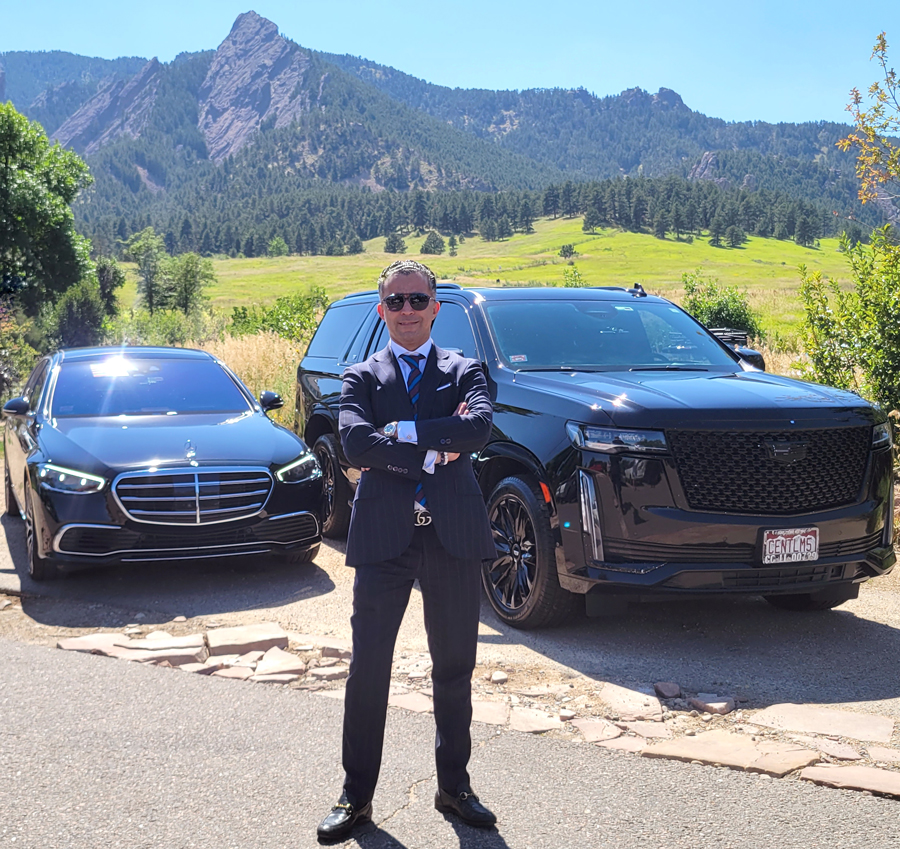 Denver is also the gateway to the Rocky Mountains a short drive from the city Affiliate business is about 15 percent of Centennial's revenue, and with a strong network of local operators he works with regularly, he's able to expand his service beyond his physical fleet to include larger equipment like motorcoaches. After all, when your clients are executives with national and international companies, the smart money is on offering them transportation service on both legs of their journey, and that starts with a solid base of affiliates. Plus, group work is fiercely competitive in the Denver market, so it helps to have resources. When an operator or a network sends him a reservation, he always tries to reciprocate. His cousin, Moe Bouayad, also owns a transportation company in the Denver area called Crown Worldwide Transportation, and the two frequently exchange work.

Friendly affiliates aside, Marrakchi is troubled by the recent poaching as well as cutthroat pricing within the industry, which he worries may come at the expense of quality.

"It doesn't matter if it's a big shot or a no shot company, they all get treated the same. I'm not looking for who is going to offer me the best rate but who's going to offer me the good reliable service that I promised my clients. Making a profit on that run is not as important to me as making sure that the deal is taken care of," he says.

Marrakchi has been quietly building his company's—and his own—profile for the past 15 years, and he's eager to get more active on a national level through industry advocacy. Although he's not much of a golfer (which seems to be among the industry's favorite pastimes), he is a regular at events for his local association, the Colorado Limousine Association (CLA), as well as the major industry shows. Centennial, along with Crown and ANB Trans, have all been sponsors of the CD/NLA Show's Monday night party for several shows, including the upcoming show in Orlando next month.

"If somebody is getting involved it is because they want to grow, not even just in a monetary way but in a personal way. It's about getting to know people who you can call for advice or just having those friendships that you know you can rely on, which is an amazing thing," he says. "I know for sure that if I pick up the phone and call that they will answer. I have so many great resources in the industry."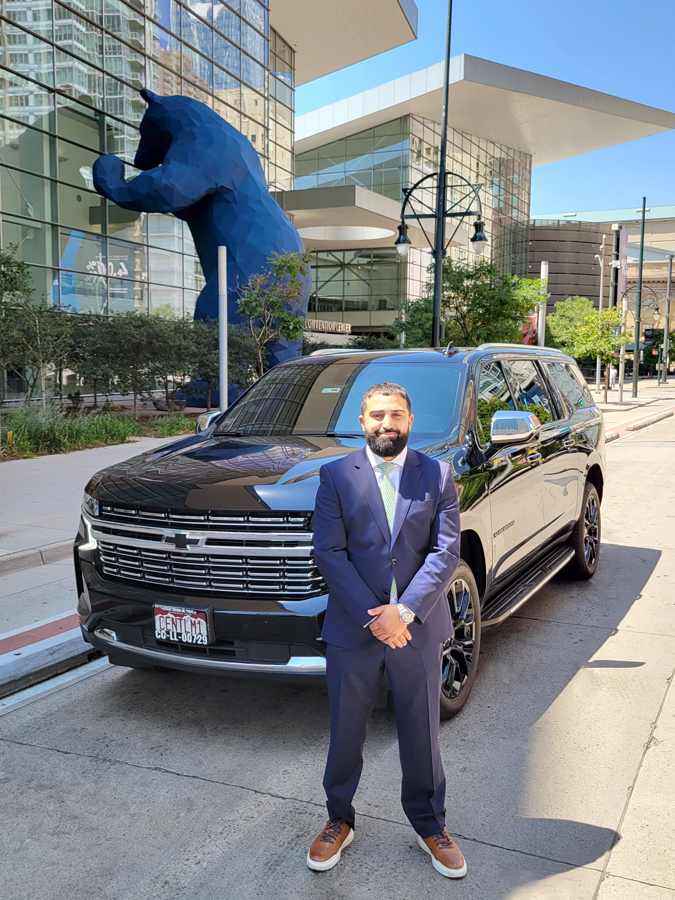 Hicham Marrakchi, who is also Youssef's brother, at the ­Colorado Convention Center He not only took on the leadership of his own company, but locally, he's well-known for his tenure as president and vice president of CLA, presiding during the organization's vital fight against the TNCs like Uber and Lyft in the early 2010s. The fraught battle, which he acknowledges was lost, played out in Colorado as it did in far too many states: with big money and powerful resources prevailing over a cottage industry like chauffeured transportation.

"During my time as the CLA president, we had the challenge of fighting the legalization of Uber and Lyft, which we obviously we didn't win. We fought vigorously with lobbyists and had many meetings with the Public Utilities Commission and lawmakers here in Colorado trying to minimize the damage. We weren't asking for much, just for them to be treated like other transportation services in the state," he says.

Unfortunately, while he says the governor and the Public Utilities Commission privately agreed with the limousine and taxi industries to hold TNCs to the same standards, the governor left it up to the legislative body to decide. But that might just have a silver lining after all, as lax enforcement has become the TNCs' own worst enemy.

"I personally don't think Uber and Lyft are competition because they aren't doing anything new anymore," Marrakchi says. He regularly sees drivers representing TNCs picking up passengers in shoddy vehicles that would never be acceptable for other transportation services, and he knows customers are taking notice, too.

"[Uber and Lyft] lowered their standards and now it's catching up to them. Eventually, they will have to make some dramatic changes if they want to keep being who they are, because charging very low rates and offering the poor quality of service and the people that they use to provide that equipment is basically what will eventually get them," he says.

While no longer on the CLA Board of Directors, he still chairs several committees for the association. He says he met many great peers/affiliates through his involvement with CLA and soaked up information like a sponge to expand his own industry knowledge while also being a champion for his fellow state operators. And he's contemplating doing more work with the local and national associations in the future.

These days, many Centennial clients regard Marrakchi as a personal friend rather than just a transportation provider. With that foundation of respect, Centennial has become a bespoke concierge service in many ways where his clients trust him implicitly, even with their most precious cargo.

"I always tell people to think of me as an extension of you. I have taken clients' kids to school because their dad or mom had a function and they couldn't, or even ran some errands for them. I had a client call me to deliver his camera to Phoenix because he was stuck on the East Coast and needed it by the next morning. Sure enough, I picked up his camera and was on the next flight to Phoenix. In a way, I guess we do provide boutique service," he says.   [CD0923]