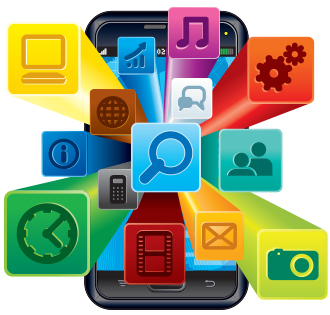 Apps are one of the fastest-growing markets for technology. With so many mobile devices—from smartphones to tablets—available to consumers, having an app for ease of use is practically required (for some devices, they are required). According to statista.com, both the Apple App Store and Google Play each have 1.4 million apps currently available for download, and approximately 60,000 new apps are launched every month. In this column, we feature some of the latest and most useful apps that will help you with your business, streamline a process, or generally make your life a little easier.



Mint
Available: iOS, A, W

So, you can run a successful, profitable business, but when it comes to managing your own personal finances, things aren't so pretty. Perhaps you need a little help keeping track of spending, staying on budget, or remembering to make a credit card payment. Maybe you just want to get a tighter rein on your financial life. Hey, we won't judge. Luckily for you, Mint might be what you're looking for. This free app (and website) has been around for several years, and Intuit has kept current with the updates for what has become a pretty robust app. After entering your financial information, including credit cards and bank accounts, it will populate spending categories that can be modified to fit your determined budget where you can set limits or create goals. The app will send you push notifications to warn you that a payment is due or that you're overspending in one of your set categories. You can even keep track of investment performance and run reports on your spending for a specific period. Graphs show your spending from month to month in each category. It will be eye-opening to see just how much your Starbucks habit sets you back.

Caveat: One downside is that some users have reported receiving "payment due" notifications when a payment was already made. Customer service was also an issue in the past, but Intuit has beefed up its support in the past year.



Hopper
Available: iOS, A

Booking flights is a numbers game: You cruise for rates and hope that you're getting the best deal at the time of purchase. Newish rate-prediction app Hopper aims to help you find the lowest cost for your travel dates by aggregating the current fares for your trip and suggesting that you book now or hold off because prices are dropping. If your dates are flexible, it shows you—in calendar view—the days to travel for the absolute lowest amount. Set up the alerts and you'll get notifications of deals in real time so that you don't miss out—since airlines are notorious for dynamic pricing, you could score a sweet deal if you decide to buy. Click on the notification and you can book directly through the app (you're connected to the airline). Who doesn't like paying a little less than their fellow traveler?

Highlight: For what it's worth, Hopper was named the best travel app of 2015 by Apple.



Duolingo
Available: iOS, A, W

¿Hablas español? Have you always wanted to learn another language, but the price and/or time commitment of Rosetta Stone and similar proven language-learning methods push it to the bottom of your wish list? Duolingo won't make you fluent overnight, but you will acquire a pretty good base if you stick with it consistently. It uses gamification through short lesson modules to help you gain a useable level of language proficiency, even if you use it for just minutes each day. The modules include picture matching, pronunciation practice, sentence construction, handy phrases, and lots of repetition. There are currently more than a dozen languages to choose from, including favorites like French, Italian, Portuguese, and Russian, with a baker's dozen in beta testing and scheduled to "hatch" in a few months.

Highlight: In late summer, modules for Klingon—yes, you read that correctly—will launch. That alone is worth checking out. Plus, the app is free.


Do you use an app that you love and want to share it with the industry? Let us know! Email Susan Rose at
susan@chauffeurdriven.com
.
Just for clarity:
• Apple products=iOS • Android devices=A • Windows devices=W
While many of the apps we profile will be free, a $ next to the platform indicates that there is a fee to download and/or use. Some versions or features of the app may ­require a fee to unlock or use.
[CD0616]