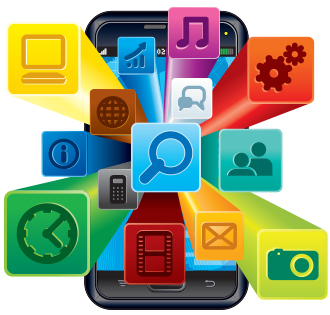 Apps are one of the fastest-growing markets for technology. With so many mobile devices—from smartphones to tablets—available to consumers, having an app for ease of use is practically required (for some devices, they are required). According to statista.com, both the Apple App Store and Google Play each have 1.4 million apps currently available for download, and approximately 60,000 new apps are launched every month. In this column, we feature some of the latest and most useful apps that will help you with your business, streamline a process, or generally make your life a little easier.



Slack
Available: iOS, A, W (in beta testing)

Slack's vision? "Be less busy." And how does it achieve that lofty goal? By cutting down on email and putting all of your digital tools in one place, giving you complete customizable control over how they're utilized. Whether you want minutely categorized conversational channels for your company's various teams to stay focused on specific tasks, easily searchable archives that put everything from PDFs to graphics to spreadsheets right at your fingertips, or to streamline your app use into one program that eliminates the lag time of switching from program to program, Slack has thought of it. What is perhaps the app's most useful feature, however, is the ease with which it allows staff members to communicate: You can choose from open channels that facilitate brainstorming as a team, private channels for more sensitive issues or smaller groups, or direct messages for a purely two-person dialogue. No matter what you're using it for, Slack integrates with the apps you are most reliant upon to ensure that you can share whatever document, file, image, or notification with as many—or as few—of your employees as necessary to get the job done.

Highlight: Slack always remembers where you left off. So even when you're facing nonstop interruptions and ­juggling numerous tasks, you don't waste time backtracking and wracking your brain for a mental milepost.



GateGuru
Available: iOS, A, W

A mainstay on many must-have travel app lists, GateGuru touts itself as your personal airport assistant by managing your entire travel experience. Once you input your itinerary into the app (the easiest way is to email it to a designated account explicitly designed for this task), GateGuru handles the rest: Your check-in and destination information are all in one place, plus you get real-time flight info, estimated security line wait times, reviews and information about your airport's amenities (currently cataloging more than 35,000 user-submitted ratings and reviews) based on your terminal, airport maps, weather information, and more.

Highlight: The push notifications won't interfere with your digital boarding pass, and while many other apps in the travel sector have partnered with TNCs to provide transportation options, the only car service GateGuru guides you toward is the decidedly innocuous rental agency Avis.



Flyover Country
Available: iOS, A

Admit it: Frequent flights are prime Instagram fodder. And this relative newcomer to the growing bounty of travel-centric apps is capitalizing on that image-sharing tendency by giving high-flying shutterbugs an in-depth education on the terrain they're flying over. Flyover Country works with your phone's GPS so you don't even need to shell out a few bucks for in-flight Wi-Fi to get the lowdown on the land down below. Just input your takeoff location and final destination, and the app's offline maps, integrated Wikipedia entries, and funding from the National Science Foundation will give you a personalized lesson in geographical history and a deeper look into the points of interest you're seeing from the sky—plus spot-on location tagging for those especially interested in curating their travel routes. Bonus: It works just as well on train rides, road trips, and even weekend hikes.

Caveat: Does an overcast day negate the appeal of this app? Not quite: The Flyover Country team is looking for meteorological experts to write about different clouds and how they're influenced by topography and wind patterns. The developers hope to eventually shed some light on the starry night sky, too.


Do you use an app that you love and want to share it with the industry? Let us know! Email Susan Rose at
susan@chauffeurdriven.com
.
Just for clarity:
• Apple products=iOS • Android devices=A • Windows devices=W
While many of the apps we profile will be free, a $ next to the platform indicates that there is a fee to download and/or use. Some versions or features of the app may ­require a fee to unlock or use.
[CD0516]