BY SUSAN ROSE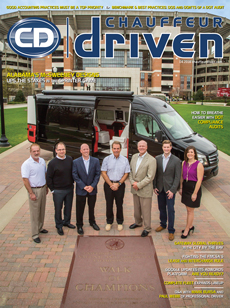 Cover Art: Roll Tide! University of Alabama Head Coach Nick Saban (center) worked with McSweeney Designs to produce his Signature Series Sprinter, seen here at Bryant-Denny Stadium. L to R: COO Vern Kauffman, XO Executive Officer Jeffrey Hunter, Managing Partner Matt McSweeney, Saban, Chairman Rod McSweeney, Managing Partner Michael McSweeney, and Controller Alisha Onushko. Photography by George Edmondson and Chris Weiss.
In Alabama, football is nearly a religion. During the college football season, the Bryant-Denny Stadium, home of the University of Alabama Crimson Tide, is awash in red and white. Its more-than-100,000-seat venue is almost always filled to capacity—a given during home games with bitter rivals LSU, Tennessee, and its home-state challenger, Auburn. The die-hard fans pour into the stadium to watch beloved coach Nick Saban lead the team to yet another victory, like he's done through four National Championship games before. He's rightfully earned his spot on the stadium's pathway they call the Walk of Champions—arguably the winningest college coach of all time.

Down the road in Trussville, just outside Birmingham, McSweeney Designs—a division of longtime luxury manufacturer McSweeney Holdings—collaborated with Saban to produce his limited-edition Signature Series Sprinter vans. Saban, who is a principal in several area Mercedes-Benz dealerships, worked with the Master Upfitter's team that included Chairman Rod McSweeney, sons (and McSweeney Holdings managing partners) Michael and Matt, XO Executive Officer Jeffrey Hunter, and COO Vern Kauffman. Together with representatives of Mercedes-Benz of Birmingham, they produced a Sprinter that had space for nine with the winning coach's own signature stitched in each headrest. The mobile office/entertainment vehicle, of course, had all of the upscale amenities one would need for tailgating trips: three flat-screens, state-of-the-art electronic components, luggage and storage space for those coolers and game-day essentials, and a retractable awning to provide a bit of protection from the elements. The national media went wild for the stunning vehicle, of which only 15 were produced and sold exclusively through Mercedes-Benz of Birmingham.

"Coach Saban and his family are just truly great people who are synonymous with inspired leadership, character, integrity, and a disciplined approach to winning. So, needless to say, we were honored to partner directly with him and the Dream Motor Group team on an innovative project like this," says Hunter. "There was a great deal of mutual respect going in. Everyone knew the high standards needed to produce a vehicle that preserved the integrity of the Mercedes-Benz, Nick Saban, and McSweeney Designs brands. I believe we achieved something pretty special together."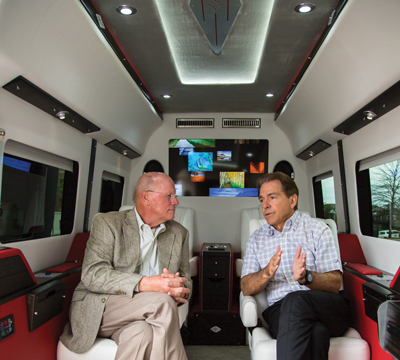 McSweeney Holdings Chairman Rod McSweeney (left) sits with University of Alabama Head Coach Nick Saban in the limited-edition Sprinter they co-designed and produced. Photo courtesy of George Edmondson Saban's name may have a lot of clout in Crimson Tide Country (and beyond), but he's far from the only dignitary that McSweeney Designs has worked with. Since its inception in 2013 by its principals—the McSweeney family and Jeffrey Hunter, who then served as director of business development and branding for McSweeney Holdings—the stand-alone brand has gained rapid traction with an elite clientele including heads of state, captains of industry, and custom luxury automotive aficionados all around the globe. Leveraging the core strengths of its second-generation family-owned parent company, which first planted its roots in Alabama back in 1979, and has since gone on to produce well over 100,000 vehicles, Hunter says McSweeney Designs was initially structured as a boutique builder of custom-tailored executive luxury coaches and up-armored VIP transportation vehicles.

"I think from the very start people could sense that our approach was different in that it focused obsessively on how to genuinely add value to the lives of our clients and then translate that into long-term, mutually beneficial relationships," says Hunter. "Early on, we were staffed with a small but stellar team of some of the industry's finest craftsmen, designers, and automotive artisans. But the scope of the opportunity started to change dramatically once we began building a strong relationship with the engineering department and management of MBUSA/Daimler on the Sprinter platform."

The principals actively recruited additional top talent from across the custom automotive industry to facilitate that growth; Chairman Rod McSweeney successfully tapped Kauffman in early 2015.

Kauffman isn't new to the second-stage manufacturing process. He founded L.A. West, a builder of conversion vans based in LaGrange, Indiana, and semi-retired in 2006 when he sold the company. After a brief tenure with another manufacturer between 2013 and 2015, Kauffman landed at McSweeney Designs through his longtime friendship/friendly competitive relationship with Rod McSweeney. The two had known each other for decades and served on manufacturing and OEM committees together.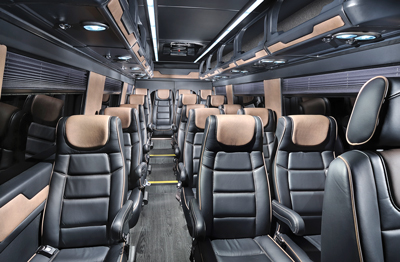 McSweeney Designs' most popular Sprinter with stadium-style seating for 16 passengers Across the portfolio companies, the team is now comprised of nearly 100 employees. XO Executive Officer Jeffrey Hunter, who works directly with McSweeney Designs' VIP clients and MB dealer groups, spearheads the company's ongoing branding and design initiatives, and oversees the growing brand ambassador and key OEM relationships; Controller Alisha Onushko, who manages all aspects of the day-to-day as well as the creative elements of year-round event planning and trade show participation; Customer Care Manager Angie Jones, who works with dealers on warranty claims, parts, and quality control; Production Manager Dennis Treadwell, who has worked for the company in varying capacities for 18 years; System & Design Manager Michael Osburn, who facilitates ongoing design, systems development, and safety testing; and Purchasing Agent Mark Isbell, who has almost 30 years with the company and has been instrumental with the McSweeney Designs team since the beginning. Its three regional managers include Kevin Kropf, eastern region bus sales; Dan Clutterham, western region bus sales; and Bill Danner, regional sales manager for Mercedes-Benz dealers, all of whom worked with Kauffman in years past.

Its newly expanded 100,000-square-foot facility allows for production of 150+ units per month, all divisions combined. Despite its size, the customer aspect isn't lost in the hubbub of daily production, according to Kauffman.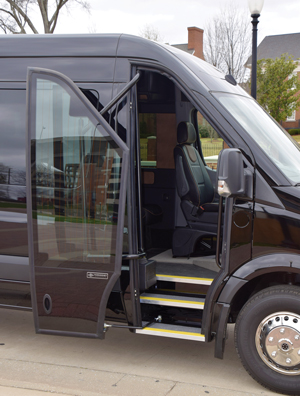 The Euro-style portal door is the company's most requested "Our mantra internally is very simple: We are best in class. That means the best value proposition for our customers, the best product design, the best customer service, the best in every aspect of the industry. We challenge our department heads regularly and ask them if they are delivering; that's how we benchmark ourselves. It's the foundation of everything we do."

Although McSweeney Designs has modified interiors on other platforms like Chevrolet Suburbans and Cadillac Escalades, the Sprinter has emerged as its most popular vehicle by far. It includes a wide range of applications for executive lounges, mobile office suites, and upscale shuttle buses, but Kauffman says that the company's best-selling single unit is a 16-passenger Sprinter with a European portal door and stadium seating. The vehicle can be configured to fit up to 19 passengers.

"Stadium seating is relatively new to the American market," says Kauffman. "Nearly 80-85 percent of the Sprinters we build have this type of seating because it provides additional luggage space and visibility for passengers in the rear two rows."

Before introducing the new configuration to customers, McSweeney's underwent extensive pull testing to ensure passenger and driver safety. "The key element is pull testing," says Kauffman. "There's a tremendous load on that stadium-seating mechanism when you consider that there are seven seats attached to that assembly. We have the video, the still photos, and the lab data to prove the results, which was provided to MBUSA as well. If someone asked us to move a seat 10 inches, which might compromise the safety of that passenger or the vehicle, we're inclined to pass on the build. We always think about the fact that it's someone's child or grandchild riding in that seat."

Existing under the umbrella of McSweeney Holdings has allowed the companies to be vertically integrated and serve as its own parts and components supplier—which means no delay in bringing a new innovation to market. It is also capable of designing its own structural and electrical components, as well as tool design and injection and vacuum molding, to name a few. One such proprietary component is its overhead parcel rack (OPR), which is an aircraft-style ceiling compartment that cleverly hides ductwork while also providing an area for reading lights and creating 24 cubic feet of storage in a space that would otherwise not be utilized. The company will also introduce a modular design for a beverage center in the coming weeks, which can be placed in a number of different locations within the cabin regardless of seating configuration.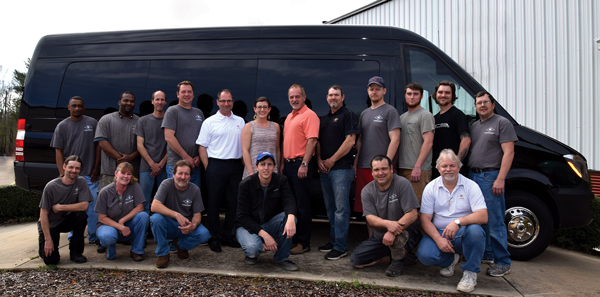 Members of the McSweeney Designs family "If you look at the interior of one of our Sprinters, literally the only component that isn't produced in-house is the seating. That gives us a lot of control over the timing and the quality of these components," Kauffman says.

McSweeney Designs continues to expand its Sprinter lineup, having recently debuted a double plug door design that provides 44" of clearance to enter and exit the vehicle—a configuration that the company thinks will be especially useful for shuttle buses with a luggage rack or for use at assisted-living facilities.

Although the company continues to build custom specialty vehicles, the majority are built for the livery industry, which it stocks through a network of the leading bus dealers coast to coast. In addition, its service centers include the entire system of Mercedes-Benz Sprinter dealers nationwide so that warranty claims and regular maintenance can be tackled locally.

"We have the standard warranty of three years/36,000 miles, but we give a lot of latitude to our employees here to make their best judgment. We have a category we like to call customer goodwill: We like to be flexible so that the customer is happy and back on the road quickly," says Kauffman.

At the end of the day, McSweeney Designs is a family-owned, locally run operation that invests in its staff, focuses on the safety of its customers, and thrives to be an industry innovator. "It's about more than just launching a new product or making the next sale. For us this is our life's work, our passion. The brand is all about the promise we make to our clients and dealer partners, and our entire culture is built around keeping that promise and genuinely caring for the people we are blessed to get to work with on a daily basis," says Hunter. [CD0416]