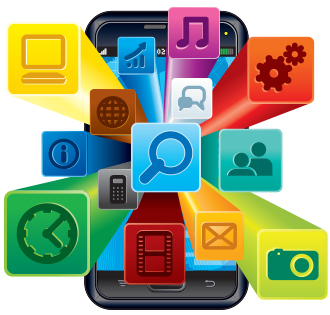 Apps are one of the fastest-growing markets for technology. With so many mobile devices—from smartphones to tablets—available to consumers, having an app for ease of use is practically required (for some devices, they are required). According to statista.com, both the Apple App Store and Google Play each have 1.4 million apps currently available for download, and approximately 60,000 new apps are launched every month. In this column, we feature some of the latest and most useful apps that will help you with your business, streamline a process, or generally make your life a little easier.



Lookout
Available: iOS, A
Honorable mentions: Where's My Droid (A), Find My Lost Phone! (A)W

Have you ever turned around to retrieve your left-at-home phone? This app can't exactly help with that, but what it can help you do is locate your phone if it's not where you thought you left it when you get home. The locator's "scream" and "signal flare," which automatically saves its last location in the event that the battery is about to die, are both available as part of the free app. It will also send a "lost" message to display on the lock screen to encourage anyone who found your phone to get in touch with you. The premium version adds the ability to lock the phone if you don't currently use your phone's feature, as well as a last-resort wipe that deletes all of your sensitive data should you not be able to recover your phone.

Highlight: Lookout can also be useful when transferring between phones. Data and Google contacts can be saved for free; photo backup is available with premium.



First Aid
Available: iOS, A

At some point, someone in the back of your vehicle will need immediate medical attention. American Red Cross, one of the best-known emergency-preparedness organizations, developed this app for those occasions between the start of the crisis and, if needed, the arrival of paramedics. The moments right after a medical emergency are usually the most critical, and the app is a step-by-step guide on how to handle anything from a broken bone or a cut to a seizure or heat stroke in those crucial minutes. It includes articles and checklists on how to prepare with an emergency kit, quizzes on what to do in a given situation, and the location (based on GPS) of the nearest hospitals with maps and phone numbers. The one-push 911 dialer is also pretty handy.

Highlight: American Red Cross also has several other free emergency apps available in the event of serious weather or a natural disaster. Depending upon the app, you can receive alerts before, during, and after the event.



Craft Crawler
Available: iOS, A

Enough with the practical apps: It's time to talk about beer! In 2014, Gallup found that beer drinkers eclipsed wine drinkers by nearly 10 points, and craft brews are certainly still the preferred choice of discerning beer aficionados. The app provides the location of microbreweries and brewpubs in your vicinity, along with a description of the type of beer they serve. Oh, heck yeah, it's 5 o'clock somewhere!

Highlight: The app also allows for user reviews and gives the website, phone number, and hours of operation for many, if not most, breweries.


Do you use an app that you love and want to share it with the industry? Let us know! Email Susan Rose at
susan@chauffeurdriven.com
.
Just for clarity:
• Apple products=iOS • Android devices=A • Windows devices=W
While many of the apps we profile will be free, a $ next to the platform indicates that there is a fee to download and/or use. Some versions or features of the app may ­require a fee to unlock or use.