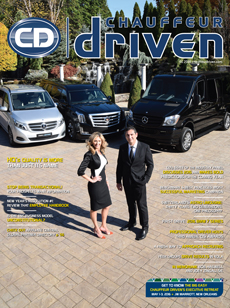 Sandy Levin and Lenny Levin of HQ Custom Designs with three of their signature vehicles: the Mercedes-Benz Metris, Cadillac Escalade, and Mercedes-Benz Sprinter. Photography by Chris Weiss. In 2014 during ITS SEMA Show debut' HQ Custom Design's Mercedes-Benz Metris was lauded by the international automotive media-outlets like Motor Trend and Car & Driver-for its stunning interior and thoughtful use of audio/visual electronics in the rolling executive office. HQ' a Mercedes-Benz Master Upfitter' was hand-selected to create a concept design for the upcoming Metris' U.S. debut' which gave the New Jersey-based conversion company a chance to showcase some of its innovative concepts on a truly global scale. The modified Metris featured two custom-built captain's chairs with reclining and double-action leg extensions' wood flooring' a 48-inch curved 4K flat-screen' a Nespresso coffee machine' and a 55-inch LED TV in the roof panel that projected a night sky with stars' fluffy clouds on blue horizons' or any other changeable custom background. The vehicle was shown at numerous international auto shows throughout the country-including one of the largest and most well-attended' the New York International Auto Show.

Creating one-of-a-kind vehicles is what drives HQ and its founders' husband-and-wife team Lenny and Sandy Levin. At its core' HQ-short for high quality-is a family-owned business. Founded in Brooklyn in 1994' HQ began as an auto electronics shop where they installed custom audio and electronics systems. When the market shifted' they considered the conversion industry as the next step in the company's evolution. They were well positioned to do so: Lenny' an engineer by training' had acquired his skills when he served in the Israeli Navy; General Manager and Head of Engineering Gary Fadeyev was a former aeronautical engineer for the Air Force; and Sandy had years of experience as a technical fashion designer.

In the beginning' HQ mostly catered to private clients with high-end and unique builds' and each vehicle was a chance to try something bold and fresh. One such client was Tommy Hilfiger' founder of the eponymous designer brand' who commissioned HQ to produce several custom Cadillac Escalades for him. The Levins said that those vehicles are still on the road today.

Another pivotal moment came in 2007 when a particular client approached HQ to craft an exclusive vehicle on a then-Dodge Sprinter chassis. The project' which came nearly with a blank check' proved to be a wonderful challenge for the team as everything had to be innovated from the ground up.

"The idea behind the build was to reflect a modern twist of an art-deco design with sophisticated luxury. Nothing was spared' from European leathers to real burl woods to a cigar humidor. Each element implemented within this build was unique. Everything was motorized' ranging from the shutter-style shades to the full-size tables with retractable sub-tables that fold into the walls with the touch of a button' to the custom-tailored seats with leg extensions' a panoramic roof' and much more'" stated Lenny.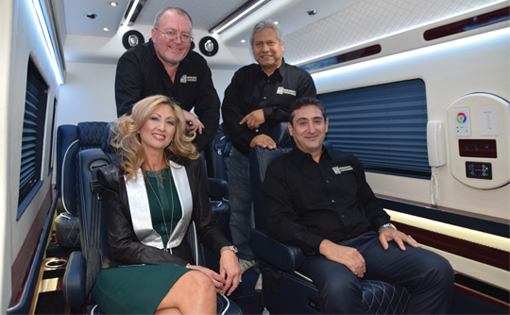 President Sandy Levin and Vice President Lenny Levin (both seated) with General Manager Gary Fadeyev (left) and Shop Manager Abad Herrera in an HQ Sprinter When Mercedes-Benz acquired the Sprinter program from Dodge' HQ Custom Design became one of the first to join the new Sprinter upfitter program.

"Because of the level of quality and sophistication Mercedes-Benz saw that we applied to Sprinters' they thought it would be a good opportunity for HQ to become a Master Upfitter' and in 2009 we became one of the first'" says Sandy.

High-end builds are what put the company on the map. The Levins says that the vast amount of knowledge and expertise they have acquired over many years and builds has allowed them to tackle different types of projects ranging from its Grand' Family' and Executive Edition vans to its specialty vehicles and shuttle buses. To this end' they have been able to retain the same level of aesthetic appeal' quality' and workmanship for vehicles built for price-sensitive customers.

After all' Lenny states' "My mission for HQ is to always be an innovator and ahead of the game' so that each final build is reliable' sophisticated' functional' and most importantly' safe."

The team dynamic is felt throughout the build process' from the initial conversations with a client to the moment the vehicle is delivered. It begins with Lenny and Gary' who design every vehicle that HQ converts. Lenny and Gary use their engineering backgrounds to develop the customer's concept into reality. Sandy complements the team with her eye for aesthetics so that the vehicle is as beautiful as it is functional.

Lenny says that one of the reasons why clients are so impressed with HQ is due to the attention given to even the smallest of details as well as the quality of the components. Showing a bit more care during each step of the process yields vehicles that are able to withstand regular use by a variety of clients-and will be on the road for years to come.
We want to minimize downtime' so if a vehicle has to be serviced' we will still drop everything to make sure it's our first priority." — Lenny Levin' Vice President of HQ Custom Design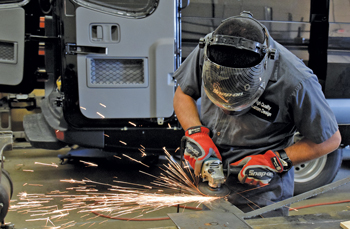 HQ craftsmen are skilled in metal fabrication and upholstery seat design (below) "Lenny will refuse to build a vehicle if it's against safety regulations. He's not going to overweight the vehicle or take chances. We follow the rules and regulations' we won't cut corners. Liability is number one. I'm sure that we've lost business because of it but it's important to us that our clients are using safe vehicles'" says Sandy.

HQ recently started utilizing a plug door and bifold door to extend its shuttle line; the oversized plug door was featured on a shuttle bus at the Chauffeur Driven Show in Miami this past October and garnered a lot of customer interest.

For Executive and Grand Edition vehicles' HQ's exclusive line of seating uses the finest grades of leather' European styling' and motor controls' according to the Levins. They also have a proprietary tablet-based controller that is built to be easy to use and govern every electronic function within the passenger cabin-a feature that was highlighted in the Metris.

Each vehicle is unique to its customer. HQ thoroughly documents the schematics of every one and stores the information electronically so that the records are easily accessible should it need repair or a replacement part. In 2015 alone' HQ built over 220 vehicles. Customers in the Northeast who have accessibility to their facility can take it there for service' where Lenny says it is treated with urgency.

"We want to minimize downtime' so if a vehicle has to be serviced' we will still drop everything to make sure it's our first priority. We will service those vehicles first' and usually get it done the same day. And that applies to shuttle buses all the way up to executive vehicles'" says Lenny.


Each build is unique and carefully crafted by the team "We're all about service'" adds Sandy." It's not just about building a vehicle; it's about maintaining relationships with our customers and providing them excellent after-sales support."

For those customers who are outside the tristate area' she says that HQ has built a network of trusted service centers that will have access to all of the information they need to service the vehicle properly and quickly.

Most of HQ's team has been with them for a long time' some as long as 15 years' and they all espouse the same tenets of the founders because of the environment that the Levins foster. Each worker is not just part of a team' but of the family' and their pride is exhibited in their workmanship.

"Each project taken on by HQ is treated personally by all of us' correlating to an extreme amount of care and attention placed on each and every vehicle' as if it were our own'" says Lenny.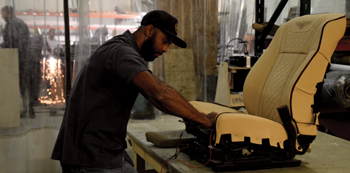 Besides Mercedes-Benz Sprinters' HQ upfits a large variety of vehicles including Cadillac Escalades' Ford Transits' Mercedes-Benz Metris vans as well as a multitude of other vehicles. Additionally' HQ is extremely excited about the official U.S. debut of the Mercedes-Benz Metris' especially being one of the first to have true hands-on experience upfitting this vehicle. In particular' HQ has already developed number of concepts for the Metris including transforming it into an executive limousine and a multi-passenger vehicle. HQ was also recently approved by Braun to install lifts and ramps in accessible vehicles' a new platform for them. The accessibility market is one that has been steadily rising thanks to an aging population that is living longer.

The company continues to grow' with Lenny and Sandy envisioning HQ acquiring an even larger facility' allowing the company to tackle a higher volume and additionally challenging projects of all sizes.

"HQ's model is entirely geared toward serving the needs of our customers'" says Lenny. "We are dedicated to offering each and every customer-regardless if they are a private client looking for a high-end build or one on a budget-exceptional service and a quality product that separates HQ from the rest of the industry." [CD0116]