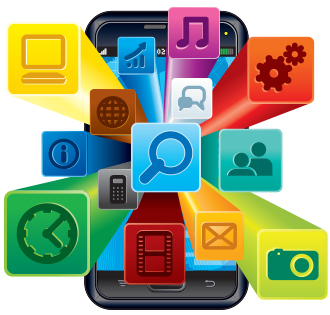 Apps are one of the fastest-growing markets for technology. With so many mobile devices—from smartphones to tablets—available to consumers, having an app for ease of use is practically required (for some devices, they are required). According to statista.com, both the Apple App Store and Google Play each have 1.4 million apps currently available for download, and approximately 60,000 new apps are launched every month. In this column, we feature some of the latest and most useful apps that will help you with your business, streamline a process, or generally make your life a little easier.


Drippler
Available: A

Did you get a new phone over the holidays, or do you want to unlock some of the features you didn't realize you had on your Android phone? Let's be honest: Most people don't use their phones to their fullest potential. This app, specifically created for Android users, sends daily articles and tips ("drips") that can help both savvy and novice users set up their phones with some cool hidden gems. Because the app is downloaded on your phone, it's brand specific and won't waste your time with HTC tips when you own a Samsung. One of our editors learned a shortcut or two to some features that would normally only be found by digging through menus. For Apple users, there are still plenty of YouTube videos made by intense fanboys who essentially do the same thing.

Highlight: Drippler sifts through the best of the information and sends you only nuggets that apply to your phone. This is also a nice app to use after your phone updates with new software so that you don't miss anything.


HabitBull
Available: iOS, A
Honorable mentions: Streak, Rewire

'Tis the season for resolutions, and doing them without any electronic assistance is so 20th century. With HabitBull, you can create up to five goals for free (if you need more, you can upgrade to premium) and set the target date you want to achieve the goal. It could be saving money, tackling the update to your business plan, or one of the old standbys like losing weight or quitting smoking. You're then required to confirm each time you accomplished the goal as well as times you fell off the wagon (at which time you'll get some additional support from the app). Of these habit-tracking apps, our editors used HabitBull the most. We're not sure if it's because of its helpful encouragements or daily morning quotes that can only be described as quirky but fun. All are free and easy to use with charts to track your progress and alerts to keep you honest.

Highlight: There's an online community at habitbull.com for those who want or need a little additional accountability other than your phone barking at you.


Zello
Available: iOS, A, W

Zello was a recommendation from one of our Advisory Board members who uses it between chauffeurs, dispatchers, and other event coordinators for group moves and other large events. This free app works similarly to how a two-way Nextel worked for many companies, only this is with your cellphone or tablet. It runs through WiFi or data, which is good for those times when your signal may be weak and WiFi is available. In the free version, it's good for up to five users with no time limit (Zello For Work expands the number of users if needed). It functions just like a walkie talkie and can be set to broadcast to an individual or a group—making it much more convenient than using the phone and calling several different people with the same information.

Highlight: There are other similar apps, such as Voxer, but this is one of the few that allows you to "invite" users rather than importing your phone book.


Do you use an app that you love and want to share it with the industry? Let us know! Email Susan Rose at
susan@chauffeurdriven.com
.
Just for clarity:
• Apple products=iOS • Android devices=A • Windows devices=W
While many of the apps we profile will be free, a $ next to the platform indicates that there is a fee to download and/or use. Some versions or features of the app may ­require a fee to unlock or use.