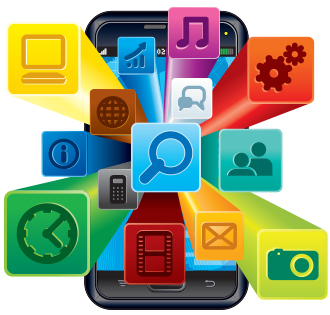 Apps are one of the fastest-growing markets for technology. With so many mobile devices—from smartphones to tablets—available to consumers, having an app for ease of use is practically required (for some devices, they are required). According to statista.com, both the Apple App Store and Google Play each have 1.4 million apps currently available for download, and approximately 60,000 new apps are launched every month. In this column, we feature some of the latest and most useful apps that will help you with your business, streamline a process, or generally make your life a little easier.



Burner
Available: A, iOS

Perhaps you're looking to hire a new person but want to screen them first, or maybe you want to price or mystery shop the competition without linking the search to your cellphone or work number (duh!). Burner may be the app for you. This free app allows you to set up one number for free—you get to choose the area code so you're not limited geographically—that includes a voicemail separate from your phone's (you can receive calls as well) and call masking so that your burner number shows up on the other end. You can set up additional numbers for a fee. Once the number is deleted, the person calling will get an "out of service" message. Burner promises that the number cannot be traced back to your phone.

Highlight: While it's free for short-term use (six days, 40 texts, and 20 minutes), you can extend all of the above by purchasing credits.



CCleaner
Available: A

Sometimes we forget that we're carrying minicomputers in our pockets that cache data and install cookies just like our office desktops do. All of this can slow our devices down and make them frustrating to use. We tested out the CCleaner, currently available for Android phones and devices, which scans your phone for all that junk data that gum up the works. Once you run an analysis, you select which files to delete or keep. You can set up reminders that alert you to do a scan and clean your phone, or set up no alerts at all.

Highlight: It's earned a lot of awards for its simplicity and ease of use, even going head to head with paid programs that do about the same thing. Best of all, there are no annoying ads. You can also use this on your office computer.



Keeper
Available: A, iOS, W

Most people tend to use the same password for multiple logins, which generally ups your risk of getting hacked across multiple platforms if you experience a breach. The point of password-storage apps like Keeper is to centralize all of your login and password information on your phone (as opposed to the Cloud, like some programs) behind a vault of security. It's a bit tricky at first to set up but is worth the effort. The next step after you download the app is to create new records and then go website by website to generate a random new password (which the app does for you and stores behind the vault). When you visit the website, you can click to generate your login and password. Keeper also allows you to store your credit card account numbers and information behind its security wall (yes, that freaks us out, too). Keeper Backup is an available upgrade that adds an extra layer of security to unlock your vault.

Highlight: Worried about losing your phone or having it fall into the wrong hands? You need a master password to unlock the vault, so you can set a self-destruct program if the password is entered incorrectly five times. There's also a one-button delete option that wipes all records, if you choose.



IF (also referred to as IF by IFTTT)
Available: A, iOS

This happened upon one of our editors who was desperately looking for an app that would enhance the usage of their fitness tracker with additional alerts and settings. Using a simple if/then premise, you can program your phone to do just about anything on auto-pilot by setting up "recipes." Added a new business contact to your phone? You can create a recipe to automatically text or email the contact to say that you're happy to meet them. Sensitive to the weather? Set up a recipe to let you know if it's raining (bring an umbrella) or if tree pollen is high at a specified time that morning (hello, Claritin). Other cool examples: Set up a notification for the final scores of your favorite team, mute your phone at bedtime (don't forget to specify a time in the morning to unmute it!), or save photos taken using your camera to Dropbox. At your usual grocery store and want to check in with our spouse? Link to your maps app and set a recipe that automatically sends them a pre-written text every time you stop by that store to see if they need anything. And that fitness goal that our editor was trying to track? They get a notification if they haven't logged enough water or taken a certain number of steps by a specific time. There are a ton of other recipes that you can create, and it's only limited by your imagination.

Caveat: While this app is available for Android and iOS, Apple users report a higher number of bugs than their ­Android counterparts. Also, this is best used for regular activities: If you set up a recipe to post all of your photos directly to Facebook but forget, you could have some 'splaining to do.


Do you use an app that you love and want to share it with the industry? Let us know! Email Susan Rose at
susan@chauffeurdriven.com
.
Just for clarity:
• Apple products=iOS • Android devices=A • Windows devices=W
While many of the apps we profile will be free, a $ next to the platform indicates that there is a fee to download and/or use. Some versions or features of the app may ­require a fee to unlock or use.
[CD1115]