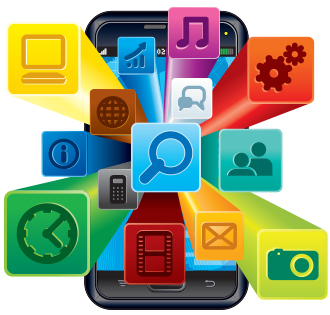 Apps are one of the fastest-growing markets for technology. With so many mobile devices—from smartphones to tablets—available to consumers, having an app for ease of use is practically required (for some devices, they are required). According to statista.com, both the Apple App Store and Google Play each have 1.4 million apps currently available for download, and approximately 60,000 new apps are launched every month. In this column, we feature some of the latest and most useful apps that will help you with your business, streamline a process, or generally make your life a little easier.



Expensify
Available: iOS, A, W, $

No one likes filling out expense reports. The time, effort, and organization it takes can be a real pain when there are always 10 other things vying for your attention that are more important and pressing at the moment. Expensify attempts to simplify all of that. While this is a paid app with a required monthly subscription, it is a handy little way to consolidate and categorize all of those paper receipts. Users can snap a pic of the receipt, which is then saved and attached to the expense report. The app also pulls the information from the pic (as much as it can recognize) and you can tag it based on type of expense and reason. You can also link your credit cards and bank accounts directly to the app, where you can manually release expenses and convert those under-$75 charges into IRS-approved receipts (except for lodging) that are attached to the expense report for accounting. When you're ready to submit, you can do so right from your phone. It can also be integrated with QuickBooks, Salesforce, and NetSuite.

Highlight: This app also works when you have no Internet connection, which makes your downtime—like when you're flying—more productive.



TripIt
Available: iOS, A, W

Remember those days when you had to manually enter your trip information into your phone, or worse—print out your itinerary? The TripIt app aims to simplify all of that by checking your email and sweeping it into your Outlook and/or Google calendar so that your hotel, air travel, car service, and restaurant confirmations are all neatly organized. It also captures gate information, maps and directions to the location, and confirmation numbers. If your itinerary changes via email, it will automatically update with the new data. There are two versions: free (or 99 cents if you don't want ads) and Pro, which will set you back $49 per year. Pro offers features like real-time flight tracking updates, preferred seat availability, and your airline rewards information. If anything is wonky, you can change it online or via the app. Others who are in your circle can also see your plans, but you control who can and can't.

Highlight: TripIt was developed by Concur, which has a long history in travel management. Concur also has a business expense app that rivals Expensify.



FlightAware
Available: iOS, A, W
Honorable mentions: FlightStats, FlightView, and Just Landed (iOS only)

Once upon a time, flight trackers like FlightAware were novel and ground-breaking, but the competition today has become fierce. There are plenty of options out there so it's really a matter of preference. What FlightAware does, however, is offer alerts if a saved flight (yours or that of your customer) is delayed, cancelled, rescheduled, or changed to a different gate. Real-time arrival and departure information is available with a few clicks, as is the weather at the departing and arriving gates. Private jets can be tracked if the tail number is available (and the owner doesn't block the information). FlightAware is still one of the only free flight tracking apps around.

Highlight: If you're really a geek, you can click on Nearby Flights to see just how many planes are in the air above you right now. It's pretty fascinating. For more geek factor, click on Misery Map to see how the nation's airports are faring. It's consistently miserable at ORD and NYC, but you already knew that.


Do you use an app that you love and want to share it with the industry? Let us know! Email Susan Rose at
susan@chauffeurdriven.com
.
Just for clarity:
• Apple products=iOS • Android devices=A • Windows devices=W
While many of the apps we profile will be free, a $ next to the platform indicates that there is a fee to download and/or use. Some versions or features of the app may ­require a fee to unlock or use.
[CD0915]