BY SUSAN ROSE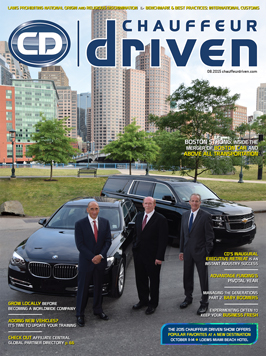 Boston Car and Above All's new executive team [L to R]: CEO/Treasurer Brett Barenholtz, President Kevin Cronin, and General Manager Stephen Ward. Photography by Chris Weiss. THE WINTER OF 2015 WAS ONE FOR THE BOOKS. Every few days within a six-week period, a fresh storm would dump new snow on major Northeastern cities like Boston, crippling transportation and creating a major travel headache. Beantown is no stranger to snow or cold, but this was exceptional. By mid-March, more than 110 inches had fallen (the average is 44 inches), easily shattering the record. There were numerous times where Boston Logan Airport simply closed while roads, despite best efforts, were reduced from three lanes to one. The white stuff fell so fast and furiously on the thousands of miles of highways and city streets—with no melting between storms—that had to be trucked to "snow farms" where massive mountains of snow and ice mixed with road debris were managed. The last of it, incredibly, melted in July.

While the extraordinary New England weather was making headlines, Brett Barenholtz of Boston Car and Kevin Cronin of Above All Transportation were quietly discussing their own breaking news: a merger. Boston has a lot of large chauffeured transportation operations, most of which maintain a healthy camaraderie between companies, so it wasn't a surprise to learn that they shared a similar company culture that might just blend well. Barenholtz and Cronin had been friendly competitors for more than a decade, and the synergy between the companies was palpable.

"We were each in a growth stage and thought it would be beneficial to work together," says Cronin. "It's tough to wear so many hats. I couldn't wear all of them, and I wanted this to be a recognizable brand, more than just in the Boston area. That's a large part of the reason I went into partnership with Brett. Give us a couple of years and see where we end up. I think our growth will be a lot more aggressive together."

We did this to make us one of the best companies out there. We plan on being a market leader and being here for many years to come." — Brett Barenholtz, CEO of Boston Car
Cronin founded Above All in 1988 as a mostly retail service with an eclectic fleet to match. Cronin's goal was to always be ahead of the trends so that his customers had the latest vehicle offerings for their special occasions. When he pursued corporate work, he began adding vehicles like SUVs, shuttle buses, limobuses, and Sprinters to the fleet for even more diversity. Before the merger, corporate work dominated the company, but it still retained a strong base of retail customers.
Boston Car, on the other hand, catered exclusively to high-end corporate customers with a more homogenous fleet of BMWs and Cadillac Escalades. Barenholtz founded Boston Car in 1997 after selling his taxi dispatch company.
"We did this to make us one of the best companies out there," says Barenholtz about the merger. "We're using our individual strengths with an eye on growth. We plan on being a market leader and being here for many years to come."
Both companies earned a reputation for being well-respected, well-established, and reliable brands throughout the Boston area and around the country, and neither wanted to sacrifice the name they spent years building. For now, each company will maintain its brand (including websites and phone numbers) but will operate under one roof—at Above All's Canton location—and with one unified staff.
The beauty of the merger is that it truly highlights the distinct talents of the individual owners: Barenholtz, CEO/treasurer, assumes the lead sales position, while Cronin, president, oversees the operations. Separately, they were doing the same thing; having two owners frees each of them up to focus on their core competencies. The goal is to expand market share and enjoy their families, too.
"Brett is very personable and knows many operators in the industry. People know me as well, but my talent is back at the base, not on the show floor," says Cronin.
That's not to say that Cronin will relinquish his role entirely; he has, after all, forged many integral relationships. He, like Barenholtz, has been an active member of associations like the New England Livery Association, Global Business Travel Association, and NLA. They both plan to attend many of the industry shows, which they have done so for years.
It was important to both Cronin and Barenholtz that, despite their new roles, they remain accessible to their clients. Operating a smaller company allowed them to serve their clients in a way that often becomes difficult when managing a much larger and more complex business. Continuing their individual brands will help alleviate it.
"We've all experienced it: When you call the cable or phone company, you're never talking to someone who has authority to make a decision. You, as a customer, get frustrated as you get passed around to people who really can't solve your issue. We don't want to lose that accessibility to our customers. We will always be available to them 24/7," says Barenholtz.
One of the factors that made the marriage of the two companies so attractive was the diverse fleet it created, which is a combined 75-vehicle mix of sedans, SUVs, shuttle buses, limobuses, Sprinters, vans, and motorcoaches ranging from 26 to 42 passengers. Boston Car's high-end vehicles included new BMW 7 Series and 535 GT sedans. Above All even contributed a trolley—always a popular choice for weddings, but which Cronin was able to successfully market to his corporate customers to keep it moving during the weekdays as well. These are the types of runs that Barenholtz previously would have farmed out but now is in the advantageous position to be able to sell this service to current and future customers.
Cronin has long maintained the philosophy that having a backup is imperative to customer service, which is why he has focused so heavily on his fleet over the years. "What breaks down every day of the week? People and automobiles. That's why we have multiples of every vehicle, plus a large chauffeur pool to adapt to the changes. Fifteen minutes from now, half a dozen rides can change, and we want to be prepared as much as possible."
Garage and office space is the reason why they chose to adopt Above All's Canton location as the new headquarters. The building was simply larger to accommodate all of the staff and house the larger vehicles. They also maintain about 80 percent of the fleet on-site.
"We have to sustain an extremely high level of service because that is what we've been known for. Now, we have an incredibly diverse fleet that caters to a wide variety of customers. We may not be the biggest company in Boston, but we definitely have the most diverse fleet and best service, delivered at a fair price," says Barenholtz.
Boston certainly has a number of good chauffeured transportation companies, but there is plenty of business to go around. The Greater Boston area is home to 4.5 million people, and 1.2 million commute every day to the city. It's an important destination along the significant Northeast Corridor, which stretches as far south as Washington, D.C. Corporate work comes from vital industries throughout the region like health care, pharmaceuticals, banking and finance, and technology. Tourism—the city is one of the oldest in the nation—accounts for quite a bit of commerce. It is, of course, home to the eponymous Boston Marathon, which draws tens of thousands of runners from dozens of countries each year. After the marathon bombing in 2013, "Boston Strong" became the popular call-to-action slogan.
Boston is also a major education hub with more than 50 institutions of higher learning dotting the metropolitan area, perhaps of which Harvard, Northeastern, MIT, Boston College, and Boston University are among the most famous. Both companies have clients who work for these universities.
Locals are also fiercely proud of their sports team. Football lovers were especially proud of their home team—the New England Patriots—who won Super Bowl XLIX this year. And while there may be mixed feelings and opinions on "Deflategate," Pats fans haven't wavered in their support. TD Garden is the home of the Celtics and Bruins, while Fenway still packs in Red Sox fans. The companies have a partnership with the Red Sox to handle its VIP box customers.
Stephen Ward, Above All's general manager, has been a key member of the team assisting with the transition. Ward, also a familiar name and face in the industry, joined the company 15 years ago and quickly became Cronin's right-hand man. Cronin says they've worked together for so long that Ward is more than just an employee—he's a member of the family. With the merger, he will expand his role as general manager to include sales and affiliate management, working closely with Barenholtz.
"He's extremely good at what he does and is a huge asset to the company," says Barenholtz. "I'm thrilled to be able to work with him."
As you would expect in any company merger, there were some redundant positions between the two staffs. Both companies had numerous longtime office staff and chauffeurs; all but a few part-time employees remained with the companies. For those who had similar roles, it was solved civilly by repurposing them into other, and possibly stronger, positions within the companies. Cronin says that he discovered quite a few hidden talents of the team, which might not have been realized before the merger. It will take some time to iron out all the issues, like learning the names and strengths of various chauffeurs (especially essential for dispatchers), but Cronin and Barenholtz are also getting acclimated to their respective new employees.
Barenholtz agrees that the issues have been relatively minor, all things considered. "We have a great staff that is co-mingling well and really jumping in and working together. I'm pretty positive about how far we've come in just a few weeks," says Barenholtz.
Behind the scenes, one area has proven to be a bit more challenging than originally thought—their reservations systems. Cronin, however, estimates that it only offset their personal merger goal by about a month, frustration notwithstanding.
I wanted this to be a recognizable brand, more than just in the Boston Area. That's a large part of the reason we went into partnership with Brett." — Kevin Cronin, president of Above All Transportation
"I underestimated how long it would take to get things worked out—I estimate now about 90 days rather than 60. But once it does, it will give Brett or myself the opportunity to be out of the office without worrying about what's happening. That's something we couldn't do with our own companies. We have an excellent team that can handle almost anything," says Cronin. Both Cronin and Barenholtz have been putting in extra hours, but barring any unforeseen circumstances, they can see the light at the end of the tunnel.
Of course, the hard work is all worth it if it allows them to spend more time with their families. Cronin and his wife, Michelle, have two young daughters—Danielle, 10, and Cassandra, 11—who are constantly on the go. Between school events, sports, and other extracurricular activities, there is always something happening in the Cronin household.
Cronin comes from a large family—six kids all one year apart—so he's cognizant of what he can offer his children that maybe he didn't have. Next year, he plans to put his daughters to work, likely washing cars and helping out around the office. He says that it's important to him that they learn the value of hard work and forge a healthy work ethic at a young age.
"We want to offer a better life to our kids. That's why we work so hard."
Barenholtz and his wife, Gena, also have two daughters. Their oldest, Alison, is 21 years old and a senior at Emory University, where she is studying information systems and accounting. She has an internship at Ernst & Young for the summer and plans to move to New York when she graduates from college. Their younger daughter, Danielle, is a 17-year-old senior in high school who is also involved in various sports.
Growth is definitely on their minds as they move forward, which includes the perennial problem of hiring chauffeurs. Each brought their own longtime chauffeurs to the mix, but rapid growth requires a consistent replenishment of the driver pool.
"We don't have much turnover with my chauffeurs. They are excellent and we keep them, which is pretty similar on the Above All side. But we constantly need to add more and more quality chauffeurs to keep up with demand," says Barenholtz.
"When the economy is great, staffing becomes much more challenging," says Cronin. "There's a lot more to being a chauffeur than just showing up in a black suit and looking good. Nowadays, too many drivers can't get around without their GPS stuck to the window, and that doesn't always look good to a client. A driver needs to know the city and how to get around rush-hour traffic."
Over the next few weeks, as employees settle into their new roles and technology issues work themselves out, Barenholtz and Cronin hope to realize the fruits of their labor. The response has been nothing but positive from their clients and affiliates alike.
Cronin, of course, has one last request: "Once everything is running smoothly, I'm going to take a vacation and I won't have to worry about checking in because I know that Brett is here. It goes both ways."
[CD0815]