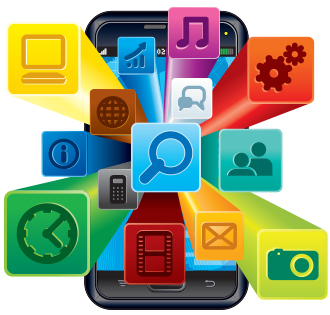 Apps are one of the fastest-growing markets for technology. With so many mobile devices—from smartphones to tablets—available to consumers, having an app for ease of use is practically required (for some devices, they are required). According to statista.com, both the Apple App Store and Google Play each have 1.4 million apps currently available for download, and approximately 60,000 new apps are launched every month. In this column, we feature some of the latest and most useful apps that will help you with your business, streamline a process, or generally make your life a little easier.


Waze
Available: iOS, A, W

This is one for your chauffeurs who lack a GPS or haven't yet found a good mapping app. Waze does what the others do—tracks traffic in real time, provides the quickest navigation route, and alerts you to accidents ahead—but with a twist. The information is augmented by registered users who warn other Wazers (who can appear on your map if you so choose) of a vehicle on the side of the road, the location of speed or red light cameras, debris or potholes, closed roads or events, or a friendly police officer ahead just waiting for you to zoom on by. But you could legit geek out on this app if you're into it because it allows users to update maps to reflect current conditions. If you've ever been sent down a one-way or dead-end street with your GPS before, you know how awesome this ability could be. You'll have to use the app for at least 100 miles before you can unlock the features but that will give you a chance to check it out. It also displays user-generated gas prices for the closest gas stations. One word of caution: Make sure you close the app when not using it because it's a pretty big drain on your battery (and possibly your data).

Highlight: Waze is a fairly popular app with an active community of Wazers who take their traffic duties seriously. While most won't use it to its full capacity, it does offer a pretty good snapshot of real-time road conditions from people actually driving when your chauffeurs are.


GasBuddy
Available: iOS, A, W

Fuel is a necessary and costly expense in our industry, so naturally you are always looking for the best price. If your company doesn't use a fleet card, this could be the next best option to finding a decent rate. Users update the data; it also displays when the price was updated so you know if it's current since, as we all know, it changes daily. Click on the lowest price and you'll also get a map and the distance from your location. You can search your local area or by adding a city/state or ZIP code. It also allows you to set your favorite stations. Easy peasy.

Highlight: GasBuddy is simple but effective if you're searching for a gas station. It's a free app, so expect ads. We, unfortunately, kept getting one for Lyft, but free is free.


WhatsApp
Available: iOS, A, W

This is an app that has been around for a while but is one that we've been hearing about from others in the industry. It has been downloaded more than 1 billion times so it has quite a few us-ers out there. What it does is essentially allow you to use your data or WiFi connection to call, send a message, or group chat without using your minutes or texts—but only to others who also use WhatsApp. Once you've downloaded the app, it will scan your contacts to see what other numbers are associated with a WhatsApp registered user, and you can use the app to communicate with them. After you've created a group of fellow WhatsAppers, you can send videos, images, or plain old messages—and see if they opened it. Why does all this matter? Well, if you travel outside your country and don't want to pay the additional roaming fees to use your phone while there, WhatsApp becomes really handy (as long as you have access to a WiFi spot). Some users have also dropped the texting plan from their cell phone bill to use this exclusively, but it only works if the people you call and text the most have this app as well. Every little bit helps, right?

Highlight: The creators claim that they will never sell advertising, so the app is only free for the first year. If you want to continue, it'll cost you whopping 99 cents per year to keep it. The app was acquired in 2014 by Facebook.


Do you use an app that you love and want to share it with the industry? Let us know! Email Susan Rose at
susan@chauffeurdriven.com
.
Just for clarity:
• Apple products=iOS • Android devices=A • Windows devices=W
While many of the apps we profile will be free, a $ next to the platform indicates that there is a fee to download and/or use. Some versions or features of the app may ­require a fee to unlock or use.
[CD0815]