BY SUSAN ROSE
In January of this year, Sonny Tegano began working for EmpireCLS Worldwide Chauffeured Services. Tegano spent several days with four employees of the company where he witnessed some good, bad, and downright ugly facts happening behind the scenes. What made this so special was that Tegano was actually ­EmpireCLS CEO and Chairman David Seelinger in disguise for an episode of CBS's smash TV hit, "Undercover Boss."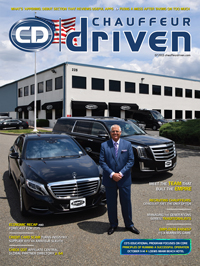 EmpireCLS CEO and Chairman David Seelinger at the company's headquarters in Secaucus, N.J. Photography by Chris Weiss. "When we first got started, the show's producers told me that it would have the most impact on me personally. I thought: Yeah, sure it will. But that's exactly what happened," he says. Seelinger says he was always an open person, and he was completely candid during the show, sharing some intimate details of his private life. While he did not have control of the editing process, nor was he able to pick the employees he would eventually have to critique, he says that he was very happy with how everything turned out.

There have been many articles written about the affable and charismatic CEO of EmpireCLS over the years, and he's become one of the most enduring and engaging leaders in the industry since he began as a chauffeur back in the 1980s. Seelinger has always been willing to share his opinions on Uber, chauffeuring as a profession, and even the future of the industry, but what he'd really like to talk about is his family of employees.

Besides exposing the company to a national audience, being on the show reminded him that he had become distracted by the daily grind of growing EmpireCLS and other projects.

"One of the things I learned during the show was that our employees felt disconnected from management, that we weren't properly informing the entire team of the company's relationships, new accounts, and successes," he says "I sat down with my executive team and said that we're going to go back to the basics, where we were 15 years ago. Sometimes when you're growing rapidly, like our company was, you lose sight of the smallest things—which actually turn out to be the most important things. To the employees, it made a world of difference. It was a phenomenal journey."

It was a lot of blood, sweat, and tears that lead EmpireCLS to this point. The company headquarters are in Secaucus, N.J., just outside of New York City. In 2005, Empire International became EmpireCLS when Seelinger purchased West Coast-based CLS Worldwide; the number of locations increased by two as it now had offices in Los Angeles and San Francisco. When Seelinger joined the company, there were three vehicles: Today, with more than 1,000 employees and 900 vehicles, it is easily one of the largest in the world.

Promoting from within has been a tried-and-true method of identifying talent and maximizing potential for EmpireCLS since the very beginning. It's how Seelinger got his own start under founder Alan Lehrer, who recognized his raw talent when he joined the company as a chauffeur in 1985 and promoted him to vice president and partner within four years.

Rich Doherty also started as a chauffeur—in fact, he was the company's first chauffeur. His close working relationship and personal friendship with Seelinger has helped him prosper with EmpireCLS, where he now is national director of fleet services.

"Richie is like a brother to me. There are a lot of great memories of the successes that we shared during the three decades we've been working together. We've been through a lot with all of the ups and downs that come with growing a small company into a large one—we have many fond memories. He's been, and continues to be, a significant part of the leadership and building the business."

When not promoting from within, Seelinger has found that like-minded individuals have often been the best fit for long-term success. For him, relationships and personality trump any kind of education or experience overall.

"If I find someone who has a great personality, is hard working, and willing to learn, I'm all over that. They usually turn out to be just amazing employees. When I find people who are quick to offer a solution to a mistake—after all, we are human and make mistakes—I just want to acknowledge them for being good human beings. Isn't that what we're all looking for? The human aspect of our business is always kept at the forefront."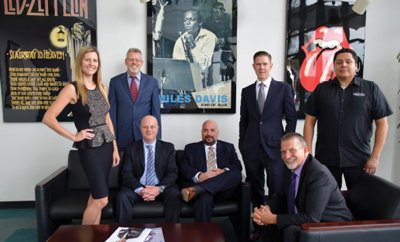 Standing (L to R): VP of Business Development Abbie Kelly, Manager of Chauffeur Relations Bob Schultz, EVP of Global Operations Joey Phelps, and Manager of Fleet Services Lino Palencia. Seated (L to R): Global Affiliate Manager Andrea Bulletti, Operations Director Joel Stein, and Manager of Hotel Operations Rick Hendrix The executive team is split between the two coasts, but they keep in contact via daily operational phone calls. Seelinger frequently travels between the offices, if for nothing else than to maintain those personal interactions with his staff and customers.

"I prefer that the business is run by unity rather than one individual. I've really surrounded myself with people who are smarter than I am. I know it's said a lot and sounds cliché, but it's absolutely true in this case. And because of that, they challenge my opinions, which leads to productive internal debates. It generally helps us make the best decision, and everyone feels more empowered because they know that their opinion on everything matters. I like that type of management. It doesn't consume one person and it works out well for all of us."

He also admits that he once lead the company like a dictator—but quickly learned that it was the absolute wrong way to run a business.

COO Edward Martinez joined the company in 2005 but his relationship with Seelinger goes back to the 1990s. Martinez previously worked for Manhattan International, which was later bought by Carey international. Martinez was well-known because of his good reputation and longtime partnerships with all of the five-diamond hotels in New York. Seelinger had purchased Paragon Systems, an industry software that was used by Carey at the time, which is where their paths crossed. A few years later, Seelinger was able to convince Martinez to join the EmpireCLS team. Martinez has forged many strong relationships with several of EmpireCLS's clients from the Middle East, and he often travels with them.

Marissa Criaris, executive vice president of business development, began working with the company through a high school work program in 1996 when she was 17. She balanced part-time work in several areas of the company while attending college, and she literally rose through the ranks to become one of the executive team's superstars. She oversees sales, reservations, and the meeting and event team.

The executive team is split between the two coasts, but they keep in contact via daily operational phone calls and Seelinger frequently travels between the offices."
"It's been a true joy to watch her grow up in the business. She's really a person who taught herself so much, and she has great vision. She's incredibly organized and knows our customers very well," he says.
Jaime Major is another member of the team who joined the company through a high school work program in 1998. She currently oversees the company's IT department of developers, network and phone engineers, and administrative staff. About five years ago, Seelinger directed much of the company's attention toward technology because it was difficult to find software that would fit all of EmpireCLS's needs and he knew that it was necessary to sustain growth. When the company's infrastructure was transitioning from old technology to new, Major played a key role in ensuring that there was triple redundancy for all system, including the phones. The San Francisco office is also managed through Los Angeles, including dispatch, thanks to the available technology that Seelinger championed.
"For our size, we always struggled to find technology for our business, so we developed our own. There was a time when 30 minutes was an acceptable threshold to get the phones back online, but now we've eliminated that to zero. If they go down then the backup is seamlessly integrated and we don't miss any calls. Customers need to be able to call us," he says. "Jaime is very special to the company because she has worked in every department and understands the processes. It makes it easier to get programmers to write the code because she can map it out so successfully."
Like Martinez, Dina Perazzo also joined the EmpireCLS team in 2005. She was initially brought on as an account manager for its hospitality clients, including many upscale luxury properties in New York. Thanks to her excellent people skills and ability to quickly adapt in any situation, she also moved through the ranks to become the vice president of business development, where she oversees many of the company's most valuable corporate clients and cultivates new customers.
One of the newest additions to the executive team is Nat Buonfiglio, CFO. Buonfiglio's path was somewhat different and didn't include the transportation industry. He was involved in the print industry, working with Mort Zuckerman, the former owner of Atlantic Monthly and Fast Company, and the current editor in chief of U.S. News and World Report. A colleague recommended that the two meet, which they did in 2005.
"I knew immediately that he was the right guy for the job," Seelinger says. "We get along phenomenally well, and he is a very big part of what happens here every day, not just from an accounting perspective."
When Seelinger wanted to establish a presence in California to capture more entertainment business, he initially opened a small office in Los Angeles. While getting it set up, he became interested in CLS—which already had clients in the target markets, as well as several offices throughout the Western U.S. Seelinger sold off a few locations and focused primarily on two offices in California. What he was not prepared for, however, were the number of administrative challenges that came with the acquisition, and it took a couple of years before they were able to completely integrate the offices and work efficiently.
I prefer that the business is run by unity rather than one individual… It generally helps us make the best decision, and everyone feels more empowered because they know that their opinion on everything matters."

– David Seelinger, CEO & Chairman of EmpireCLS Worldwide Chauffeured Services
EmpireCLS also faced the obstacles that come with operating in two states with very opposite employment laws regarding chauffeurs. California laws dictate that chauffeurs are subject to meal and rest breaks, and overtime is paid after eight hours in a day, not a cumulative 40 hours like in many other states. This was vastly different from New Jersey, which isn't as strict or uniform in its rules on chauffeur pay. In California, there was a waiting list of chauffeurs who wanted to work for the company, but even with two recruiters, he says that it's a struggle to find quality candidates on the East Coast. He says it took a while, but he finally realized that the California pay model was the way to go—rewarding chauffeurs with a decent living and fair pay generates nothing but positives for the company all around.
The California office, specifically Los Angeles, also required executive ­management. Seelinger had his eye on a bright, young dispatcher whom he sensed had potential as a leader. Joey Phelps, now executive vice president of global operations, was relocated to New Jersey office to train with Seelinger and the rest of the management team for two years until he was ready to spearhead the West Coasts offices. He reports directly to Martinez and oversees all of the operations in California.
"We just knew that he was going to be a great leader in this company, so we had him work every day with our executive team before he was ready. And what we expected from him we got back tenfold. We really got lucky with him, and he's amazing at his job," Seelinger says.
Joel Stein caught Seelinger's attention a few years ago in Los Angeles. Stein at the time was a managing partner of a green-based transportation company called Econation. Seelinger saw the opportunity to bring him on board as operations director, and he manages the day-to-day of the LA office, working closely with Phelps.
"His customer service skills were phenomenal, which he instilled in all of his chauffeurs. He's a really buttoned-up individual who understands the level of service we deliver. He's a jack of all trades: He excels in sales, operations, and training. We took over his company and brought him on board," says Seelinger.
Vice President of Business Development Abbie Kelly oversees large clients and the meetings and event team in Los Angeles. As one would expect in Hollywood, events are frequent and oftentimes large, so it requires the keen attention to detail and patience that Kelly possesses, according to Seelinger. Kelly often handles movie premiers; massive awards shows like the Golden Globes, Grammys, and Emmys; and corporate group events. Seelinger says that her experience and professionalism has been invaluable to the company.
Also based in Los Angeles is Andrea Bulletti, global affiliate manager. He had previously worked for EmpireCLS as its meeting and events manager for the West Coast in 2006, but rejoined the company last year. Seelinger says that Bulletti, who speaks several different languages and grew up in Italy, is integral to growing their affiliate network worldwide.
Technology has not only allowed the company to operate worldwide from three offices, it has also changed how senior staff communicate with the entire team. In addition to getting out into the office more to interact with employees, Seelinger felt it was important to have daily contact via an intra-company blog. The blog is written by staff members and includes updates on positive things happening at EmpireCLS, shared successes, and celebrations of birthdays and anniversary dates—which has been a big hit.
"I've gotten fantastic feedback—especially from chauffeurs—thanking me for recognizing them," he says. "We're also extraordinarily better at social media than we were before. We have a blog now as well as a new website, all of a result of what I learned on the show. We're doing more training with chauffeurs and middle management. I have employees every day training with Dale Carnegie. So, all those little things that we do again have dramatically changed morale for the better."
Seelinger also maintains an open-door policy, and he says that employees will frequently stop by his office to offer suggestions or chat about something that can be done better. When he's not in the office, he's always accessible via email or through his executive assistant, Melissa Ergisi.
"Titles don't really mean that much to us. I wish I could talk about every member of my team because they are all important. We try to involve as many people as we can when we're going to make a change or develop a new process. Knowledge is half the battle. When people are informed, they do their jobs much better. How do things move? How do things get done? It's because of all of the people who work here. Being a leader is easy; it's all the other jobs that are hard."
Four EmpireCLS employees were featured on "Undercover Boss" and three of them were success stories. Seelinger says that they tried hard to work with one of the employees—a dispatcher from the New Jersey office—but that it just wasn't the right fit. Seelinger says he still keeps in touch with him, even though they have parted ways.
"When I started in the '80s, I never fathomed that it would become what it is. When I'm pulling into the garage of the New Jersey office, I sometimes still wonder how it all happened. We have chauffeurs who have been with us for 25+ years and it's so touching to me that they chose this company so long ago. I know we worked very hard, and we did a lot of right things—and a lot of wrong things—to get here. It's still to this day a real joy to see what we did as a team."
Seelinger on:
Industry technology: "Our industry has been lax in adopting and developing the newest technology, which has allowed companies like Uber to be so disruptive that we're now forced to look for an alternative that at least brings us into the 21st century. That's a goal that I think the industry is committed to now—finding an on-demand solution that works for everyone. It's what we're working toward: one app that all transportation companies can use with their customers instead of each company having their own."
Competing with Uber: "Let's give our customers something better. There is a solution in development that any industry operator will be able to use to offer their customers both advance and on-demand reservations. It would also give them the ability to book other services that they require to fulfill their travel needs such as flights, hotels, and rental cars—an all-in-one solution. This technology would obviously have to be used by the entire industry so that we would have the available inventory to service on-demand customers. Its development is finally underway in an industry that has historically been very behind when it comes to technology. I'm very excited about the future."
TNCs: "At the end of the day, if you wow your customers in a service industry, you won't lose them. And if you give them a technological solution that is easy to use, you'll have a customer for life."
On Advocates for Fairness in Transportation (AFT): Cheryl Berkman of Music Express and Jonna Sabroff of Integrated Transpiration Solutions called me together to ask me if I wanted to be a part of it, and I was so honored that they did. Right now, AFT is supporting the efforts in New Jersey and has a full-time lobbyist in California. We are also working hand in hand with the efforts of the National Limousine Association and Taxicab, Limousine & Paratransit Association. We wanted to join the fight but in a different way. What wasn't being done was informing the corporate travel managers, so we send out weekly updates to a massive email list so that they are aware of what's happening."
[CD0715]