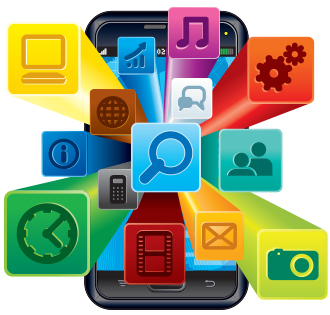 Apps are one of the fastest-growing markets for technology. With so many mobile devices—from smartphones to tablets—available to consumers, having an app for ease of use is practically required (for some devices, they are required). According to statista.com, both the Apple App Store and Google Play each have 1.4 million apps currently available for download, and approximately 60,000 new apps are launched every month. In this column, we feature some of the latest and most useful apps that will help you with your business, streamline a process, or generally make your life a little easier.



Dark Sky
Available: iOS $, A $

You're probably asking: Why the heck would I need another weather app, let alone one that costs me money each year to use, when I already have one on my phone? We'll tell you: If your service relies on the most hyperlocal weather report available, then Dark Sky might be a good option for your business. We all know how weather situations can vary greatly from one city to the next—especially in places that are beholden to lake-effect snowstorms or experience frequent twisters—and that's where this app excels. If you want to know precisely when the precipitation will end, it will show you with precision that some have called "creepy accurate." You can also set up the app to get breaking weather alerts for specific areas.

Caveat: Some users have reported that data is a bit wonky in extremely remote locations, but heck, what isn't?



Tollsmart
Available: iOS $, A $Honorable mention: Toll Calculator (iOS $)

Apps like Google or Apple Maps are really handy when traveling to places unknown (or to get a traffic report, although we really enjoy Waze for that), but the one glaring thing they lack is how much those "contains toll roads" directions will cost you along the way. Seriously, it's kind of shocking that the popular map platforms don't have that option. This app works just like any other map app—you input your location, end destination, and any stops along the way—but it will also calculate how much it will set you back while suggesting an alternative, less costly route for comparison. Trust us, if you've ever been shocked by the whopping toll on the Pennsylvania Turnpike or at any of the New York-New Jersey crossings, you'll appreciate this app.

Caveat: The app currently only works for roads in the United States and Canada.



Twitter Accounts to Follow

@SBAgov: The Small Business Administration does a pretty good job of keeping the small business community informed, and their social media is no exception. Follow for periodic tips and alerts specifically affecting the majority of business owners.

@ducttape: The account belongs to John Jantsch of Duck Tape Marketing, who is known to tweet all kinds of interesting marketing trends, tips, and tricks.

@AskTSA: Going on a trip and wonder if that whatchamacallit you just threw in your carry-on bag is allowed? Snap a photo and tweet the TSA! Representatives will give you the green or red light before you get to the airport. (8am-10pm ET weekdays; 9am-7pm ET weekends/holidays).


Do you use an app that you love and want to share it with the industry? Let us know! Email Susan Rose at
susan@chauffeurdriven.com
.
Just for clarity:
• Apple products=iOS • Android devices=A • Windows devices=W
While many of the apps we profile will be free, a $ next to the platform indicates that there is a fee to download and/or use. Some versions or features of the app may ­require a fee to unlock or use.
[CD1116]