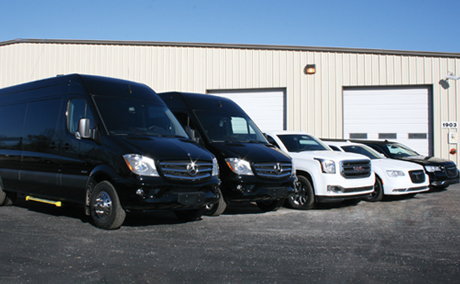 A lineup of some of SCG's most popular models Talk about timing: Investor and car enthusiast Gary Spaniak' son Gary Spaniak III (G3)' and their wives Jodi and Kasey' took over the operational facility of LimoLand.com' on the brink of the recession in 2007. They moved their families from sunny South Florida to manage the fledgling company once known as Springfield Coach Builders and entered the limousine manufacturing and custom automotive business.

"We did a lot of crazy builds to stay alive'" says CEO Gary Spaniak. "We stepped in at a time when car manufacturing was suffering. Every time that I thought it was time to throw in the towel' some kind of miracle would happen that got us through it. Both G3 and I are car guys' that's what brought us here' and we honestly love the design and fabrication aspects of the industry."

What easily could have been a gloom-and-doom story actually had a silver lining. As many other coachbuilders succumbed to the economic forces at hand' LimoLand.com kept plugging away and churning out vehicles that operators wanted and needed.

The company was among a handful of builders that continued to produce stretch limousines' and it's helped propel them to the top of a strong niche market. The Spaniaks brought back the Springfield Coach Group (SCG) name—the legacy brand that was founded by coachbuilding pioneer John Bumgarner—and it's fitting that limousines are an important percentage of its lineup.

"People don't realize that the Chrysler has 300 horsepower'" says Spaniak. "It has a reasonable price point and makes a fantastic sedan-style stretch with a 5-year/100'000-mile powertrain warranty. We can't build them fast enough." SCG offers the Chrysler in stretches between 10 and 160 inches.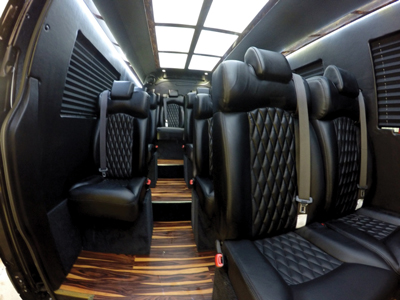 "Stadium" seating in a SprinterThe Discovery Channel's long-running show called How It's Made stopped by SCG's facility in Springfield' Mo.' to film the build process of one of its Chrysler limousines. The show producers said that the TV network researched other coachbuilders but that they selected SCG "because they liked the quality they saw and the willingness of the entire LimoLand.com team to come together." The nearly three-day shoot for episode #285 showed how the Chrysler 140" Limo—which was' in reality' four different vehicles in various stages of build—transformed from a stock sedan into a polished' finished limousine. Through the power of television' the typical multi-week production took a mere four minutes. Even before the episode aired to an international audience' SCG became local celebrities' as many TV stations and newspapers carried the news. Limousines clearly still have the allure of the public. The video can be seen at: youtube.com/watch?v=NCuxW-Ebt6c.

Perhaps it took an industry outsider to shake up a trusted legacy brand like SCG' while still staying true to its core mission to build solid' reliable vehicles. Many pieces for success were already in place: The Spaniaks worked with Bumgarner's widow and son to bring his vision of design and production to life' so SCG didn't lose its "family owned and operated" feel. SCG's production team of 64 was (and still is) staffed with coachbuilding veterans' many of whom are third-generation craftsmen. Some worked with Bumgarner when he founded Executive Coach in the late '70s—that's the type of town Springfield is.

The Spaniaks had their own ideas for transforming classic coachbuilding with a modern twist. New partners and an infusion of foreign investment capital helped with the creation of new production lines—in the original SCG building—with SUVs like Cadillac Escalades' GMC Yukons' and Chevy Suburbans. They began working with Mercedes-Benz Sprinters and Ford Transits to create shuttle' limo' and executive interiors. They welcomed private customers and took on some one-of-a-kind projects like a 1970 VW Beetle 48" stretch for a daughter of the Saudi royal family' and a marketing vehicle for international pool water filtration company Solaxx that included a barbeque grill' ice cream freezer' and a simulated fish tank. A few years ago' the Spaniaks built an all-electric limousine' by stretching a Nissan Leaf for the automaker' creating the world's first 100 percent electric limousine' which was featured on MSNBC.
Every vehicle is inspected by the team before it leaves. In the event of an issue, we work with our customers to make sure the vehicles are operational and use that to improve quality. – Gary Spaniak, CEO of Springfield Coach Group

With production in order' Spaniak said that they were able to flex their own creative muscles with innovative' stylish' and multi-functional interiors. Building on the concept of the 24-hour vehicle—interiors that could work for executive clients during the day and transform into party vehicles at night—the Spaniaks hired electricians' interior designers' and graphic designers to maximize utility. TV monitors disappeared behind black glass' seating was configured to create extra space' and lighting packages went from neutral to wild with the turn of a dial.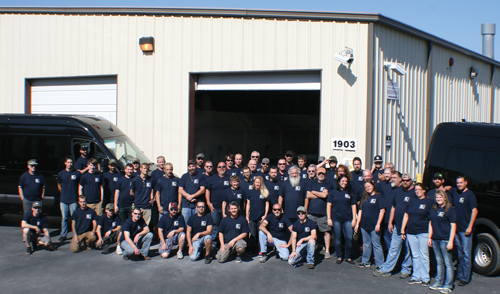 The SCG Team "You'd never know that the all-white ambient lighting goes from corporate to disco'" says G3. "Turn the button once' and it's a lightning show in the ceiling and floor. Turn it again and there is your disco party."

Seating capacity and configuration were also given a fresh look' especially in Sprinters where there is more room to play with. "We offer stadium seating so that every passenger has a view' and this design also provides three times the amount of luggage space'" says Spaniak. "The double J seats only allow for 10 passengers' but with our four-seat configuration' ours is a true 12-passenger."

Spaniak' who has built custom cars as a hobby' oversees engineering and production with his wife. He says that with each new build' it's a chance to improve quality that much more. "The last thing I want to happen is a warranty claim'" he says. "Every vehicle is inspected by the team before it leaves. In the event of an issue' we work with our customers to make sure the vehicles are operational and use that to improve quality. Our family philosophy ensures that all issues are used as a learning experience to increase quality on every build."

SCG—a QVM builder—is in the final stages of receiving its Master Upfitter status with Mercedes-Benz and also recently expanded its bus line through a partnership with Metro Link. Spaniak says that the longtime shuttle manufacturer was looking to develop a limousine party bus for this market' and it exclusively chose SCG to modify interiors. The Winnebago Metro Link/SCG bus seats up to 24 passengers and can be produced as either a shuttle or limo bus.

SCG is also interested in working on different vehicle platforms and just finished a prototype build on a 2016 Dodge Durango' which can be stretched up to 165"' according to Spaniak. He says that the 16-passenger vehicle is a price-sensitive option for a customer looking for the utility of a Suburban.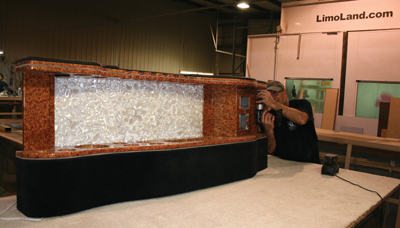 All interior work is done in-house, including laminate , sewing , and woodwork (above)In an effort to shift away from just being a custom builder' the Spaniaks are stocking inventory so that operators can have access to some its most popular vehicles—especially Chrysler 300 140" stretches' GMC Yukon in 165" and 200"' Sprinter shuttle and limo styles' and party buses—almost immediately. SCG is back to near-2007 production levels. As tastes change' so too will the type of vehicles readily available. G3' who focuses on sales' service' and marketing' is interviewing dealers around the country to offer SCG's products to add to their growing list of locations nationwide.

"Our goal is to be a bigger' better coachbuilder than ever before' with no more waiting 8-10 weeks for some vehicles. Chryslers and Sprinters are our most popular vehicles right now' and the Chrysler is a great product for us' so we'll make sure to have them on hand'" says Spaniak. "We'll still work with customers to build the vehicles they want and need' while giving them more immediate options. It's a good move for everyone." [CD0216]