BY MADELEINE MACCAR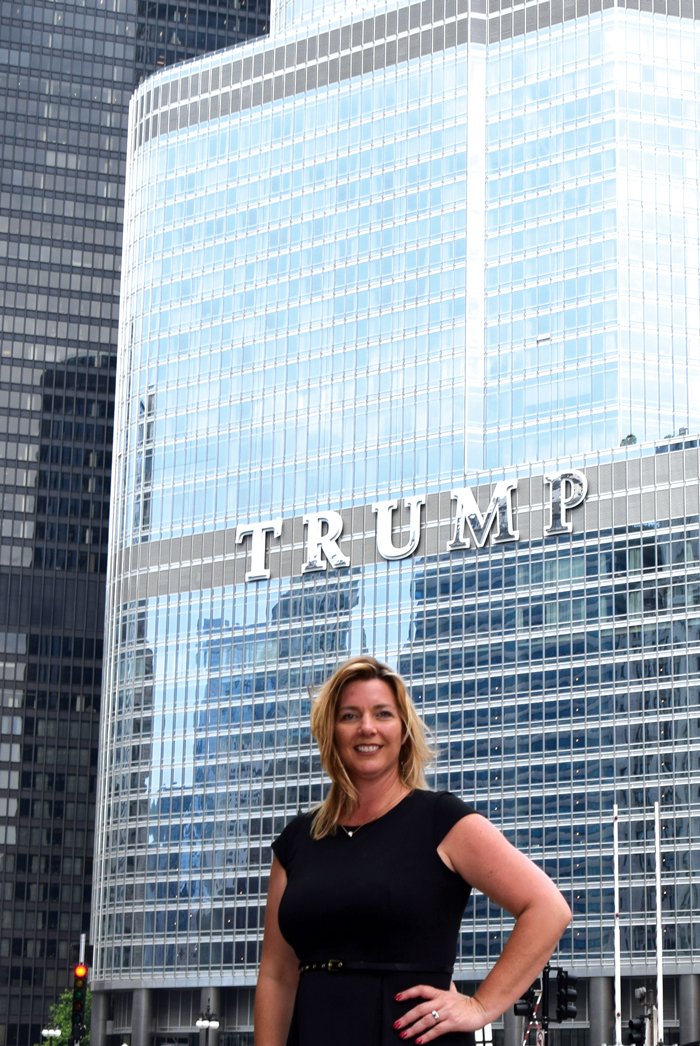 Tracy Raimer first ventured into the world of running a chauffeured ground transportation company in the fall of 1996, her operation had one car that she would often drive herself. Your Private Limousine diligently carved a niche for itself over the years as Chicago demanded more transportation options, and Raimer, too, found herself more and more entrenched in the industry she served.

As anyone trying to stay afloat in the late 2000s remembers all too well, those lean years required quick thinking and creative business approaches. Raimer auspiciously met Chicago's Northshore Limousine Group President Terrin Lange in 2008 and the two women soon found themselves hashing out the ideas that would become Chicago's Transportation Group—or CTG.

Raimer and Lange's brainchild is an unusual one in the industry. CTG isn't an insular operation but rather an umbrella company that manages the day-to-day demands of five separately branded entities: Your Private Limousine, Chicago Northshore Limousine Group, Chicago Metropolitan Limousine, All Suburban Limousine, and the global affiliate base of Chicago's Transportation Group.

"CTG is a management company that actually has the capabilities of managing other transportation companies while keeping their brands totally separate," Raimer says. "At one point, we had seven companies in the office, all operating separately. We answer the calls by each company, we invoice by each company. So from the customer's perspective, they don't realize that all these individual companies are under the same roof."

The autonomy all five companies enjoy is a top priority for Raimer, who has been the sole owner since Lange stepped down in June of this year: It is paramount that the clients loyal to each of the companies continue to enjoy a seamless service experience. This helps bolster the success of the collective operation, making it a viable approach for smaller companies looking to clear the $1-million hurdle, which Raimer explains can be a difficult milestone to move past.

"It's a way that transportation companies can have access to a diverse fleet, including vans and buses, as well an affiliate network that's already set up," she says. "For smaller companies that are maybe only doing $1 million dollars in revenue, it's really hard for them to expand past that point and develop their national affiliate partner network. At $1 million, you're just so strapped into the day-to-day operation, so here's a way that you're not having to give up your company and can still make a decent amount while growing. All you have to do is focus on expanding your book of business."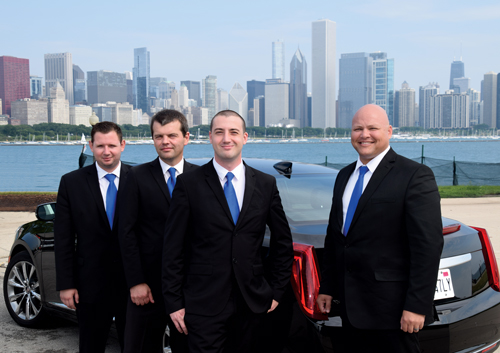 Chauffeurs (L to R) Galen Gueorguiev, Constantine Esipanka, Milen Dimitrov, and Jason Keeling

The continued growth and success of the companies comprising the industry ultimately ensures the success of chauffeured ground transportation's future. Raimer believes that as the industry shifts to make room for TNCs, works even more closely together, and adapts to a new operational landscape, that future will include an increased inclination toward communal thinking.

"I think it's where the economy is, and it's where our industry is heading," Raimer explains. "With rideshares now in our marketplace, our industry's going to look vastly different in 18 months, even one year from now. I think that companies are going to have to unite and share resources—not just the expenses but sharing the different services that our clients have demanded. I don't think there's one single company that can meet the needs of what our clients are demanding today."

That driving philosophy of unity is a key characteristic shaping Raimer's two decades of livery experience. She credits both the Illinois Limousine Association (ILA) and the industry's overarching tendency for fostering camaraderie among otherwise competing companies as being an asset to luxury transportation operators, especially as TNCs continue to be a black eye for the industry.

TNCs are a uniquely frustrating pain point for Chicago operators, who are already at the mercy of Zero Dwell Time, a highly enforced policy at the city's O'Hare International and Midway International airports. What this means, ultimately, is that unless a passenger is waiting at the curb as soon as the vehicle pulls up—after having been parked in a holding lot roughly a mile from the terminals' designated pickup locales—then the car has to loop back around and retrace its route, which can tack on an additional 20 to 45 minutes of wait time.

Compare that to how Zero Dwell Time affects TNCs: If one of their vehicles is sent away, there's plenty more waiting nearby to pick up that same passenger in a matter of minutes—which only adds insult to injury, as Chicago operators have been locked in a costly legal battle to overturn TNCs' on-the-books preferential treatment for well over a year.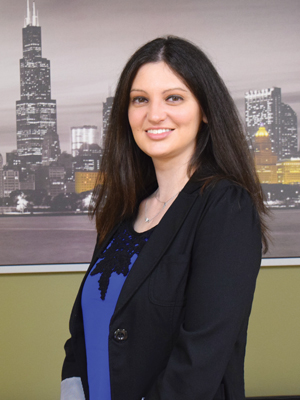 Director of Affiliate Relations Erica Shor

"How do you explain to your passengers why you drove right by them and made them wait for another 20 minutes when rideshares can do that same pickup in two or three minutes?" Raimer asked. "Rideshare doesn't have that issue, so it's an unfair advantage, it's very, very hard to compete, and it doesn't look like it's changing any time soon."

Despite the challenge of keeping up with a veritable heap of regulations that govern the city's licensed livery outfits, there is a tremendous appeal to operating in Chicago. The third largest city in the U.S. is as diverse as the population that makes its home in the fifth-largest foreign-born population in the country.

The Cubs' recent nail-biter of a World Series win put an emotional end to the team's 108-year championship drought and thrust a city with ample athletic representation back into the sporting spotlight. Beyond that, Chicago is generously punctuated by—among other things—a dazzling array of museums, unique architecture that continues to reach new heights (including four of the 10 tallest skyscrapers in the nation), restaurants dishing out cuisine from all corners of the globe, the country's second-largest central business district, and, of course, all of those blues clubs. The city is bordered by Lake Michigan to the east with the Chicago River (notably dyed green every St. Patrick's Day) running through it as a natural water link and passage, a geographic advantage that made it an especially attractive option for early travelers but difficult from an architectural perspective.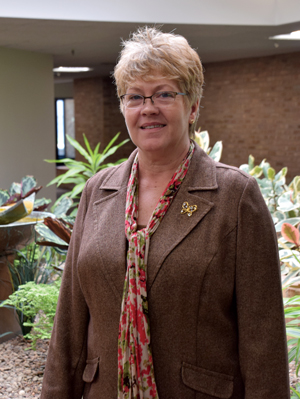 Group and Event Coordinator Nancy Ramirez

Of course, it is also home to O'Hare, consistently named one of the busiest airports in the world and well-known as a mid-continent hub. Catering to the city's corporate travelers, as well as its steadily flowing tourists and residents celebrating special occasions, benefits greatly from the relationships Raimer has forged in the past two decades. CTG's 12 full-time office staff and 52 vehicles deftly navigated by a team of employee chauffeurs are augmented by a global network that Director of Affiliate Relations Erica Shor has spent her two years with the company diligently cultivating and growing.

"I rely so heavily on the entire team that it's hard to single one person out," Raimer says. "But prior to two years ago, we never did affiliate work, and Erica has really done a great job forging those relationships and bringing that network together. Now it's set up and we're really focused on expanding our outbound and inbound work. In a short amount of time, CTG has become a trusted provider for some of the industry's largest companies and networks."

She also credits Groups and Event Coordinator Nancy Ramirez with doing "a stellar job of expanding this segment of business and fortifying relationships with our accounts."

Raimer, a mother of three who resides in Baraboo, Wis., three hours north of Chicago, knew in the early stages of establishing CTG that it would take an in-office team to deliver the impeccable service she aims to deliver. And though she admits it took a while to both assemble the A-plus team she now has and train them to self-manage, Raimer is beginning to step back and watch the CTG team of motivated self-starters work their magic.

"I don't have an office manager, an operations manager, a dispatch manager—I purposely have structured the company that way because I need a team to run it," she says. "We are now at a point where they can go to each other and correct each other; instead of taking correction as criticism, we've taught them to look at it as feedback. You might not like what you're hearing but if you really listen to it, you can do something better."


The CTG co-founders: Terrin Lange (left) and Tracy Raimer

Raimer, having gone through extensive training through the executive coaching philosophy of the Wright Institute and with the help of its expert trainer Kirsten Zoub, has implemented open-book management at CTG, which holds employees accountable for tracking a variety of line items to better the company with forecasts and a keen focus on that one metric. For an hour or two every Tuesday, the CTG team turns its phones over to office management company Limo Command so every member—with Raimer observing—reports on the line-item forecasts each was responsible for, successes both professional and personal, and incidents from the past week. The weekly huddle allows for the team to troubleshoot as one and share in their wins as one, too.

"These meetings are not a place for me to tell them what to change or how to operate," Raimer emphasizes. "This is when the staff, not just me, works on the business. Concerns are addressed and as a team, they brainstorm and decide on a solution. They now own it—one of our six core values that we lead the company by—because they're the ones who come up with a solution as a group. I'm usually just observing: It's their meeting to work on the business."

Taking a less hands-on approach allows Raimer some breathing space to tackle other areas of her professional life, like garnering the same Women's Business Enterprise National Council certification for CTG that Your Private Limousine enjoys for being a woman-owned company. She is also at the mercy of an array of local meetings, ranging from city meetings to advocate for the livery industry and board meetings for the ILA, of which she is the president.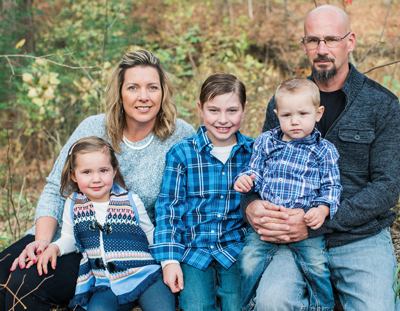 Raimer with her husband Matt and children Skyler, Corbin, and Grayson

Raimer credits joining the ILA in her second year of business as being why she "was able to stay in business, operate legally, and continue on," citing veteran members' willing guidance and freely dispensed advice for helping her deftly navigate the murky waters of an industry she was just beginning to understand. "I honestly believe that being a member of the ILA and its members becoming mentors for me are why I learned so much," she says. "I was able to ask questions and go to them at any given time. I had no idea where I'd go to get licensed, how I registered for this permit, and they were always there."

Many of those early relationships still stand, and now Raimer is a mentor in her own right—quite literally in some cases, like her participation in the Operator Mentoring Program at the Chauffeur Driven Show.

The nearby Wisconsin Limousine Association is beginning to fight the same battles the ILA has already undertaken, and she is eager to reciprocate the early assistance she received, in addition to helping neighboring states' associations reap the benefit of open, frequent communication for the good of above-board operators who have the industry's best interests at heart.


The Wrigley Building, part of Chicago's celebrated Magnificent Mile, on the Chicago River

"I really hope that my purpose is to always be there because so many were there for me when I started," Raimer says. "My mission is to always be available and be a resource for others who are starting in the business or are following the same path—especially those who are passionate about the industry, those who want to do the right thing."

Raimer has her own support network in the form of her husband Matt, a carpenter who also runs his own business in a cyclical industry. She credits him as the reason she is able to dedicate so much of her time to ground transportation both as an owner and an advocate, especially with their children—Corbin, 8; Skyler, 3; and Grayson, 1—all at home.

"I rely heavily on my husband," says Raimer. "With three kids, I can't imagine doing the same amount of work at the level we're doing it if not for Matt—it just would not be possible."

With both her family and companies in excellent hands, Raimer is able to focus on CTG's future. Her involvement in peer groups has been "absolutely invaluable" as a business leader, as she has been a member of Arthur Messina's Spinning Wheels for the past three years. Two years ago, she also joined Rolling Thunder, run by Kristen Carroll of The LMC Group—who Raimer says has been an especially beneficial ally in her corner for nearly as long, and whose HR and business development know-how has "been a great resource."

Raimer also has more time to consider the future of both CTG and the industry she keeps fighting for—a future that she believes is inextricably intertwined.

"Relationships are so, so important, and I see the future as uniting with other companies; for us, partnering with companies even outside Chicago and providing the same high level of service together, and using the open-book management style with those partners," she says. "You have to forge those relationships with your competitors and work with everyone around you—I think that's the key to success." [CD1216]