BY ROB SMENTEK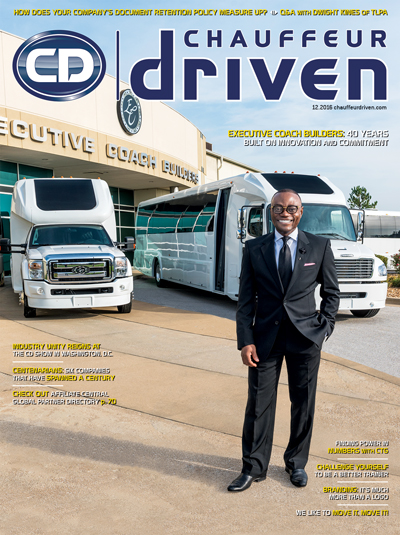 Cover Art: David Bakare with two buses from his new lineup, seen here at ECB's headquarters in Springfield, Mo. Photography by Mike Williams Photography. More people celebrate landmark anniversaries with fine dining, perhaps an extravagant bottle of wine, or maybe even a relaxing trip, but David Bakare, president of Executive Coach Builders (ECB), is celebrating his company's anniversary in a much bigger way.

The Springfield, Mo.-based builder has been slowly expanding its business to cater to the growing bus and coach market. Now in its fourth decade, ECB is in the process of retooling its 100,000-square-foot factory to include five interchangeable product lines, making it the country's only full-service plant that can build limousines, Sprinters, and buses—all under one roof, according to Bakare.

"We're not doing this on a small scale at all," says Bakare. "We're coming at this with full force. This will give us great flexibility, to switch the line depending on the demand to build what the customer wants. It's been an enormous investment in renovation that represents ECB's serious commitment."

Bakare and his unusual backstory are somewhat legendary among the ground transportation industry. A descendant of Nigerian royalty, he came to the United States to study at a California university. His career goal at the time was relatively simple: to buy a car dealership. Soon though, Bakare's education took a slightly different path. When his father tasked him with purchasing a limousine for the family, his research provided him with a learning experience that gave him an overview of the ins and outs of the industry. Intrigued by opportunities presented by luxury ground transportation, Bakare discovered that ECB, a company in operation since 1976, was for sale. An offer was made and Bakare purchased the company in 1993, and still leads it today.

"It's the expectation of a client to get the best when they buy from a high-end company," explains Bakare. "We've always been a high-end product manufacturer. Even though we have competitors that build on the same chassis that we build on, we make sure we don't give customers a substandard product."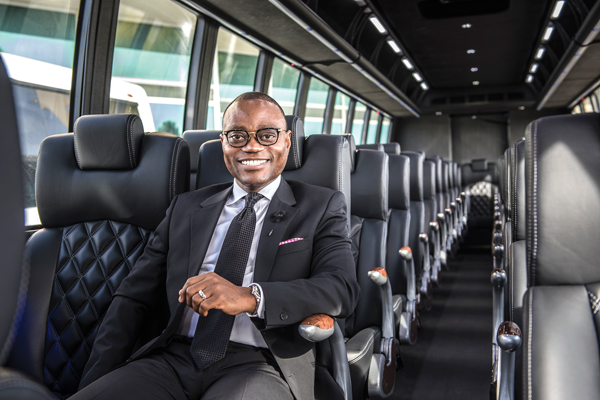 ECB President David Bakare inside one of the company's Freightliner buses

In addition to the quality of their vehicle builds, Bakare believes ECB's appeal stems from a single word: diversity. Because of the diversity of his product line—building vehicles for two passengers up to 52 passengers—he says that ECB is a true one-stop shop. In fact, he describes the company's headquarters as a giant auto mall, one where a client will leave with exactly what he wants or needs.

"That's our best-kept secret. Having such a big product line is huge for this market. Not only does it define our product, it also reflects what livery operators have to have in their fleet to thrive in their markets."

Bakare says that ECB's recent factory renovation was in anticipation for its expansion into the motorcoach arena. While buses and motorcoaches aren't exactly new to the company, Bakare says that they have been building them "silently" over the last three years as he hadn't reached the point at which he was comfortable with putting their brand on the line: bugs had to be worked out, features had to be standardized, and production had to be perfected.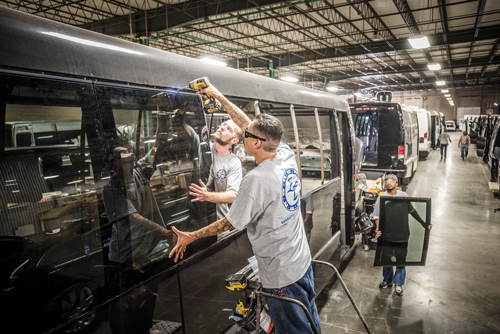 Tylor Hudnell (left) and Johnny Machuca (right) from the external trim division installing seamless motorcoach windows

"Now we're comfortable enough that we have a mature product that customers can buy and enjoy, and we can be proud to be the supplier of such a product," shares Bakare. "It's been a very interesting journey to get to this point, but the most important thing was to make sure that we didn't release this product line until it was perfect."

Finding that level of perfection required a lot of trial and error, he says. Bakare and the ECB team had to focus not just on the vehicle they wanted to offer, but the way it should be built. While the manufacturer jokingly offered that buses pretty much look the same on the outside, he urges clients that they shouldn't be fooled that each coach is identical. Bakare is adamant that people entering the bus and motorcoach business know that the way a bus is built is paramount, particularly since an operator is going to keep a bus much longer than a sedan or SUV.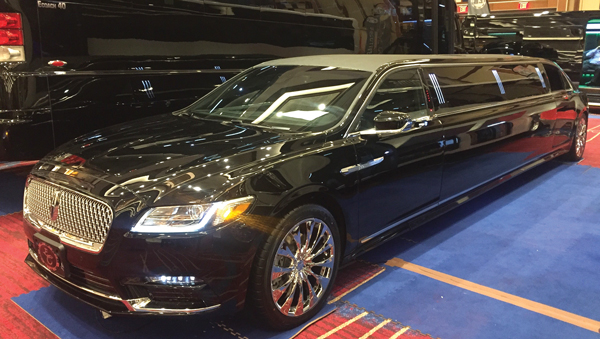 A 2017 Lincoln Continental stretch limousine, which was built by ECB in just three weeks

Chief among the tactics employed by Bakare's team to determine how to build a bus worthy of the ECB name was to, in effect, work backwards. Certainly any vehicle is likely to have wear-and-tear mechanical issues or body damage over long-term use, but Bakare found that time and time again, oxidation is the number one cause of trouble that bus builders deal with; perhaps more important to operators, it drastically diminishes resale value. So, Bakare asked himself what he considers the "million dollar question": If this bus was going to be built by Freightliner or Ford, how would it be built?

"Rather than investing our resources into fancy body lines, which we already have plenty of, we put money into our engineering process to avoid suffering from the issues faced by most buses when they come back in from trade-in. When we have a frame being fabricated, we actually stop production, take the frame off the machine, and then pull it inside the paint booth to powder coat it." This proprietary process, performed on all of their buses, allows ECB to mimic the OEM's practice of powder coating the frame to ensure the underside will not rust. While traditionally undercoating will prevent rusting to a degree, it's a temporary solution as the oil-like coating will only last a year or two.

ECB takes similar care with the floors they install in their vehicles. Bakare says that he chose not to use a plywood base for bus flooring—which rots when water inevitably finds its way through the protective coating. Standard in every ECB bus and coach is composite fiberglass flooring system made from the same material used in aircraft and boats.

"You can throw our bus floor in the ocean, and come back 10 years later and it will still be floating," he challenges. "This is a product that is proven to last a long time and is waterproof. In fact, our buses are almost built like they're upside-down boats. We are the only manufacturer to use resin-infused composite sidepanels, which add durability, strength, and insulation. You don't have any leakage or holes that screw into the panel. Furthermore, our true flush-mount frameless windows have no metal or aluminum that will corrode or rust."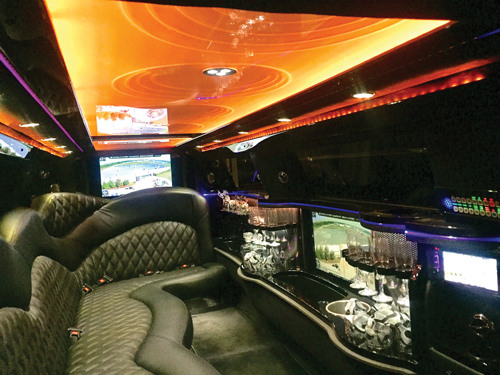 The interior of ECB's 2017 Lincoln Continental limousine

It seemed counterintuitive to Bakare to spend time manufacturing a bus without ample space for luggage, and equates it to buying a car without a trunk or going to the airport and being told the plane doesn't have room for your bags. ECB designed its coaches with a luggage compartment in the belly of the vehicle, just 18 inches off the ground. According to Bakare, not only is he the first cutaway bus manufacturer to offer an underside luggage area, other bus builders cannot match the storage space ECB offers.

With their factory's ability to build on an array of chassis, including the E450, F550, F650, F750, and Freightliner, ECB is able to offer a virtually innumerable variety of buses that can seat anywhere from 19 to 52 passengers in virtually any configuration, not to mention customized bathrooms and features for ADA compliance. Currently, the manufacturer's most popular models are its 52-passenger Freightliner and midsize 37-passenger coach. Recently added into their line-up is a 31-passenger Ford F550.

"Not only do we offer our customers a wide array of vehicles," says Bakare, "but we also make sure each one comes with many standard high-quality features that our competitors traditionally only offer as upgrades. These include a rooftop air conditioner on all models, overhead luggage racks, USB ports in every row, and a high-end audio/video package with a 40-inch WiFi-enabled smart TV." He also adds that they exclusively use Premier Products seats in all of their conversions based on their style, comfort, and safety. Further keeping their clients in mind, each vehicle is protected by a three-year/36,000-mile bumper-to-bumper plan that covers everything from its driveshaft to the seating. "We cover everything across the board. All systems fall under the three-year/36,000-mile limit."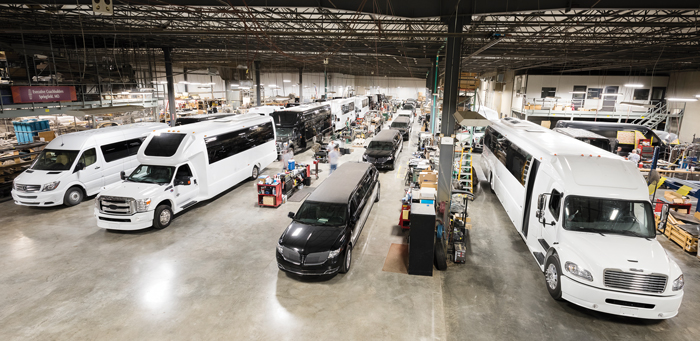 A broad overview of ECB's manufacturing facility, which features separate assembly lines for Mercedes-Benz Sprinters, Ford F550s, Ford-Lincoln MKT and Continental limousines, and Freightliner coaches

Perhaps most importantly to Bakare and ECB, their customers are happy with the effort they've put into developing their product lines. Brent Bell, president of Bell Transportation in Las Vegas, is just one of many of the operators who maintains a long-standing relationship with the manufacturer.

"As the largest transportation provider in the Las Vegas area with vehicles on the road 24-7, we've been very pleased with these buses as they're able to stand the test of time," Bell says. "The ECB bus continues to perform beautifully, our clients love the appearance, and we appreciate its reliability with a price point that works for us."

Api Dogan of Infinity Transportation in Chicago shares a similar sentiment: "Working with ECB has been critical to our growth. Not only are our business philosophies are aligned, but our custom-built 52-passenger buses enable us to keep in touch with our clients' changing needs, never sacrifice quality in our vehicles, and uphold client safety above all else."

However, Bakare is quick to point out that while ECB is actively pursuing a growing market share in the coach and bus industry, they have far from abandoned the minibus and limousine segments of their business.

The Mercedes-Benz Sprinter remains a perennial favorite among ECB customers for its versatility. Bakare says that the company maintains an inventory of 50-60 completed units in stock at any given time, which has long been their practice with limos as well. This allows operators to eliminate any wait time and take delivery of the vehicle they need almost immediately.

Bakare also cites the Lincoln MKT as a huge success for ECB, and just recently built its first Lincoln Continental limousine, which has been positively received by his clients.

As ECB moves forward with its new vehicles and production line, Bakare jokes that things don't always change too much.

"Believe it or not, we're seeing an uptick on the limo side because people are realizing that you can't be a limousine company without having a few limos." [CD1216]