BY ROB SMENTEK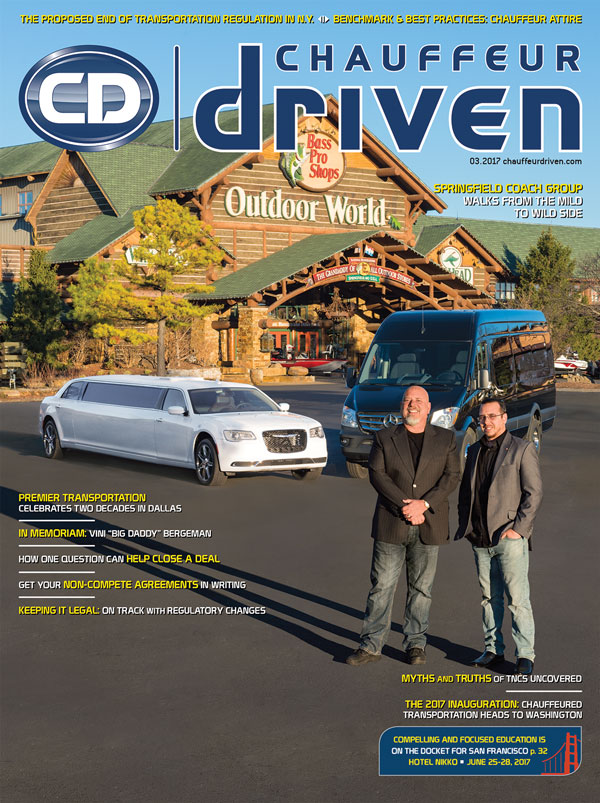 Cover Art: Springfield Coach Group owners Gary Spaniak Jr. (left) and son Gary Spaniak III with a Chrysler 300 stretch and Mercedes-Benz Sprinter in Springfield, Mo., which is also home to Bass Pro Shops. Photography by Mike Williams Photography. When Springfield Coach Group CEO Gary Spaniak Jr. entered the limousine manufacturing industry a decade ago, he did it for one of the purest reasons possible: He loves cars.

"My passion has always been cars—building custom show cars, restorations, drag racing, anything automotive related. This passion rubbed off on my son and kept us close." His son, Gary Spaniak III, who goes by the nickname G3, currently serves as Springfield's director of sales.

In 2007, the South Florida natives were presented with an opportunity to put their gearhead mettle to the test by setting up a shop to build vehicles for the luxury ground transportation industry. Their first stop, naturally, was the limo and coach manufacturing hub of Springfield, Mo., but the Spaniaks initially had no intention of becoming Midwestern mainstays.

"Our plan was to move the equipment to Florida," the elder Gary confesses. "But when I came for a visit and met the people and saw what was going on, I really fell in love with the lifestyle. The people here are fantastic, and my son thought it was a great place to raise his family."

However, it was more than the "mid-America Norman Rockwell experience" and the warm nature of the city's residents that led the burgeoning builders to set up roots in Springfield; it was 30 years of industry expertise ingrained in the area, dating back to when John Bumgarner founded Executive Coach Builders in 1977 and then later Springfield Coach.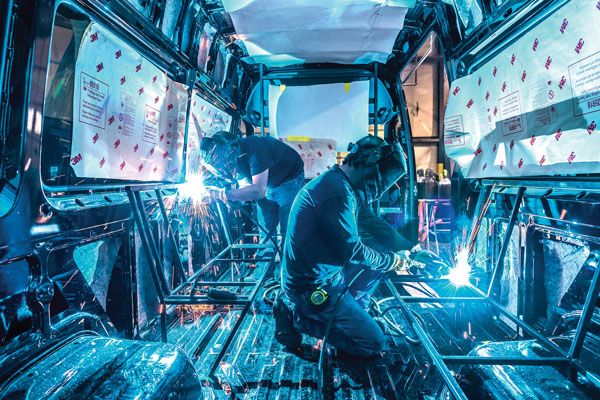 Welders Tyler Endres (left) and Buddy Gilchrist installing seat frames in a Mercedes-Benz Sprinter "With the history of builders in this area," he explains, "we had a treasure trove of generations of people with experience. So when I hire a new employee, although he might only have a few years under his belt, his father has 25 years of experience to share with him."

Starting a new business, particularly in a new industry, is certainly a gamble for anyone, but when you add in the economic turmoil of the late 2000s, you have the potential for disaster. However, once the Spaniaks established their new home base, they faced the challenge of meeting the country's slow economic turnaround head on and relied on their gearhead nature to keep themselves afloat. This led to some wild and experimental projects they remain proud of. Among these innovative builds was a Nissan Leaf 48-inch stretch limousine, which Spaniak credits as being the first of its kind, as well as a stretched 1970 Volkswagen Bug made for the royal family of Saudi Arabia.

"We did a lot of crazy things to keep building ... just to keep doing what we love doing."

They rebounded in late 2014, when an investor group from South Florida came aboard, giving the company more economic stability, which then allowed the Spaniaks to take over a tried-and-true industry brand: Springfield Coach Group. Spaniak credits the investors for understanding their business model and future plans, and sharing their enthusiasm for building quality products that can be sold all over the world.



With the history of builders in this area ... we had a treasure trove of generations of people with experience."
– Gary Spaniak Jr., CEO of Springfield Coach Group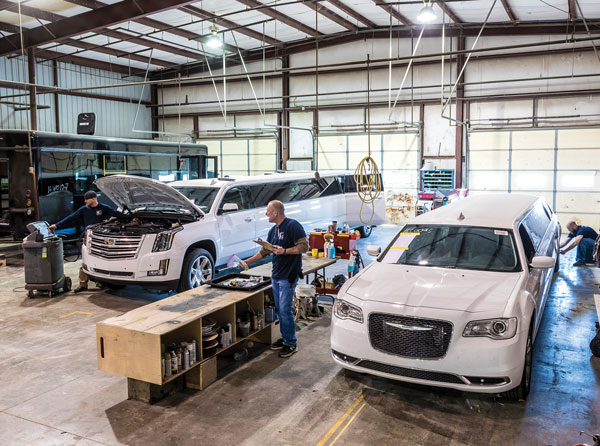 L to R: Brandon Adams, Terry Ginger, and Michael Johnson on the factory floor performing quality control In the past two years, Springfield Coach Group has stepped up and established itself as a premier builder with an extensive product line that includes everything from sedans to 25-passenger buses. In 2014, the company had the honor of being featured on the Science Channel's popular show How It's Made, demonstrating its method of creating a stretch vehicle (view at goo.gl/LeYQLF). This publicity was no doubt instrumental in helping the company secure numerous high-end clients, including foreign royalty, music personalities, and several corporate clients.

Among the vehicles the company is excited about for 2017 is its Dodge Citadel 16-passenger SUV, which features a price point about $20,000 less than several comparable limousines. However, it's the Chrysler 300 and Mercedes-Benz Sprinter that are the company's mainstays, with both offered in many configurations. What's more, Spaniak says that Springfield Coach is among the first builders to be California compliant with both the 300 and the Citadel.

In addition to their close working relationship with Chrysler, Springfield Coach is also a Ford QVM builder, a Mercedes-Benz Master Upfitter, and an exclusive builder of Metrolink Winnebago limousine/party buses.

"G3 and I have spent the past two years building the reputation of the company to make it something to be proud of and keeping our warranty claims to a bare minimum."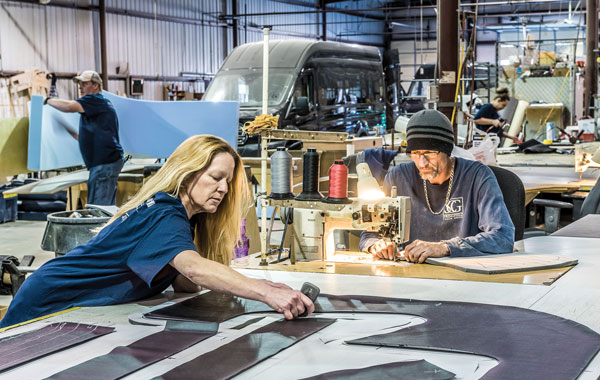 Wendie Johnson and Dwayne Stepp from Springfield Coach's upholstery department making patterns and sewing seats In recent months, the Springfield team worked closely with Chrysler on behalf of their customers to develop a new warranty program that gives livery operators a powertrain warranty at any Chrysler dealership across the country. And while Spaniak is proud to give his customers the peace of mind provided by a warranty, he hates it when he hears about an issue.

"We want our customers to know that the last thing we want them to have to do is make a warranty claim. To me, it's an embarrassment, especially if it's a manufacturing issue. We want everyone to know that we work hard to have a product that is free from error."

As such, Springfield has taken measures to help keep their clients' vehicles on the road and making money. Given that the most frequent warranty claim, hands down, is a result of a malfunctioning television or radio, Spaniak purchases his vehicles' consumer electronics from the Best Buy chain. He says that while they pay more for the equipment, this practice lets operators around the country drive into their local store with a bad radio and drive out the same day with a new one. Additionally, the company has an electrical system that is standardized for use in every one of their vehicles across the board, which allows the building team to diagnose and repair any issues efficiently. Also, Spaniak says that they are proud to use Premier Products' equipment in their vehicles. In fact, with help from Premier, Springfield retrofitted its own custom escape windows, which passed the stringent California DOT guidelines.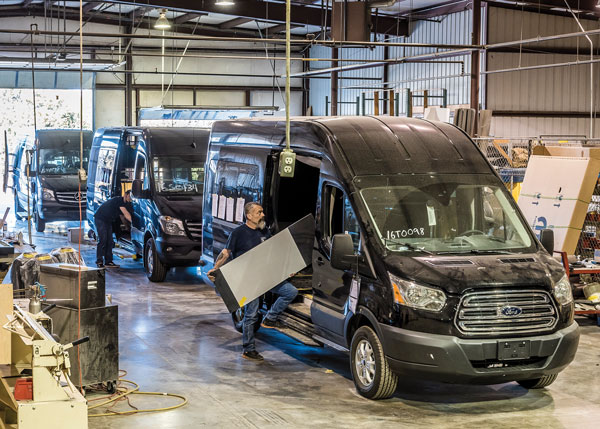 L to R: Craftsmen Corey Bowers, Aaron Wilson, and Danny Keithley installing walls in a Ford Transit Whether they're working on a stretch limousine or a bus, Spaniak says that the goal is to build a vehicle that fits as many categories as it can for the customers. Or as G3 puts it: "Instead of just giving them a vehicle, we design a vehicle that tries to give them the best bang for the buck." With that in mind, the younger Spaniak developed the "mild to wild" LED lighting package that allows any car, SUV, or coach to be used for the most conservative corporate customers during the day and the wildest party group at night.

"This option gives you a 24-hour vehicle. If you get in one of our vehicles during the day, with the corporate lighting setting, everything is clean and white lights. In that same vehicle, because we're able to hide the lighting with two-way mirrors, black glass, and things like that, at the touch of one button, the car can turn into a party vehicle with strobes, lasers, and multicolored LED light shows."

Although the Spaniaks still love tinkering and experimenting with vehicles, they've had to step back from their pet projects in order to develop a standard line of vehicles. Instead of crafting a stretch limo with gull-wing doors, the company is looking to accommodate their customer base who might be buying multiples of the same vehicle.



Instead of just giving them a vehicle, we design a vehicle that tries to give them the best bang for the buck."
– Gary Spaniak III, Director of Sales

One of Springfield's long-time customers is Douglas Rydbom, senior member of Premiere #1 Limousine in Middletown, Pa. "The quality of the limousines they build continues to improve each year with the latest technology in each build," he says. "They built us a matching pair of 18-passenger Chevy Suburbans that our customers just rave about."

Another repeat customer is Robert Cunningham, the owner of Platinum Limousine in New Windsor, N.Y., whose relationship with Spaniak goes back almost 10 years. The Chrysler 300 that Springfield built for Cunningham was a huge hit, and he's since built seven more vehicles with the Spaniaks.

"Their ability to convert my design ideas into reality has been something that no other limo builder has taken the time to do, and the quality for the price is second to no one," says Cunningham. "I'm currently building a 1959 Austin Princess into a full-blown Resto Mod wedding car at their plant."

Important to the Springfield Coach Group is building quality products they are proud of, which was accomplished by building a strong relationship with their employees. Spaniak views a positive company culture as vital to the company's success, and makes a special effort so that his 60+ employees feel like they're part of a team.

"To further the team atmosphere, two years ago, I came up with the idea that every Friday I would cook lunch for the entire plant. Meals range from smoked salmon, pork, chili, or shrimp tacos to burgers and hot dogs. I want everyone on the team to know that they are a valued part of a bigger picture." [CD0317]