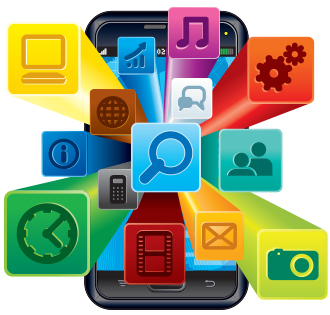 Apps are one of the fastest-growing markets for technology. With so many mobile devices—from smartphones to tablets—available to consumers, having an app for ease of use is practically required (for some devices, they are required). According to statista.com, both the Apple App Store and Google Play each have 1.4 million apps currently available for download, and approximately 60,000 new apps are launched every month. In this column, we feature some of the latest and most useful apps that will help you with your business, streamline a process, or generally make your life a little easier.



PackPoint
Available: A, iOS, W

It happens every time: You're on a short business trip and arrive at your hotel only to find that you left your phone charger at home. Or maybe it was your toothbrush or necktie. Perhaps it was all three. PackPoint is a free, easy-to-use app that will help you plan what to bring with you on every trip you make.

More than just a simple pre-loaded list of commonly packed items, PackPoint takes into account the weather forecast of your destination city as well as the length and purpose of your trip. Simply launch the app on your smartphone, and use the interface input where you're traveling to, the length of your stay, and whether you're going for business, leisure, or both. Then, select from a list of activities that you may take part in: dinner, working, gym, formal event, beach, etc. PackPoint will give you an extensive list of clothing, accessories, toiletries, and business-related items (e.g., electronics, business cards) that you're likely to need.

What's more, you can then message the list to yourself or fellow travelers so that nothing will be left behind. The app also allows you to store several trips if you're frequently on the road.

Note: Customized packing templates and activities are available on PackPoint for a small fee.



Circa
Available: A, iOS, $
Those first few days after daylight saving can be brutal. Not only does it wreak havoc upon your sleep pattern, but there's always that confusion when you need to make a call across time zones: What time is it there? Do they even observe daylight saving time? And if you're trying to set up an international meeting, you'll feel like you need an advanced mathematics degree to schedule a conference call.

Circa helps you keep time across multiple locations and time zones. Just input the city of your client, colleague, or prospect, and the app's simple interface of concentric circles allows you to visually coordinate the best times to connect. Need to set up a conference call with people in Denver, Shanghai, and Germany? No problem: You'll be able to see the perfect time where the three cities sync up, although someone might be stuck making a late-night call. Circa also has a simple invite feature that uses your contacts to set up a meeting in seconds.

Note: Circa has been picked as one of the best business apps in several online publications; although it's not free, it may be worth spending the $3.99.



Nixle
Available: A, iOS, W
In times of extreme weather, your smartphone can be your best friend—provided the weather app you use reports up-to-the-minute data. How many times has your phone told you the skies were clear while your wipers wash away sheets of rain? And when weather becomes treacherous, it's integral to have accurate information to keep your clients—not to mention your chauffeurs and business—safe. Nixle is an app designed to keep you on top of relevant information from your local public safety departments and schools when hazardous conditions are imminent or present.

Nixle connects public safety organizations, municipalities, schools, businesses, and local communities to provide you with texts, emails, voicemails, social media updates, and push notifications through the app with the latest and most accurate information regarding evacuations, weather events, security threats, public works issues, and more. The app is of immediate benefit for operators in tornado alley, the hurricane-prone areas of the Southeast and Gulf, and wildfire regions in California. With the updates provided by Nixle, you'll be able to protect your fleet and avoid any danger—thereby keeping insurance premiums at bay.

Note: Nixle has versions available for businesses, residents, or government agencies. Just choose the applicable version upon login. There are free and pay services available.


Do you use an app that you love and want to share it with the industry? Let us know! Email Susan Rose at
susan@chauffeurdriven.com
.
Just for clarity:
• Apple products=iOS • Android devices=A • Windows devices=W
While many of the apps we profile will be free, a $ next to the platform indicates that there is a fee to download and/or use. Some versions or features of the app may ­require a fee to unlock or use.
[CD0417]