BY SUSAN ROSE
The Mercedes-Benz Sprinter has become one of the industry's most popular vehicles of late for a good reason: it's highly versatile for a wide variety of applications. In fact, it is the ultimate blank slate for customizers—upfitters—to shape into their own vision to meet the needs of their customers. At a time when the market was in flux and operators needed vehicles that worked with more than one segment of the clientele they served, when stretches were falling out of favor but buses weren't quite right, the Sprinter seemed to be the perfect compromise. This is where Battisti Customs began. Well, sort of. The Sprinter has become the signature vehicle for the Elkhart, Indiana-based upfitter, but the story starts on the inside.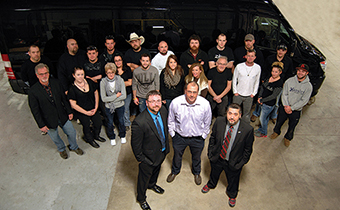 Battisti Customs owner and founder Bill Battisti (left, front), Chairman Seating President Dave Lorence (center, front), and BC co-owner Carl Hazzard (center, right) with the BC family Bill Battisti, president of Battisti Customs (BC), had a long background in designing and developing automotive seating—not surprising when you live in the RV Capital of the World. Battisti always wanted to build custom vehicle interiors, and he worked with some of his seating customers to do just that before branching out on his own and founding BC in 2009.

In a town like Elkhart, it's all about relationships. Part suppliers work in tandem with manufacturers to keep the well-oiled machine humming along so that vehicles continue to be produced without interruption. There's no shortage of quality talent, but it was through a vendor that Battisti was introduced to Carl Hazzard, whose expertise lay in vehicle electrical systems and HVAC. The two hit it off from the start and Hazzard became a co-owner within months of BC's inception. Armed with the knowledge of two owners who had diverse backgrounds in a range of vehicle interior assembly processes, as well as a highly desirable vehicle, BC was ready to get moving.

There was only one problem: a recession. Battisti and Hazzard didn't waste a minute. "The economy left us a lot of time for research and development," says Battisti.

It also gave the team the time to go through the proper channels with ­Mercedes-Benz. "Before we built our first Sprinter, we had Mercedes come out and visit us. They explained to us from the very beginning how things should be built according to their specs, and we've been building them as they instructed ever since," he says. It was a three-year process involving lots of planning, paperwork, checks, and rechecks of numerous vehicle components and installation, but BC became approved as a Sprinter Preferred Upfitter.

News travels fast in Elkhart, and the young company caught the attention of area bus builders after their grassroots campaign. Battisti and Hazzard soon found themselves in talks with Ameritrans, a manufacturer of small and midsize specialty and shuttle buses, to produce all of its Sprinter interiors. In addition to some private customers, BC also went on to work with Mauck2, which is a producer of the M2 Wide Body Sprinter.

More recently, BC inked a deal with ComTrans vans, which specializes in the hospitality and hotel shuttle market, to produce 160 vehicles a year. Instead of working with the Sprinter chassis, it'll be building vehicles on the Ford E350 platform. BC also works with private customers to design distinctive limousine and shuttle interiors, although that is a smaller segment of its business. BC doesn't name its interior models, but Battisti says that they come fairly loaded—fiber, wood-trim bars, upgraded sound systems—with options to enhance with items like additional flat-screens or satellite TV. To get maximum use of the vehicle, interiors are crafted to go from party bus to corporate shuttle with a few small modifications.

The rapid growth of the company in just a few short years, especially the last two, has created a need for additional craftsmen and office staff to keep up with demand. The supplementary work has given way to the development of new departments, including those to exclusively handle warranty issues, marketing, and engineering. While both owners are still very hands on—much to the chagrin of their patient wives and young families—having a staff of 25 means they have more time for the bigger picture. As the company continues to grow, Battisti has turned his focus on marketing and sales in addition to forming a dealer network. Hazzard enjoys the design and development of new vehicles.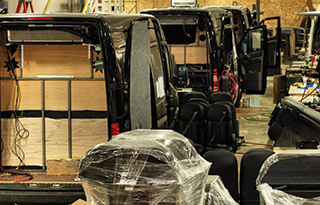 Sprinter shells are a blank slate for Battisti Customs BC also outgrew its previous home and recently moved into a new, 30,000-square-foot facility in the area. While the new facility gave the company a bit of breathing space, it's not likely to last as Hazzard says they are already shopping around for a new home because of the unexpected expansion in production.

"We're going to be building a lot more of the products we currently build, but also a few more ideas we have in the works. The economy is coming back more and more, and as stretches become less of a standard in the industry, business is picking up," says Battisti. Among those new vehicles could be something built on the new Dodge van platform, but Battisti says the industry will have to wait and see what's next.

BC, as an approved Sprinter upfitter, purchases about 12-14 new chassis on any given month, which means that there is a continuous supply of base vehicles on which to build. The vehicles are shipped from Germany and reassembled in the U.S. before making their way to BC for complete interior customization. Having a constant order means that Sprinters can get into customer fleets that much quicker.

Hazzard says that the product has nearly sold itself, thanks to the solid reputation of Mercedes-Benz. The German manufacturer is known for its longevity and ability to build vehicles that endure—a must for an industry like chauffeured ground transportation. The accessible price point, high ceiling, and low step-in height make it easier for operators to do group travel work in a comfortable and unique vehicle.

Working with Mercedes-Benz from the jump has had an additional bonus: built-in checks for safety. "To ensure passenger safety, Mercedes tests components like the seats. When it comes to safety standards, it doesn't get much better than Mercedes," says Hazzard. He says that customers are attracted to the manufacturer's longtime good reputation as much as the other features. Hazzard also notes that all of BC's vehicles are built underweight to meet the FMVSA requirements for loads.

BC designs its own seats for use in its vehicles. "It's really our seats that sell our vehicles," says Battisti. The seating division is owned and operated by ­Battisti, Hazzard, and their partner, Dave Lorence.

Like any good chef has a test kitchen, so too does BC. Ann Marie Limousine, also based in Elkhart and serving the entire Michiana area as far as Chicago (about 90 minutes west), was founded by Battisti and Hazzard in 2010. Although the owners leave the operations of the nine-vehicle company in the trusted hands of Emily Harman, it is the perfect environment for testing new products. It's where they tried out the popularity of the new Chrysler 300 stretches they've added to both the fleet of Ann Marie Limousine and the lineup of vehicles at BC.

Being operators themselves has given them an intimate understanding of the frustration that an owner faces when purchasing and servicing vehicles. BC, as a result, has been building a dealer network across the nation to service and sell vehicles. "I think what sets Battisti Customs apart is the service after the sale," says Hazzard. "We want to make sure that the vehicle you purchase continues to have a long life in your fleet, and when problems arise, to resolve them quickly. We do business the right way, and you never have to worry about working with us."

With three thriving companies and a busy 2014 ahead, there is no time for the duo to slow down—not that they would want to. They recognize the hard work that they've put into their companies has paid off, but they also are grateful to those who helped them along the way—especially their families.

"We wouldn't be where we are today without Al Foris of TMC Group/Ameritrans, Eric Alpert of Premier Products, and Eric Boeppler of A Savannah Nite Limousine Services (Cincinnati, Ohio), who purchased our first vehicles," says Battisti. The two are also married and have young children, which can be difficult to juggle for any family, let alone an entrepreneurial one. "We know that the hours have been long and our wives have been very supportive of us as we've worked hard to get the company going. We could not have done it without their support." [CD01.14]