BY SUSAN ROSE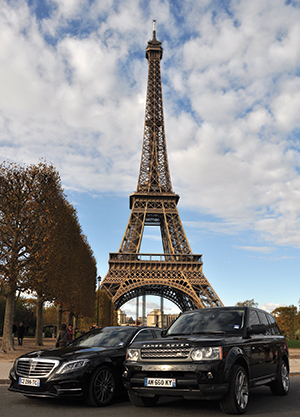 Paris' iconic Eiffel Tower Ah, Paris. The alluring city on the Seine is home to one of the fastest-growing transportation companies in France, Cardel Global. CEO Karim Maachi explains how he took a small transportation company and grew it into the country's premier financial road show specialist in under a decade.

To those of us who admire it from afar, it's the City of Love. The home of the Louvre, Eiffel Tower, and the picturesque Seine. In a city with this much beauty, it's hard to believe that its citizens aren't strolling around in the latest designer apparel, dining on foie gras and fresh baguette in some cafe on the Champs-Elysees, and gazing at the sun sinking below the Arc de Triomphe like many tourists do. For Westerners, that joie de vivre is enchanting and even intoxicating.

Romantic illusions aside, for the 2.2 million residents of the city proper, as well as the 10 million+ people in the metropolitan area, life goes on as usual. Parisians go to work every day, including in one of the numerous Fortune 500 companies in fields like energy, insurance, banking, health care, pharmaceuticals, and telecommunications. In terms of size, it edges out New York City's metropolitan area, but it's not that unlike its American cousin. Paris, like New York, is the financial capital of the country.

Karim Maachi, CEO of Cardel Global, began his professional life pursuing a legal career. Through a chance meeting and a job that introduced him to corporate travel, Cardel and the transportation industry became more than just a curiosity for the young Maachi. Little did he know that a year or so later he would be at the helm of the company.

"When I was 27, the owner [of Cardel] asked me to take over," he says. "He trusted me and knew that I understood what it took to do a good job." Maachi was Cardel's general manager and part-owner until 2011, when he purchased the company and assumed his new role as CEO.

The company that Maachi acquired was very different from what it has become today. At the time, Cardel was a very small corporate transportation service, but Maachi saw its potential. Through the connections in his professional life, he found a need for a ground transportation company that specialized in the financial sector. In fact, no other company focused on the niche, and it was a gamble that helped to spark explosive year-over-year growth for the French company. Cardel now employs over 10 office staff and more than three dozen chauffeurs.
In terms of size, [Paris] edges out New York City's metropolitan area, but it's not that unlike its American cousin. Paris, like New York, is the financial capital of the country."

"Everyone else was either doing tourism travel like hotels and restaurants, some corporate work, or other transportation for events like Fashion Week. This was a very different market," he says. That's not to say that Cardel doesn't do its fair share of work in these sectors, because you can't be based in a city like Paris and not provide transportation for tourists, groups, or private clients. The city, after all, is home to some of the country's largest events like the world-renowned Paris Book Fair and the closing ceremonies of the Tour de France cycling race, in addition to dozens of local festivals and music concerts.

Maachi, however, quickly learned that his high-quality transportation was what was sorely needed in the French financial sector. Before long, he was serving the demanding transportation for dozens of banks in the city. Cardel became known for its ability to handle corporate road shows—a segment of its services that has seen the strongest growth over the last five or six years.

The trajectory has continued ever higher since Maachi took the leadership reins. By 2005, just a few years after taking control, Maachi says Cardel served over 70 percent of the city's financial institutions. Today, Cardel calls nearly 90 percent of all banks in and around Paris clients, according to Maachi. Its best growth years came at a surprising time—between 2008 and 2012—when other markets around the globe were sliding downward due to the recession.

Cardel now operates over 35 vehicles, which—common to Europe—includes such staples as the Mercedes-Benz E-Class and S-Class. It was the first company in France to receive the brand-new S-Class, which Maachi says are beautiful vehicles that his clients love. There are no Lincoln Town Cars here. With the growth of Cardel's road show market, Mercedes-Benz Vianos and Volkswagon Caravelles (multi-purpose vehicles that seat up to 7) have helped to transport those clients. With retrofitted interiors that include flat screens for videoconferencing on the road, facing captain's chairs, and USB ports for connecting important electronics, the larger vans are Cardel's "global office cars" to make every minute on the road as productive for its clients as possible. Peugeot sedans and Range Rover SUVs round out the rest of the fleet.

Luxury ground transportation in France is just that—luxury for the discerning and distinguished client, and everything below that is just a taxi service. In addition to a large corporate and affiliate clientele, Cardel also serves as the transportation provider for private individuals. More recently, the company has offered charter jet services through its partner, Air Independence.
I was sending a large portion of business to Geneva, a five-hour ride from the location in Paris ... After careful thought, I decided that this would be an ideal place for a second Cardel location." – Kim Maachi, CEO of Cardel Global

Because the financial industry is so fluid across the world, Cardel would often serve clients from North America and all over Europe. This gave way to a strong affiliate market, one where Maachi championed Cardel as America's French affiliate. It worked, and Cardel earned a good reputation throughout the world, especially in the states.

Cardel works with many of the U.S.-based networks, with most coming from Music Express and BostonCoach. In fact, Cardel has won the Music Express International Award for the last two years (2012 and 2013).

Banking on that popularity, Maachi partnered Reza Choudhury of Reliance Worldwide in London, to found EuroLimousine.net. Maachi and Choudhury, business affiliates as well as personal friends, created the network in 2009 to provide their international clients with access to trusted and tested transportation partners in over two dozen countries throughout Europe.

Maachi himself had been there, trying to find the right partner companies. His clientele have requested service in locations all over Europe including Italy, U.K., Spain, and Germany. While the Euro currency unites most of the continent and English-speaking chauffeurs aren't necessarily difficult to find, he struggled to secure transportation companies in those areas that met the same level of service that his company provided.

"I understand the difficulty in finding a provider in an unfamiliar country with a business culture and language different from their own. That was why we wanted to develop a consortium of companies that we knew were reliable sources in those areas," Maachi says. Through EuroLimousine.net, he says that he strives to take the guesswork and fear out of the decision to work with the 25-plus companies currently in the network. If you've been to any of the industry shows lately, you've likely run into the duo.

The network was also formed to ensure that international affiliates were charged a fair rate when sending business to companies in these countries. The pricing is different. For example, fuel is currently around $16 per gallon (priced per liter in Europe). And with a country that is so widespread from point to point, fuel could consume a majority of the rate. But he also notes that some operators have taken advantage of that lack of knowledge to price gouge.

"I think American operators are most surprised by the cost of operating a service in Europe," he says. "They maybe had a bad experience with a company that charged them too much in the past, and they are shocked by the markup as well as the fees for airport transfers, driver meal periods, green vehicle taxes, and other fees that they don't have in their area. Gratuities are treated differently. We try to get the cost closer to the true rates, and they trust us."

Maachi found that he was sending a large portion of his business to Geneva, a five-hour ride from his location in Paris and a city that straddles the France-Switzerland border. After careful thought, he decided that this would be an ideal place for a second Cardel location, so in early 2013 he purchased Elegance Limousines. The Geneva-based company, which was owned by Patthey Moreno, continues to be run by Moreno as Cardel Global Switzerland.

Geneva is the French-speaking area of Switzerland, but Maachi found himself in a completely new world. For one, the climate is very different from Paris. While the French city receives very little snowfall, the Swiss city is just west of the Alps and its mountainous areas receive a significant amount of snow. All-wheel drive vehicles are required to handle the slippery conditions. Then, of course, are the taxes—which are much lower in the Swiss city as opposed to Paris where, Maachi says, social taxes are crippling to businesses. Geneva also has a highly regulated transportation market, which includes a minimum rate to ensure that operators do not drop their prices so low as to no longer allow for competition. He counts that as a plus as it gives everyone a level playing field.

"My goal is to become the road show specialist in Geneva and Zurich, just like we are in France. That's what I want to achieve by the end of 2014," he says. "We already work with the large majority of financial institutions in Geneva and we have earned their trust with road shows."

So far it's been a wise investment for Cardel, and Maachi says the market—although smaller than Paris—is up 30 percent in just a year. Geneva is the third largest financial center in Europe, and his New York-based clients are frequent guests in the city but not just for business. The Swiss town is also known for its robust resort traffic as an access point to the Alps. The location runs about 13 vehicles.

Cardel's next move, however, might just take the company outside of Europe and to the U.S. Now that Maachi is operating Cardel in two countries, he is actively looking to invest in the U.S., most likely on the East Coast in the New York area—another world financial capital. This would make it a true global service. In fact, expanding into the U.S. has become more than a future plan. Just before going to press, Maachi said that he was about to close a deal and would release the details very soon.

"This investment in the U.S. has been driven by the support and encouragement of our French clients who have offices in New York and, of course, transportation needs there. It's something I've been thinking about for a while and I will definitely announce my plans in early 2014," he says. [CD02.14]