BY SUSAN ROSE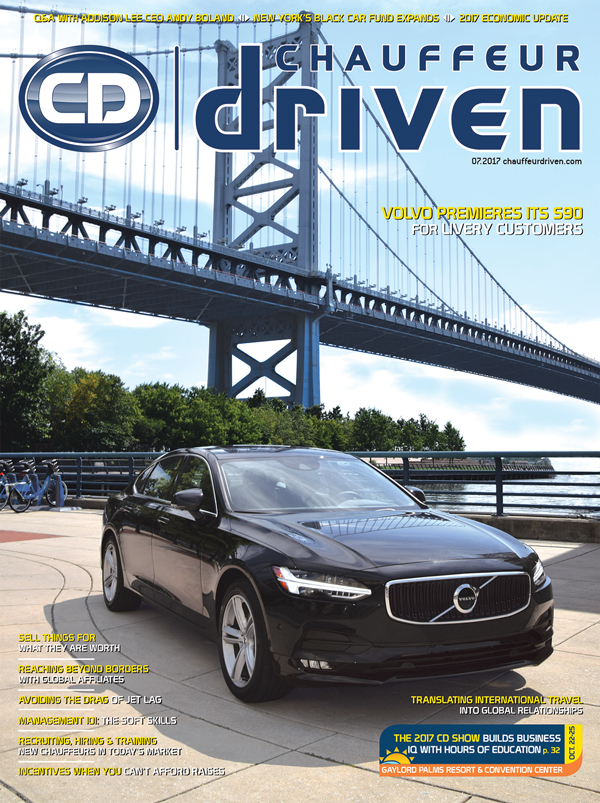 Cover Art: 2018 Volvo S90 at the Race Street Pier in the shadow of Philadelphia's Ben Franklin Bridge. Photography by Chris Weiss. Volvo is the latest OEM to eye the chauffeured transportation industry, and will be the newest to exhibit at October's Chauffeur Driven Show in Orlando. The OEM is getting the livery party started now with the new model year S90, its clean and sharp flagship sedan, which comes with a generous three-year/150,000-mile warranty (for qualified livery customers). The full-size 2018 S90 is 4.5 inches longer than the previous model year and has an impressive 40.4 inches of rear leg room.

If you think "safety" and "durable" when you hear Volvo, you'd be right: The manufacturer has made each a cornerstone of its products. It has pioneered countless safety devices or mechanisms, including blind spot warning indicator (BLIS) and the ubiquitous three-point safety belt used in every vehicle in North America today. On the consumer side, Volvo has long been a staple for those who demand luxury in a dependable and (most importantly) safe package, as it has consistently received high marks for safety. It is so deep-rooted in Volvo's DNA that it has one of the most ambitious safety visions in the automotive industry called Vision 2020: "Nobody should be killed or seriously injured in a new Volvo car by the year 2020."

Volvo is in the midst of an exciting five-year global transformation. On a sales level, the OEM has seen three consecutive years of global sales records, and are confident that 2017 will be another record-breaking year. Volvo also continues to strengthen its leadership in areas such as autonomous drive (AD), electrification, and safety, while also forging new business alliances. It continues to renew its entire product range and is also expanding its global manufacturing footprint. Construction is underway on Volvo's first U.S. factory located in South Carolina, which will open in 2018. The company says that the new plant underlines its long-term and strong commitment to the United States.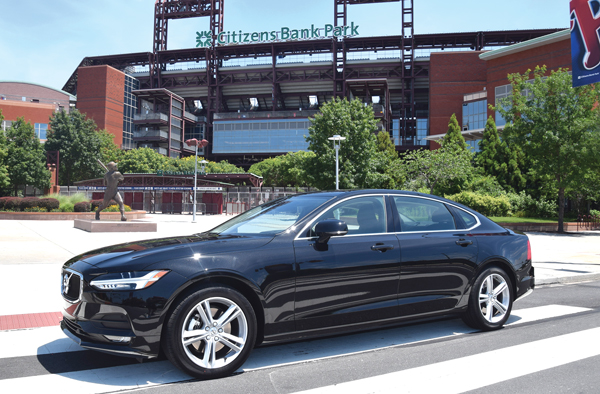 What you may not know about Volvo is that it has a long history in providing commercial fleet vehicles for more than two decades.

"Volvo has been in commercial fleet for 25 years, mainly courting and having success with marquee pharmaceutical companies, and Volvo's gateway has been its strong reputation for safety," says Mick Morris, manager of commercial accounts. "We knew that the limousine segment had been struggling for an 'answer' since the body-on-frame cars left several years ago. With the dimensions of the S90 (MY18), its luxury appointments, and its price point, we felt we found a viable solution for the industry to replace those vehicles."

Morris and the rest of the seasoned Volvo team, which includes Director of Commercial Sales North Holbrook, have years of experience meeting the needs of fleet customers. The team displayed a pre-production S90 at a trade show earlier this year and recently launched the MY18 models. It is maintaining an inventory of livery equipped cars available for immediate delivery: black on black, 18" wheels, and a brand-new livery-specific warranty that goes head to head with competitors. The price, according to Morris, for the front-wheel-drive version with a T5 engine (2.0 L Turbocharged Inline 4 cylinder with 250 hp rated at 34 mpg highway) starts just under $43,000; if you prefer all-wheel drive, it bumps up the price tag slightly. The real standout is the extra 4.5 inches of leg room that the long wheelbase affords the rear passengers—it's equivalent to flying coach or business class. All the magic happens behind the B pillar and only increases the length of the rear-passenger doors, without sacrificing any lines or cosmetic features and possibly making it even easier for a client to exit the vehicle.


The long wheelbase provides plenty of space in the rear cabin for both passengers, without moving the front seats forward In addition to an extended warranty, service needs of livery customers have also been taken into consideration. Through its nationwide dealer network of more than 300 locations, the Volvo team has identified a Special Sales Ambassador (SSA) in each dealership to serve as a dedicated conduit between the customer and the company. They address the unique requirements of our industry, which includes priority service to get your vehicle back on the road ASAP.

Volvo continues to refine its offering for the industry, which will soon include a livery-specific package that adds an upgraded arm rest and power sunshades to the rear and side windows for rear passengers. The XC90, a sport utility vehicle, is also expected to complement the livery lineup in the near future.

"We are working toward our next-step offering, which enhances the amenities of the back seat in the S90. That livery-specific model will be launched later in model year 2018," Morris says.

The Volvo team will have the 2018 S90 on display at the CD Show this October in Orlando but is available at dealers now. CD was also lucky enough to get our hands on the sedan; you can read about our exclusive test drive in the September 2017 issue. [CD0717]

Standard features of MY18 include:

Pilot Assist, a semiautonomous driving system that controls the speed, distance, and stopping of the vehicle during highway and city driving
BLIS, Volvo's bind spot warning indicator
Sensus Connect, Volvo's vehicle information hub, which is displayed on the 9" touchscreen in the center cluster
Lane Keeping Aid that vibrates when drifting across a line of traffic
Clean Zone Air Quality System for four-zone adjustable climate controls throughout the car (including two for rear passengers)
Collision Avoidance by City Safety, which helps to ­prevent low and high speed collisions of another vehicle, pedestrian, cyclist, or large animal
Adjustable driver mode settings for ultimate passenger comfort
13.5 cu. ft. of cargo space with power-closing lid
10-way power front seats
Panoramic moonroof with power sunshade
Rear personal reading lights
24/34 mpg (city/highway, FWD); 23/32 mpg (city/highway, AWD)

More information and specifications can be found at volvocars.com.