BY ROBYN GOLDENBERG COHEN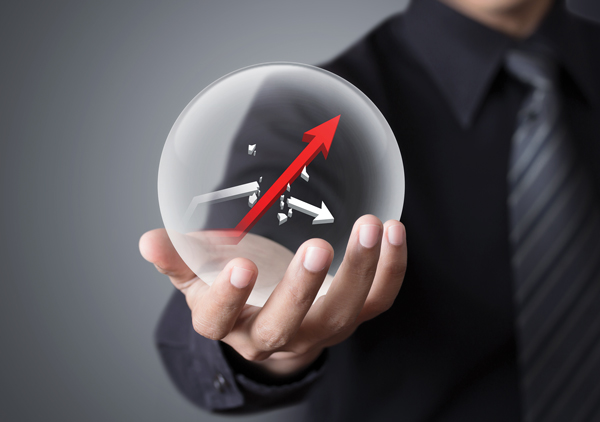 Editor's note: Each year, we take a look at the economic indicators that are impacting your personal and business finances. 2017 has been a bit more volatile than years past because we have a new president for the first time in eight years (note that we did not include things like the travel ban or other pending legislation such as healthcare in our assessment). Thanks to our friends at Strategy Leaders for putting together a comprehensive snapshot of what's happening right now.

Despite a contentious election season and slow wage increases, U.S. economic growth slowed less than expected due to robust consumer spending and a rise in imports in the last quarter of 2016. Real gross domestic product (GDP) increased annually at a rate of 2.1 percent. Unlike the beginning of 2016, Q4 ended stronger than the fourth quarter in previous years. As with any governmental change, U.S. investors are unsure of what the market will bear throughout 2017, leading to insecurities.

U.S. equities were flat in March, against previous predictions for fiscal stimulus and regulatory relief. The U.S. growth stock versus value stock has seen a slight decline in 2017 so far. Growth stocks grow quickly while value stocks have a longer growth rate but look better in terms of financial valuation metrics like price-earning ratio. What this could mean is that buyers are more interested in long-term investments rather than short-term high-yield investments. Investors are currently looking to grow their wealth long term, with minimal risk.



"Despite consumer confidence levels being high, consumers are still focused on saving money rather than spending it. The deal still reigns."

2017 General Economic Markers

Consumer Confidence: According to Gallup, consumer confidence is up, and higher than ever after the 2008 recession. There seems to be more optimism for the short-term outlook for business, jobs, and personal income.

Consumer Spending: Consumer spending accounts for more than two-thirds of the U.S. economic activity. But, despite consumer confidence levels being high, consumers are still focused on saving money rather than spending it. The deal still reigns.

Housing: Home sales jumped close to 9 percent nationwide in March 2017 compared to the previous March, even though the number of homes for sale dropped by 13 percent in the same period. The median sale price for a home in Q1 2017 was around $270,000 nationwide, up about 7.5 percent year over year. Demand is up while supply is down. House flipping is back with a vengeance. Big banks are lending more to new flippers, and extending credit to those who were already in the game. Predictions are that the housing market will stay strong through 2017 despite the low inventory available in Q1. Real estate historically represents the core base of economic activity.

Auto Industry: According to the Bureau of Economic Analysis, economists are predicting that car manufacturers will struggle with consumer transportation needs. Sedans overall have an aging customer base, and sports cars are losing popularity with the average car buyer. Consumers will be looking for a versatile crossover that is fuel efficient but still possesses some SUV-type qualities, which is something to keep in mind as you are pondering fleet updates this year and beyond.

Travel
• There's a rise in the demand for authentic local experiences and activity-packed tours.
• Through virtual reality, travel marketers will take locations to potential tourists and travelers.
• Improvement of all-inclusive travel management platforms will continue so buyers need less steps.
• Business travelers are blurring the distinction between business and leisure travel.
• The customer is king as they are used to having all the information/services they need at the snap of a finger, and they are used to options. Travel-based services must seek out the buyer, not wait for them to come around.

Impact on Small Businesses
Business confidence has increased among small business owners so far in 2017, says a recent Gallup poll. There will be fewer but stronger competitors as weaker companies close or get bought by larger and more skilled operators (as reported by Chauffeur Driven in recent consolidation articles). Business experts are predicting that business success will come from a deeper focus on audiences specific to your ideal buyer. Customizing your messaging and services will help create a more loyal customer base.

Investments will shift as market uncertainties continue. Analysts are predicting that more money will go into cryptocurrencies like Bitcoin as well as precious metals.

It looks like the flow of money to tech startups will be slowing down this year even though investment dollars and opportunity are still plentiful. Investors are waiting to realize their returns from previous tech companies, while some are still feeling the burn from some tech investments that were not as successful.

Action Steps for Small Businesses

Marketing
The marketing industry continues to evolve to connect with consumers in unique and creative ways. Google's AI—constantly in flux—is altering the way websites are ranked in search engines. Also, expect big changes in web design. Look at how users move through your website, and adapt your design to be more conducive to their needs.

Develop a strong social media presence with a human touch. Consumers want to know that there are real people behind the sales pitch and "book now" buttons.

Video marketing took off in 2016, and it's not going away in 2017. Businesses need to keep up and learn about the newer tools and platforms that are out there.

Automate your marketing as much as possible. Big data is helping competitors analyze the landscape. Expect single-focus customization to follow: one customer marketed to at a time.

Sales
Develop personal messages to potential customers, focus on niche sales and marketing instead of mass communications. Learn how to use a customer relationship management (CRM) system, and actually use it to record data and plan sales activities. Keep your sales team motivated to work harder. Give them short wins—things they can accomplish in a week or a few weeks. Don't bemoan that things are terrible: It only makes disbelievers of everyone. Instead focus on the bright spots and encourage your salespeople to do the same.

Set up meetings with your top customers and see what additional needs they have that your company can fill. Look for decision makers in other parts of the company that might also need what you offer. Ask current and past clients for referrals inside and outside of their company.

Finance
The Federal Reserve increased interest rates in the first quarter, a signal of a strengthening economy. So far, 2017 has seen about an 8.8 percent increase in business credit balances, as well as a 4.5-percent increase in credit limits for businesses. Basically, small businesses are borrowing more and paying back their debts on time. The truth is that 2015 and 2016 were tough for small business credit, and small businesses could use more credit. It looks like if the economic conditions continue to improve in 2017, financial institutions should start to increase available credit to business owners. Banks will focus on those who have good credit tied to paying bills on time and keeping borrowing in line with assets.

Make a plan to pay off your debt over time, starting with the most costly loans first. Keep in mind that your most costly loan may not mean the highest amount outstanding to an individual lender. Figure out the interest rate you're paying on every credit card, loan, and line of credit, and tackle that one first to save money.

Operations/Technology
Technology will see a rapid advancement in 2017 and beyond. Consumers will be looking for easy access to the latest technology when working with vendors and service providers. This also means that e-commerce will become increasingly more competitive. For business owners, automation will be crucial in staying on top of consumer demand. Learn about cybersecurity protocols by practicing safe interneting.

Tech experts are predicting that hackers will test cybersecurity on financial platforms and digital wallets. This also extends to hacking customer data retained by bigger companies. Remember when Target's customer data was hacked? Or, the recent ransom of European files? This can and probably will happen again to other companies in 2017. Small businesses continue to be some of the easiest targets because they tend not to put money into IT resources. Be cautious about cutting corners when it comes to protecting your company.

Human Resources
When it comes to government regulations and tax policies, no one is really 100 percent certain what's going to happen. Business owners should be prepared for new overtime regulations, making sure their employees are classified correctly, even if new regulations don't get implemented. In addition to overtime regulations, the government is getting stricter about which employees qualify as 1099s and which ones are actually W-2 employees. Make sure your employees are classified and hired correctly because this can be a costly mistake. A recent court settlement in the NYC black car industry provides some clarity.

Your workforce is also getting younger, so don't avoid Millennials, and stop treating them like kids. Millennials represent the largest segment of the U.S. population (they surpassed Baby Boomers last year), and are now the largest segment of the workforce. You will have hire them, but more importantly, learn how to manage a different type of worker. Every generation of business owner has had to learn how to manage people who don't look like themselves. More Millennials will move into leadership roles in 2017 as more than 3.6 million C-level employees retire. As Baby Boomers retire, you'll need Gen-Xers and Millennials to fill those managerial roles. Moreover, Millennials consume differently than generations past.

Bottom Line
According to the key economic indicators, the U.S. economic outlook continues to be healthy and strong. With GDP expected to be around 2.2-2.3 percent in 2017—the ideal range is between 2 and 3 percent— coupled with low unemployment and an average rate of inflation, the overall economy is moving in the right direction. Barring something catastrophic, the outlook for 2017 looks good. [CD0717]