BY ROB SEMENTEK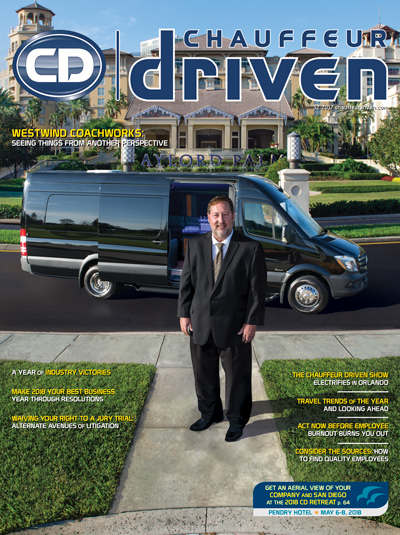 Cover Art: Westwind Coachworks President Jim Bolinger with one of the company's handcrafted Sprinters at the Gaylord Palms in Orlando, Fla. Photography by Michael Ellwanger of EFX Marketing & Media Design. As one of the few limousine builders that concurrently operated a chauffeured ground transportation company, Westwind Coachworks President Jim Bolinger says he used his experience as an operator to make sure that nothing was overlooked when it came to delivering a vehicle that met the needs of the industry.

"When I started building limousines, it was largely because coachbuilders didn't seem to be listening to a lot of their customers' requests. So, as the first operator/manufacturer, all of my pet peeves were my customers' too. If they had a problem, you can bet I had those same issues."

It all started—as is so frequently the case—with a single limousine: In 2018, Bolinger will celebrate his 40th year in the ground transportation industry, which began in the small town of Eaton, Ohio.

"In 1978, I bought my first limousine," says Bolinger. "It was a 1965 Cadillac Factory Formal that I got for $700. I just bought it as a hobby—something to have fun with. As the years passed, people would borrow it for their daughter's wedding or special events. In 1984, I bought my second car—a 54-inch Cadillac—so the hobby thing became an official business."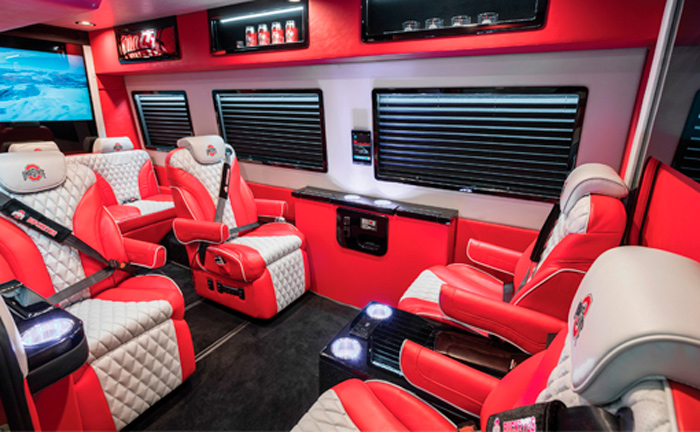 Interior of a 2017 Westwind Business Class Sprinter After a trip to the library and seeing a business called Westwind Cleaners in an out-of-state phone book, Bolinger found the name for his company and incorporated.

Westwind Limousine quickly built a good reputation and would become a leading chauffeured ground transportation service in Ohio, while Bolinger was developing a separate side business that would ultimately take over. But before making the leap to manufacturer, he had another goal in mind: dealer.

"In the mid- to late '80s, I would often look to buy used limos for the company, but all the cars I found were in complete need of refurbishing. So, I started the dealer side of things: I would buy used limousines, refurbish them, and re-sell them." He added coachbuilder to his list of accomplishments in 1996.

In the past 35 years, Bolinger has sold roughly 10,000 limos to customers all over the country, which he says not only cemented his reputation as a dealer that operators could trust, but also made him one of the largest distributors of vehicles in the history of the industry. The old stereotype of a shady used car dealer does not apply here.

"I've been dealing with Jim since the early '90s," says Alberto Perera of Royal Limousine in Miami, "and I've bought many cars from him, both new and used. The first time I dealt with him I was buying used cars over the phone. He said, 'I'm gonna walk around and describe the cars to you and when they get to Miami, if they aren't as I described, you don't have to pay me.' Sure enough, they were exactly as described. He's just an honest guy. I've seen time and time again that he's a man of his word. He wants you to stay a customer for life."


"From the start, we've always had an exemplary satisfaction rate because I talk the same language as my customers. " – Jim Bolinger, President of Westwind Coachworks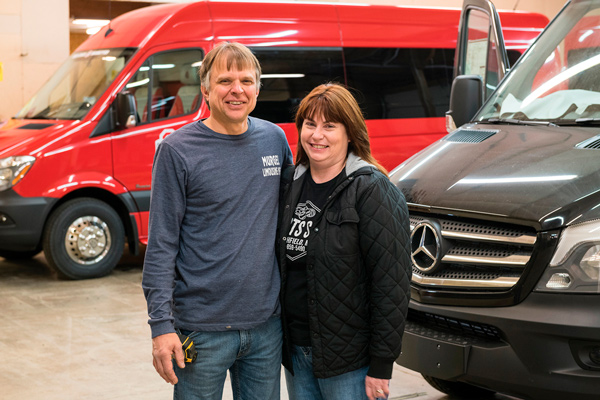 Kevin and Karla Murgel, owners of Murgel Limousine Manufacturers After becoming a go-to outlet for quality refurbished vehicles, Bolinger and Westwind made a huge leap in 1996, first with the construction of a new, state-of-the-art showroom and facility in Dayton, Ohio, and then by entering a whole new arena. Bolinger met with Murgel Limousine Manufacturing outside of Springfield, Mo., to set up an arm of Westwind that would manufacture new limousines and buses.

"In '96, I entered an exclusive business partnership with Bob Murgel, who has since passed, to handle the manufacturing end of the business while I manage the sales. That relationship has been maintained with his son and daughter-in-law, Kevin and Karla, and has continued to blossom and grow."

Starting with building limousines, expanding to shuttle buses, and now exclusively Sprinters, there has always been an emphasis on delivering quality product to operators.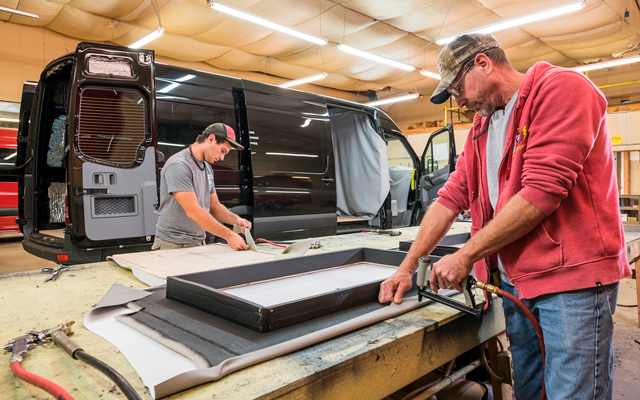 Randy Ostrowski and John Vredenburg working on upholstery for a Sprinter interior Bolinger says that he started building limousines because there were practical issues not being heard by manufacturers that had an effect on operator's ability to satisfy customers. "We addressed the concerns of the normal, everyday operators—things like cup holders in cars and heavy-duty air conditioning. When you have a car or van filled with a wedding party, you don't want any complaints from the bride about it being too hot in the back. It affects the chauffeur's tip and future bookings. Also, if you give a guy a place to put his Diet Coke, you'll deal with less spills. From the start, we've always had an exemplary satisfaction rate because I talk the same language as my customers."

Bolinger is also sensitive to the fact that his clients will have repair issues that need immediate attention. Because Westwind's vehicles are manufactured with a consistent build, he's able to keep all parts in stock and get them right to the operator.

Mert Onal, president of Zbest Worldwide Chauffeured Transportation, has been dealing with Bolinger and Westwind for 20 years: "Jim sees things from an operator's perspective. I've bought many vehicles from him, including limos, buses, and Sprinters. The quality of the vehicles has always been good, but more importantly, if something does go wrong, he's always stood by his warranty. If there were parts needed, he would overnight them directly. He understands that a vehicle being down costs us revenue."

Smart business practices like having parts ready and on the shelf were how Bolinger says he survived the economic shift after 9/11 as well as the 2008 crash—when OEM parts were scarce.

Around that time, Bolinger says that he saw how the limousine market was contracting and something new needed to take its place; thus, Westwind became one of the first coachbuilders to shift to Mercedes-Benz Sprinters, and it wasn't long before they received MasterUpfitter status from the OEM.

"We saw the Sprinter as the future of the ground transportation industry," admits Bolinger. "After the Lincoln Town Car was discontinued, which was the staple of the industry for years, operators were in flux. I got input from customers all over the country, which helped me move forward. It took a bit of time for the industry to accept the Sprinter, but because of the versatility, it exploded as the Town Car era was sunsetting."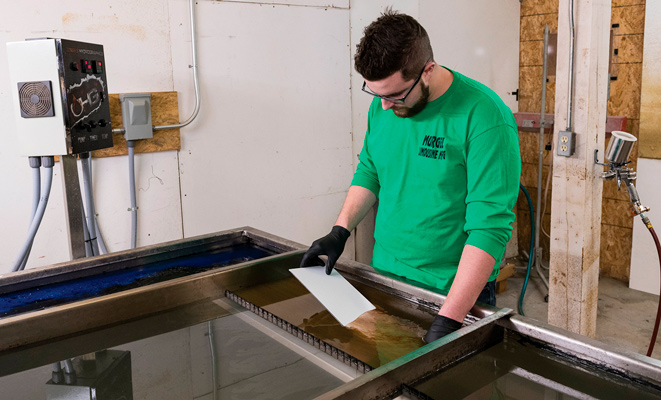 John Sampley hydro-dipping a part for the interior Also faced with the reality that it was no longer PC for his corporate clients to be seen in a stretch limousine in the early days of the recession, Bolinger and his building team concentrated on putting the luxury solely inside the vehicle. However, his approach to the Sprinter is somewhat different than his competitors'.

"I don't really have an option list for our vehicles. They all come fully stocked and equipped with backup camera, in-dash navigation, Premier seating and air conditioning, and a 30-inch luggage compartment. I even include a coat rack in the back. Also, we have non-skid flooring with a lit entry and exit, and no sharp corners in the passenger cabin. It's those little things that are important." Currently, Westwind has three variations of Sprinters: an executive shuttle, a luxury limo, and, their latest offering, a business-class mobile office. This new model offers Wi-Fi, top-of-the-line Premier seating, large coolers, smart TVs, and high-end stereo equipment, which make it perfect for a CEO on the go. Moreover, Bolinger insists that each of his Sprinters carry an aggressive three-year, 100K warranty.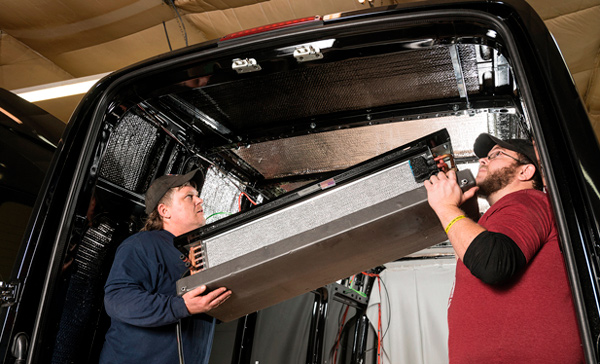 Grant Evans and Cody Cantrell installing the AC unit Lately, Bolinger has seen Sprinter sales spike in the private sector, citing a recent build of an executive shuttle to a family with nine children. Westwind's vast network of buying and selling vehicles over the years made it possible for the family to trade in a Ford conversion van toward their new Sprinter. Westwind will also accept trade-ins from chauffeured ground transportation operators.

In 2016, Bolinger made his biggest career change since he partnered with the Murgels: The operator/manufacturer/dealer became 'just' a manufacturer/dealer. After deciding to relocate to Jacksonville, Fla., with his wife, he sold Westwind's rental division to Jimmy's Limousine Service in Cincinnati. The move to the Sunshine State is far from a retirement, however; Bolinger is currently scouting properties for a new, upscale showroom.

"There'll be no change in the operation, just the locale," he insists. "The sales operation is basically me and my wife. I tell customers, 'I appreciate your business, but you also have me for life. Whether you like it or not, if you have a problem, you're dealing with me.' I think it's good that our clients only have to deal with one person, and not a recording or automated menu on the phone. I take the ball and make it happen whether I have to call one of our vendors or Kevin Murgel at the plant in Missouri."

Even after more than two decades of working together, Bolinger remains increasingly enthusiastic about his partnership with the Murgel family, and says that he has a perfect colleague in Kevin Murgel, the current president of Murgel Limousine Manufacturers.

"It's key that our communication is spot on, and Kevin knows just what I need when it comes to fit and finish and quality control. Our plant is home to a team of master craftsmen who have the wherewithal to design a phenomenal product. As we add new products, like the business-class mobile office, these industry vets are able to build vehicles in a consistent manner."

Nearly 40 years after buying that Cadillac, Bolinger still loves his job. "I love the people and their enthusiasm. It's nice to provide luxury transportation to companies, whether its mom-and-pops or a big company. Don't ask me about the stock market or nuclear science, all I know is the limousine industry." [CD1217]