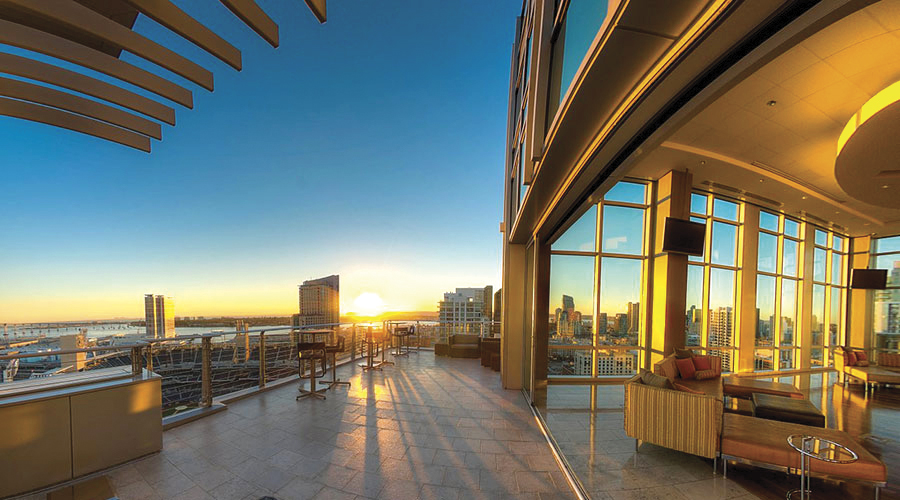 The Skybox at DiamondView As dropping temperatures bear down on most of us in the northern hemisphere, you can stay warm by letting your mind wander ahead to thoughts of spring—like when the 2018 Chauffeur Driven Retreat heads to San Diego from May 6-8.

One of the hallmarks of our retreats is the opportunity for truly intimate networking, as it's limited to 200 operators. This ensures that you get quality face time with your industry peers, many of whom are among the most well-known names in the game.

"The networking sessions are put together very well, run exceptionally, and are priceless," said Jaime McLaren of Concierge Limousine in Huntington Beach, Calif. "The smaller group size makes it a much more intimate setting and enables better contact and networking with affiliates. It also enabled me to spend much more time with the people I have already established relationships with, but rarely get to see. This is an excellent retreat for newcomers as well as old pros, especially for those looking to connect and get an educational experience and advice from some of the more seasoned professionals."

We know education isn't limited to what you learn in our world-class sessions, and we'll be giving you plenty of chances to pick the brains of your fellow retreat-goers—and share some insights of your own, too—during all of the off-site offerings our retreat has in store for you.

Plus, you'll get to immerse yourself in quintessentially San Diego locales to help you learn about some of the best that California's second-largest city has to offer, with a schedule designed to give you plenty of opportunities to customize your experience in America's Finest City.

Sunday
We're starting off our return to California with a bang! Our first night in town will whisk you away to Coasterra, which is lauded as San Diego's premiere bayfront dining destination and features a restaurant, lounge, and floating event center. The uniquely designed establishment is situated on Harbor Island, a manmade peninsula that juts into the East Basin of San Diego Bay, where you will be able to take in your stunning surroundings practically right on the water.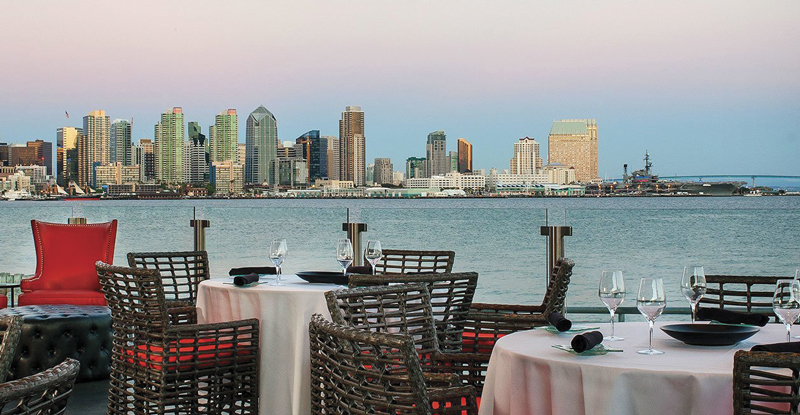 Coasterra on Harbor Island Our evening of overlooking the skyline, enjoying an open bar, and savoring Coasterra's modern Mexican fare will be accompanied by a live band to help set the festive mood. The restaurant is known for serving up seasonal, locavore-approved dishes, so you'll be literally getting a taste of San Diego while you take in the nearly 360-degree waterfront view. The fresh seafood and new takes on traditional ethnic dishes will only make this experience as delicious as it is visually tantalizing—if you're not the type to Instagram your dining experiences, this could very well be what changes that.

Monday
After we finish helping you get an eagle-eye perspective of your business with the day's educational sessions, it's off to The Skybox for more incredible views of the city and an evening in San Diego's premier event location at the top of DiamondView Tower.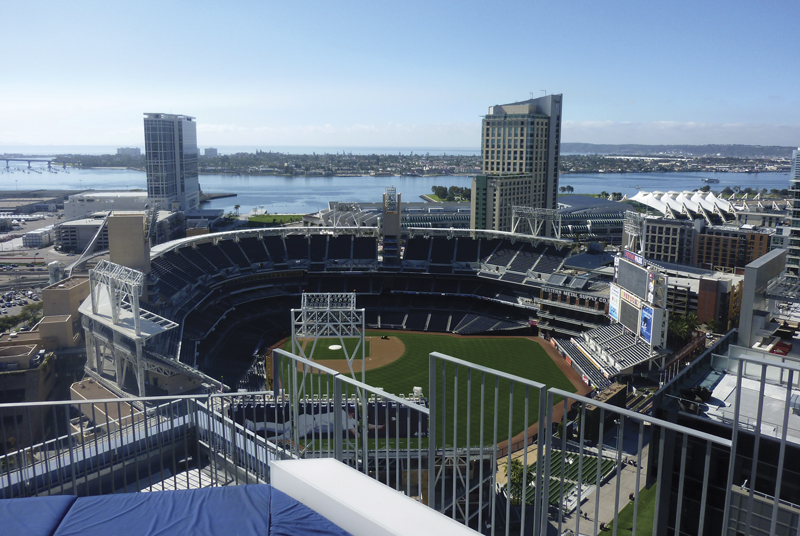 The Skybox overlooking Petco Park, home of the Padres This intimate downtown East Village venue is just a stone's throw from The Pendry and will take you high above the city—you'll enjoy such a soaring vantage point, in fact, that we'll be able to watch that night's game at nearby Petco Park. The tower that The Skybox calls home is actually the first office building in the country to be constructed in partnership with a major league ballpark and is one of only two high-rises in the city, which means that we'll be overlooking the hometown Padres as they take on the Washington Nationals with the best seats in—or above—the house. And if America's Pastime isn't your thing, you'll have tons of other options for the evening's entertainment, like enjoying feats of mind-bending magic and mentalism that will leave you equally delighted and surprised.

The open-concept space is perfect for our kinds of events, and the practically panoramic view of the nighttime cityscape will be sure to demand your attention for a while, so be sure to take in the sights of our waterfront host city transitioning from its daytime beauty to its nighttime illumination. Step onto the balcony for drinks and conversation with new and old friends alike in the evening air as the sun sets over the bay.

Of course, we wouldn't leave you hanging when it comes to dinnertime fare, and the open bar, appetizers, and food stations will keep you well-fed after a day chock-full of learning and networking.

Tuesday
This is your night to personalize your San Diego experience! With so much to do at The Pendry alone, you might not even make it beyond the hotel's six upscale bars and restaurants.

But for those who want to let their wanderlust guide them, you will find no shortage of options to help make the last night of our retreat an experience that's wholly self-guided. Our primo location has us right in the beating heart of the historic Gaslamp Quarter, so you won't have to travel far to find exactly what you're craving. Sample any corner of the globe with all the Italian, Japanese, Mexican, Irish, and Brazilian (just to name a few) restaurants that are all right within walking distance, or check out the happening nightlife at the local lounges, nightclubs, and bars.


If you want something a little more low-key, don't forget that San Diego boasts a rich history that'll delight anyone looking to immerse themselves in the local landmarks and lore. The city has more than 1,000 structures and properties that are designated as historic landmarks, with many of them also federally recognized with an inclusion on the National Register of Historic Places or by being deemed National Historic Landmarks. San Diego is steeped in culture, so catching a show, some music, or a museum tour is a breeze, too.

Wednesday
While our retreat technically ends May 8, we're offering discounted tours and shuttles to both SeaWorld and the world-famous San Diego Zoo on May 9 for those who want to extend their stay with us. You're also free to make a beeline for any last-minute must-see sites and must-do experiences you still need to check off your San Diego to-do list. Whether it's sampling the area's many breweries, dipping your toes in the Pacific Ocean, taking one last whirlwind tour of the Gaslamp Quarter, or even making a day trip south of the border since Mexico sits less than an hour away from our host hotel (just be sure to pack your passport!), this is your day to do nothing but your own thing.

So what are you waiting for? With our limited attendance, spaces at the event of the season are on a first-come, first-served basis until all 200 operator spots are filled. Rooms are $249/night for the retreat itself, with extended stays dependent upon availability. You can snag full passes at a discounted early-bird rate of $799 until March 16, 2018; after that, they can be purchased for $899 until we reach attendance capacity. Visit ­sandiegoretreat.com for more information and be sure to keep checking back for updates.

"My only regret is that I didn't start attending the retreats sooner," said Tracy Salinger of Unique Limousine in Harrisburg, Pa. "I love the smaller groups of exceptional people, who are all focused on making our companies and relationships with one another better and stronger, in a more relaxed atmosphere. Many times, I'm skeptical about spending this much time away from the office, as the ROI usually isn't there: With the Chauffeur Driven Executive Retreat, the value is definitely there! I already have San Diego on my calendar. Can't wait!"

And we can't wait to see YOU in San Diego, too! [CD1217]