BY SUSAN ROSE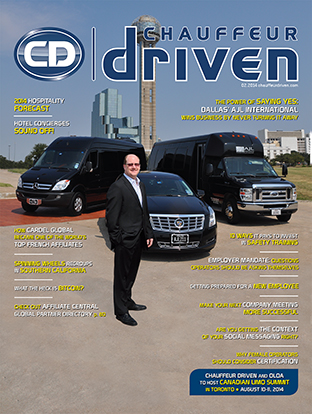 AJL President Matthew Johnston at AT&T Stadium, home of the Dallas Cowboys.
Photography by Chris Weiss. Matthew Johnston had two things going for him when he began his career after high school in 1992: his knowledge of the limousine industry and his father's connections. With no definitive plans of what he wanted to do with his future, he set out as a chauffeur for a local funeral home. His father, Neal, had owned and operated multiple limousine companies in the Dallas-Fort Worth area starting in 1967, and finished his run in the industry as the Carey of Dallas franchise from 1980-1988. His areas of expertise were funerals, a mix of corporate and retail business, and transportation for rock stars.

"It may sound like a weird combination, but it's what paid the bills," says Johnston about his father's company. "It was driving funerals during the day and, with a few changes to the glassware, rock bands at night. Regardless, he utilized the fleet to its fullest potential. When musicians like Elvis and Eric Clapton—to name a few—came to town, their people would reach out to my dad to handle their transportation."

A year after working at a local funeral home, Johnston followed in his father's footsteps and launched Johnston Limousine (later to be rebranded as AJL International Worldwide Chauffeured Transportation after merging with Accent Limousine in 1999). He purchased a used 6-door limousine from a funeral home and initially went after funeral customers. Then he played his trump card: Irving Azoff.
For about seven years, I was on the road more than I was in the office. What I didn't realize was that I was getting a great education on how the industry works around the world, but I was also building an incredible network of affiliates."

Johnston's father had met Azoff years before when he built his business on the music circuit. Azoff was a big-time manager of such successful entertainers as Dan Fogelberg, Steely Dan, Van Halen, Journey, and the Eagles. (He would later manage Jewel, Prince, Seal, and boy bands like New Kids on the Block, to name a few, while going on to become chairman of both Ticketmaster and Live Nation.) When these and other bands would make a stop in the Dallas-Fort Worth area, his father's company would handle the transportation. As a kid, this gave Johnston a back-stage pass to all the biggest names in music.

Johnston says he "worked his butt off" and networked with band managers and concert promoters to secure business for his company. He very quickly proved himself to the right people, and soon he was not only handling the local transportation for some of the hottest musical talent of the time, but their on-the-road transportation needs as well. He literally traveled with bands like Van Halen and the Eagles as their transportation coordinator.

"For about seven years, I was on the road more than I was in the office," he says. "The company still managed to grow steadily while I was on the road. What I didn't realize was that I was getting a great education on how the transportation industry works around the world, but I was also building an incredible network of affiliates."

It's easy to see the glamorous side of the music industry—hobnobbing with all of the right people and having an all-access pass to some really incredible musicians—but more than anything it was a lot of work. Being stuck in traffic could be a disaster for a corporate professional, but to a musician, it could mean being late to a stadium packed full with 40,000+ impatient fans. That would have destroyed Johnston's career faster than a political sexting scandal. Oh, the stories he could tell—and the many that he can't!

"I had to work with and teach chauffeurs about the right entrances and exits to use. It was having multiple routes in case of traffic or some other backup. It was making sure there were extra vehicles just in case. I've had to fire companies and chauffeurs on the spot, while getting another in place before we needed to move again. It was a heck of lot of fun, but it was all in the details and having a plan B in case something didn't work out," he says. It was high-octane pressure, and he loved every minute of it. His last official tour was in 2007, the same year he married his wife, Holly. While he's no longer the man doing it, to this day Johnston still has someone on the road with the Eagles. Johnston has been handling the band's transportation during tours since 2000.

Since then, he has been actively and wholly involved in the operations of the company. He forced himself to learn to like financials and to scour reports. Even before he stopped touring, Johnston was involved in growing AJL during that time as well. Managing transportation for rock stars was lucrative, but it was also seasonal. He filled in the downtime by aggressively going after the corporate market, including group work like road shows.

All in all, entertainment only accounts for 30 percent of the business. The majority of sales—70 percent—are driven by affiliate work, and he calls AJL a fulfillment for other transportation companies. Johnston is proud of the good relationships he has with operators in his own area.

"[Being sole owner] makes it less complicated and I know that it's my responsibility to keep it going. I don't say 'no' to anyone because I want to make money; I want my employees to make money. I know that if I say 'no' that it's handing over business to someone else who will build a relationship with that other service. Send me your worst clients, your difficult ones, your last-minute transfers ... we'll be happy to do it. After handling transportation for a rock star, dealing with a high-maintenance corporate client is easy to us," he jokes. Weddings to airport transfers and proms to road shows, Johnston is confident in his chauffeurs to handle the jobs with care and attention.

While Johnston is highly motivated when it comes to AJL, he definitely has that Southern charm that appeals to customers, staff, and affiliates alike. It's hard not to like the guy and his laid-back attitude, especially when he wants to take work off your hands. Being a people person has always been one of his strengths.

Having the ability to accept all kinds of work was part of the reason why he relocated the company to the grounds of Dallas/Fort Worth International Airport (DFW) in 2012. The Grapevine location (north of the airport) is also accessible to all of the major dealerships that the company uses to service its fleet. Detailing is the only maintenance that is done on-site.

The airport is located nearly equidistant between the major cities of Fort Worth and Dallas, making both easily accessible for AJL. The DFW area, also known as the Metroplex, encompasses 12 counties and nearly 7 million people. Forbes listed it as one of the fastest-growing metropolises in the United States, and it routinely ranks as one of the friendliest areas for businesses in the country. As a result, the Metroplex has one of the highest concentrations of corporate headquarters in the U.S. The good cost of living, comfortably warm weather, and strong economy have been attractive to many transplants over the years.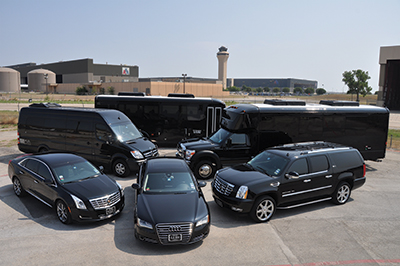 AJL's fleet at its office on DFW Airport property


Its sister city, Houston, may be the oil capital of Texas, but ExxonMobil—one of the largest oil companies—has its headquarters in Irving. Defense contractors Raytheon and Lockheed Martin also have locations in the area. DFW Airport is a hub city for American Airlines. Health care, financial, and telecommunications companies are the leading employers.

"We are literally on airport property, and being minutes from a pickup has helped us more times than I can count. It's definitely expensive to have an office here, but what we've gotten back from being in this location is worth the cost."

More than anything, Johnston is committed to his team, the people who help him fulfill his vision. AJL employs a team of 23 office staff and 55 part- and full-time chauffeurs. He knows that he expects a lot from his workers, and he tries to keep the personal feel within the office. For better or worse, he maintains an open-door policy with his employees.

The family environment actually does include Johnston relatives: both of Johnston's parents work for the company. His mother, Suzonne, works in customer service and reservations. Neal, his father, is content as AJL's fleet manager—and resident godfather. It's not hard to see where Johnston got his people skills. Johnston also brings his own little bundle of joy to work with him every day, his Toy Australian Shepherd and company mascot, Harley.
We are literally on airport property, and being minutes from a pickup has helped us more times than I can count. It's definitely expensive to have an office here, but what we've gotten back from being in this location is worth the cost."

"My dad knows everything that's happening in the company and he remembers everyone's name. He could be an amazing Walmart greeter. My parents may be divorced, but they get along great and work so hard for AJL. It's nice to be able to see them regularly. As for Harley, well everyone just loves him. He visits everyone, and really, who wouldn't love a dog in their office?"

AJL's fleet used to be limousines and vans, but sedans have taken over most of the 45-vehicle fleet. AJL runs Cadillac XTSs, which he says customers love. He says that he will transition the remaining Lincoln Town Cars in his fleet over to the Cadillac sedan soon. AJL also runs Audi and Mercedes-Benz sedans for its high-end corporate and celebrity clients. Eight SUVs—Cadillac Escalades and GMC Yukons—minibuses, Sprinters, and one limousine comprise the rest of the fleet.

One vehicle that Johnston is not a fan of is full-size motorcoaches. He gained a lot of experience with them while touring with Van Halen when the band made it a family affair by bringing their spouses and children on the road. He has been reluctant, however, to add them to his fleet, noting that minicoaches are headache enough.

"I don't understand why the U.S. DOT regulations have to be so hard to comprehend," he says in frustration. "I wish it was simpler."

Johnston has since delegated his touring duties to David Ponder, who is currently on the road with the Eagles for the next year serving as transportation director. Johnston still has a great relationship with the band. AJL serves front man, Don Henley—who is a proud Texan himself and a Dallas resident—with local transportation on a regular basis. Johnston still continues to make sure and show face time by doing any private shows or special events that the Eagles may have that year.

"These guys are the utmost professionals," says Johnston. "Now when they do a concert, the most important thing is picking them up, taking them to the [venue], and getting them back to the plane. They typically want to fly in, fly out, and get back to their families."

All of the relationships with operators worldwide that Johnston built up over his years in business are now maintained by AJL's nationwide affiliate manager, Laurie Gammage. She's been with the company for over eight years and has been growing her own network of partner companies.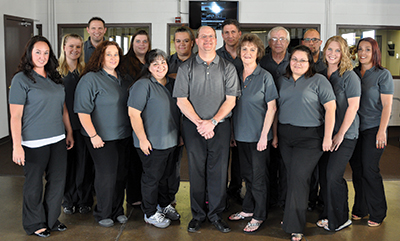 L to R: Reservationist Faye Nankivell, Dispatcher Alex Danford, GM Ryan Bradford, Dispatcher Robin Good, Dispatcher Emily Kaesberger, Dispatcher Antoinette Herrera, Nationwide Affiliate Manager Laurie Gammage, Johnston, Fleet Manager Mark Mendoza, Reservationist Suzonne Johnston, Fleet Manager Neal Johnston, Accounting team Liz Gordilla and Manvel Galvan, Administrative Assistance Janet Long, and Dispatcher Candi Smith


Another strategic hire was Ryan Bradford, who is AJL's general manager. Bradford had worked for other companies in the industry, and since joining AJL in 2010, he took over the chauffeur training and any other area that needs attention.

"Both of them have the same goal as I do and really keep the company running smoothly in the areas where I can't," he says. "Ryan is a sharp guy and Laurie is just amazing. They're great members of the AJL team."

Bradford is also a member of the leadership and development group, Spinning Wheels. The group is facilitated by Driving Results' Managing Directors Lenore D'Anzieri and Arthur Messina and was created to help its members grow, learn, and tackle problems in a non-competitive environment. Being part of the group helps the company stay well rounded and get new ideas. In December 2012, the group made a stop in Dallas with AJL as the host.

A lot has changed since his father was in the transportation business: dispatch is no longer done on a board and with a pencil and eraser, greeter boards are now iPads, and reservations systems are fully automated to prevent errors and maximize fleet usage. Some things, however, still remain unsolved even three decades later.

One of those things is minimum rates. There isn't much that upsets Johnston, but it's something that bristles him the most. "The rates today are only about $10 or $15 more than they were 30 years ago. It makes the competition fierce while also making it hard to turn a profit." The low rates have also allowed for competition with companies like Uber.

If he had to pick a second concern that occupies his time, it would be staffing. While he says that he's content with the roster he has now, finding and training quality chauffeurs who are in it for the long haul has always been problematic. "It's an issue my dad had, and it's even harder today," he says.

Johnston says that he keeps his staff and especially chauffeurs as motivated as possible. He recently purchased a pool table, which gets used almost every day during any downtime they may have, and he says they seem to really enjoy it. He also provides a chauffeur lounge with comfortable couches, TV, and computer access in between runs.

Johnston's memories of touring are proudly displayed on the walls in the AJL offices. The last studio album recorded by Pantera, "Reinventing the Steel." Tour books from Eagles' concerts all around the world. Photos of his time with the bands. He doesn't rule out doing another tour, but for now he's happy with the ways things are.

He credits his wife, Holly, with keeping him grounded after 21 years in the industry. A professional in her own right—she's a pharmacist—Johnston says that they balance each other out. And because it's just the two of them—well, Harley, too—they are able to get away a few times a year to regroup and leave behind some of the demands of the industry.

"You know, it's been said that in this industry you either need a good wife or a good shrink," he jokes. "I most definitely found both in one person." [CD02.14]